Watch the Red Hot Chili Peppers' New "Black Summer" Music Video
With John Frusciante now aboard, the Chili Peppers drop their lead single from the forthcoming album, 'Unlimited Love.'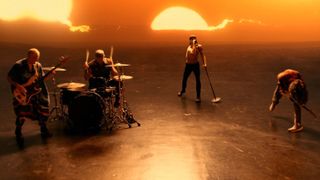 (Image credit: Warner/YouTube)
Red Hot Chili Peppers have released their lead single – "Black Summer" – from the highly anticipated new album Unlimited Love. Following John Frusciante's return to the fold in 2019, the band's latest long-player represents what many fans consider to be the classic Chili Peppers line-up.
"We spent thousands of hours, collectively and individually, honing our craft and showing up for one another, to make the best album we could," reads a band statement.
"For me, this record represents our love for, and faith in each other," said Frusciante.
Unlimited Love also sees the return of producer Rick Rubin whose decades-long history with the Red Hot Chili Peppers spans several albums, namely: Blood Sugar Sex Magik (1991); One Hot Minute (1995); Californication (1999); By the Way (2002); Stadium Arcadium (2006); and I'm with You (2011).
Track listing for Unlimited Love is as follows:
"Black Summer"
"Here Ever After"
"Aquatic Mouth Dance"
"Not The One"
"Poster Child"
"The Great Apes"
"It's Only Natural"
"She's A Lover"
"These Are The Ways"
"Whatchu Thinkin'"
"Bastards of Light"
"White Braids & Pillow Chair"
"One Way Traffic"
"Veronica"
"Let 'Em Cry"
"The Heavy Wing"
"Tangelo"
Frusciante is considered to be one of the greatest guitar players of his generation. And while the Red Hot Chili Peppers have brought him to the fore of rock stardom, the guitarist's prolific collaborations and numerous solo ventures have proven equally as vital throughout his seemingly limitless creative life.
Frusciante was 18 years old when he played his first gig with the Chili Peppers, in November 1988. He had discovered the band when he was 15, was a regular at their L.A. club gigs, and knew their songs inside out.
The Red Hot Chili Peppers' first album with Frusciante, 1989's Mother's Milk, was their most successful up to that point, selling 500,000 copies in the U.S. But it was 1991's Rubin-produced Blood Sugar Sex Magik that turned them into superstars.
It was a measure of their success that both Nirvana and Pearl Jam opened for them in late 1991.
Yet, as record sales rose and shows got bigger, Frusciante found himself struggling with the scale of the band's fame. "John would say, 'We're too popular, I don't need to be at this level of success, I would just be proud to be playing this music in clubs like you guys were doing two years ago,'" vocalist Anthony Kiedis wrote in his book, Scar Tissue, adding that they would get into heated arguments backstage.
The snapping point came in summer 1992. As the band flew to Japan for a series of shows, the guitarist started to hear voices in his head: "You won't make it through the tour. You have to go now."
That's precisely what he did. On May 7, 1992, just after playing a show in the city of Saitama, Frusciante walked out on the Red Hot Chili Peppers mid-tour, flew back to America and disappeared into a black hole of his own creation.
Frusciante's sudden departure had left a hole that his former bandmates struggled to fill. A seemingly permanent solution was found with Dave Navarro, but the union didn't quite deliver on its promise and the partnership officially dissolved in 1998.
It was Flea who suggested they call Frusciante who had checked into rehab that January to clean up and save himself.
"When Dave left, Flea called me up and asked me what I thought about playing with John," Kiedis told Kerrang! magazine "I told him it would be a dream, but that it was a very far-fetched concept. Then a week later we were playing together."
Things moved fast. Within three months, the Red Hot Chili Peppers were onstage at the Tibetan Freedom Concert in Washington, D.C. with Frusciante. Soon, they were creating their first album with the guitarist since Blood Sugar Sex Magik.
Released in 1999, Californication felt less like the work of a band picking up where they'd left off almost a decade earlier, and more like the start of an entirely new chapter. The album would go on to sell more than 15 million copies worldwide – even more than Blood Sugar Sex Magik.
But the record's real triumph was that it saved the Chili Peppers. "Until John rejoined, Flea was at the end of his Chili Peppers rope," Kiedis said. More importantly, as Frusciante acknowledged, it signified his own return from a journey that was sure to end in tragedy.
"It's a second chance for all of us," he told NYRock. "In a way, we're all co-dependent and we know it, but we also trust each other."
The guitarist bailed on the band for a second time in 2009 to pursue his solo career. But it was more amicable this time. Frusciante even recommended his own understudy, Josh Klinghoffer, as his replacement.
Yet, as today's release proves, even that wasn't the end of the story. In 2019, Frusciante returned to the band, displacing Klinghoffer.
"It's just returning to family," he said last year. "I'm extremely comfortable with those people. It was as if no time at all had gone by."
You can pre-order Unlimited Love here.
All the latest guitar news, interviews, lessons, reviews, deals and more, direct to your inbox!
Rod Brakes is a music journalist with an expertise in guitars. Having spent many years at the coalface as a guitar dealer and tech, Rod's more recent work as a writer covering artists, industry pros and gear includes contributions for leading publications and websites such as Guitarist, Total Guitar, Guitar World, Guitar Player and MusicRadar in addition to specialist music books, blogs and social media. He is also a lifelong musician.