Dave Navarro's Top Five Career-Defining Songs
The L.A. alt-rock veteran of Jane's Addiction and Red Hot Chili Peppers speaks.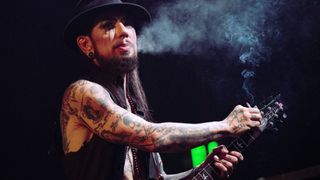 (Image credit: Scott Dudelson/Getty Images)
The way Dave Navarro sees it, the combination of talents that came together to form Jane's Addiction in the mid '80s – singer Perry Farrell, bassist Eric Avery, drummer Stephen Perkins and himself on guitar – never should have worked so successfully.
"We were four guys who really didn't have any business playing together, because we were just stylistically from so many different worlds," Navarro says. "Perry had come out of a post-punk goth band. Eric was very heavily into punk-rock music. And then Stephen and I were Valley heavy-metal kids. None of it made any sense, but somehow we found ourselves in a room together."
Despite their disparate influences and upbringings, the group soon found they shared disdain for much of the music that was happening in their own backyards, and they united in a mission to strike back. "When we got together, you had bands like Poison, and the whole Sunset Strip hair-metal scene was flourishing," Navarro says. "What you hear on Jane's Addiction records is us reacting to what was going on around us and what was popular, and not wanting to be a part of it. We were really trying to go against the grain."
At the same time, though, he laughs at the idea that there was any kind of master plan to it all. "We were just making it up as we went along," he says.
After issuing an eponymous live album in 1987 on the indie Triple X label, Jane's Addiction signed with Warner Bros. Records and released two wildly influential albums – 1988's Nothing's Shocking and 1990's Ritual de lo Habitual – that mixed punk, heavy metal, glam, jazz, folk and art rock, and resulted in a sound that was utterly unique and uncopyable.
Key to the group's creative process was Navarro's scrappy, highly individualistic, daredevil approach to guitar playing. Flying in the face of the GIT virtuosos of the day, the self-taught guitarist, schooled largely by playing along to classic rock records, let loose with savage riffs, earth-moving rhythms and widescreen, wah-drenched improv solos that quickly established him as one of the preeminent axemen of his time. Writing about Navarro in AllMusic, critic Greg Plato cited him as "one of alternative rock's first true guitar heroes." No less an authority as Henry Rollins called him "one of the last great guitarists."
All of which Navarro takes in stride. "I appreciate it," he says humbly. "The thing is, I don't have the ability to hear anything that I've done or that the band has done with an outside ear. As for the way I play, I haven't changed anything about my philosophy of the guitar. I've always been influenced by other people, and I just try to remain open. I don't see myself as a technique player; I don't sit around practicing scales. I see myself more as someone who adds pigments to an already existing canvas. I call it 'soundscapes.'"
Some of his recorded solos – like the seething star turn in "Been Caught Stealing" or the epic, hallucinogenic drama he brings to "Three Days" – are regarded as landmark moments, but as Navarro points out, they're largely the product of improvisation. "The bad thing about improv is, sometimes it's disastrous. On the other hand, the excitement of not knowing which way you're going to go, that's what keeps it fresh for me."
Although he's occasionally played models by Fender, Ibanez and Parker, during his career with Jane's Addiction (and as a member of the Red Hot Chili Peppers from 1993 to 1998) Navarro has relied mainly on PRS electric and Epiphone acoustic guitars.
And when it comes to gear, he likes to keep it simple. "Since probably 1990, I've essentially used the same exact setup," he says. "It's basically Boss pedals, a Dunlop Cry Baby wah and my Marshall. I'm not a gear head or a tech head. I like my stuff to be on the floor in front of me, so I can turn knobs. If something goes wrong, I can unplug it and bypass it if I have to. I don't want to have a rack of gear that has me scrolling through parameters to get a sound. If I've got to do that, then I'm not going to enjoy myself."
Below, Navarro looks back at the recording of five noteworthy tracks from his remarkable career with Jane's Addiction.
1) "Mountain Song" from 'Nothing's Shocking' (1988)
"That bass line was something that Eric had. Back then, we were really interested in making hypnotic music, stuff with a real rolling feel that you could get lost in. From there, the idea was based in repetition, with a couple of riffs that go back and forth. There's no chorus or bridge. The song is literally two parts repeating until it ends.
"We were looking to create something in line with the Velvet Underground. It's droney and ambient, but at the same time it's got a riff that could have easily fit into the heavy-metal category, which is interesting, because we weren't from that scene. As an older man looking back, I can say that there was a lot of metal that I grew up on and loved, but I didn't want this solo to be a typical shred spot in the middle of what could be construed as a heavy-metal riff. I made the conscious decision to make the solo fragmented and affected. It's got a couple of harmonics that I stole from the live version of 'Voodoo Child' – the parts where Hendrix played harmonic notes with the wah. I threw that in there because I thought it sounded cool. In all, I'd say it's more of a soundscape. An anti-solo.
"Live, we made it all happen with the four players onstage. In the studio, you can stack guitars and vocals and do all kinds of treatments. The song was so simple that we didn't need to do too much to it. I think I doubled the guitar on the rhythms, and Perry did vocal overdubs. I believe [producer] Dave Jerden used a Wendel to fatten up the kick and snare. [The Wendel Jr. was a digital drum replacement system that used acoustic drum and percussion samples to replace recorded sounds made by a rhythm machine or drummer.] Other than that, what you hear on the record is us playing live."
2) "Jane Says" from 'Nothing's Shocking' (1988)
"'Mountain Song' was two parts, and so is this. Just because 'Jane Says' is acoustic, I don't see it as a contrast in any way; it's more an extension of what we would do. Neither song has what you might call a 'radio chorus.' We prided ourselves on not having a typical formula. If there was a formula, it was based around the idea of keeping a simple structure.
"I wish I could remember what acoustic I used in the studio – it was over 30 years ago. But one thing I will point out is, if you listen closely to the track, you'll hear this rattling sound. That came about from the metal bracelets I wore on the wrist of my right hand. It actually made for a cool effect. It was one of those things where I was like, 'Should we clean it? Should I take them off? Should I fix this? Should I do it again?' As we listened back, we were like, 'No. Fuck it.' It reminds me of listening to John Bonham's squeaky kick pedal. I like little nuances like that – things that aren't perfect."
3) "Been Caught Stealing" from 'Ritual De Lo Habitual' (1990)
"When we were recording this song, Perkins had a bunch of different ideas for the groove that went along with the bass line. Typically, the drums and bass lock up on groove, and then the guitarist can do whatever he wants over it. I recall running this song down on an acoustic guitar to a click track, and then Stephen played drums to me rather than to the bass. That's how we got the groove, with him emulating my right hand on the drum kit. It created a kind of shuffle.
"When we were tracking the song, I tried replicating the acoustic feel with dirty electric guitars, but I had a hard time finding the articulation of the strings and notes. It just didn't have the right feel. Dave Jerden suggested miking just the strings of the electric – no amp. It was a great call, because in doing that you can really hear the jangle of the strings and the notes ringing out. It also allowed Eric to go in sort of an opposite direction. He played in a contradictory manner to what I was doing. It's almost like two things that don't fit together, but they do.
"The framework of the solo was like what I usually do. I don't plan solos out, but I have a framework that I like. I start out low, go up high and come back again. There might be a few stabs at it – four or five takes – and then we hit the mute buttons and figure out which one works best."
4) "Then She Did…" from 'Ritual De Lo Habitual' (1990)
"A lot of people think that this was three long parts that we put together, or maybe even separate song ideas, but it was always this way. It's how we wrote it. Breaking it down, it is three parts – there's the intro, and then there's a very hypnotic groove, and finally we have the outro. It was vitally important that we followed this structure, as it was essential for the storytelling aspect. The direction of the music was definitely dictated by what was going on vocally.
"Recording the song wasn't laborious or painstaking. I knew all the parts before we even went into the studio. There's layered guitars. Layering is a technique I love utilizing in the studio. Being a single guitar player onstage, whenever I change parts or I go into a solo, the dynamics change and shift. There's a whole rhythm that falls out. So when I go in the studio, I like to stack guitars up and layer them. It's all fun, though. There's nothing painstaking about it."
5) "Three Days" from 'Ritual De Lo Habitual' (1990)
"The opening bass line is something that Eric had, and I wrote some string-picking guitar parts to it. Then Perry and I spent about 24 hours in the rehearsal space, coming up with additional parts and creating this longer drama, if you will. Lyrically, what Perry was singing about made a huge difference in terms of where we were going to go musically.
"We probably played the song live for a whole year before we recorded it, so when we went into the studio, we played it pretty much like we did onstage. We trusted Dave Jerden to choose the right takes. Once we had the rhythm section locked up, we would just 'kick that grate,' as we would say.
"The solo was entirely improvised. I grew up on Zeppelin, Hendrix and Who live bootlegs, and solos from those shows were always improvisations. I was really drawn to that mentality. What I did here was no different. I made eye contact with Stephen Perkins, and off I went. He knew when it would end when I gave him a look, and he knew how to communicate that to the rest of the band, like, Okay, not we're changing."
Grab a copy of Nothing's Shocking and Ritual De Lo Habitual here.
All the latest guitar news, interviews, lessons, reviews, deals and more, direct to your inbox!
Joe is a freelance journalist who has, over the past few decades, interviewed hundreds of guitarists for Guitar World, Guitar Player, MusicRadar and Classic Rock. He is also a former editor of Guitar World, contributing writer for Guitar Aficionado and VP of A&R for Island Records. He's an enthusiastic guitarist, but he's nowhere near the likes of the people he interviews. Surprisingly, his skills are more suited to the drums. If you need a drummer for your Beatles tribute band, look him up.