Archive Treasures: John Frusciante, November 1997
Before his miraculous return to the Red Hot Chili Peppers the guitarist spoke to GP about life, art, and death.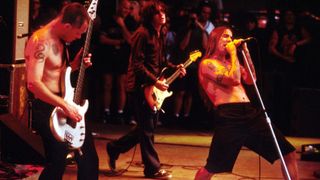 (Image credit: Kevin Mazur/WireImage)
***The following appeared in the November 1997 issue of Guitar Player***
John Frusciante sits under a rose-covered archway in the hills above Los Angeles, clutching a pack of cigarettes and a one-hitter of pot. He's barely recognizable at first. With a tousled mane of Jim Morrison-style hair, a huddled posture and oddly matched clothes, he looks more like a sleepless, absent-minded philosophy student than a rock star.
Gone is the buff, mohawk-sporting 18-year-old who once energized arenas with the Red Hot Chili Peppers, co-wrote hits like "Under the Bridge" and "Breaking the Girl," and stripped funk-rock guitar to its raw essentials on Blood Sugar Sex Magik.
His first two solo records, 1994's difficult Niandra Lades [American] and the even darker Smile from the Streets You Hold [Birdman, 1409 W. Magnolia, Burbank, CA 91506], reflect even less of his former persona.
Composed of splintered solo acoustic/electric 4-track bedroom demos rife with backward guitar, howling vocals, enigmatic lyrics and bare-bones guitar arrangements, they are the aural documents of an idealistic, art-obsessed 27-year-old who quit one of the world's biggest bands at its creative peak, descended into heroin addiction and barely made it out alive.
It was only in the last few weeks of 1996 that Frusciante was finally able to kick the three-year habit that contributed to the loss of his Hollywood Hills home and the gradual deterioration of his body; earlier this year, John's remaining teeth were removed and replaced by dentures in order to avoid a life-threatening infection. His right forearm appears badly burned, and his speech, though filled with interesting insights and word games, is slurred and erratic.
A voracious music listener, talented painter and devotee of tragic, fallen angels like Syd Barrett, Marc Bolan, Kurt Cobain and Sid Vicious, Frusciante is a mixture of passion, self-taught cultural erudition and naïveté – particularly regarding rock and roll mythology.
He constantly refers to death in the warmest possible terms. "Death is a place I'm really looking forward to being in," he says later, strumming a vintage Gibson acoustic in a small room crammed with videos, CDs and art books on Van Gogh, Duchamp, Basquiat and Da Vinci. "I can also be very happy in this life, but it's usually happiness that I get from other lives I've lived and other dimensions. This life is hardly important to me. It's very small compared to the importance that I think the fourth and fifth dimension have. Those places are much more real to me, like when you have a dream and it's more real to you than real life. Compared to where I'll be going, this life seems like a dream that just feels like a dream."
The recent release of Smile, new sessions in producer Jimmy Boyle's L.A. studio, an interest in releasing tapes of 3 Amoebas (his improv trio with Flea and Jane's Addiction drummer Stephen Perkins) and his participation in this summer's Nuttstalk tour with members of P-Funk and Fishbone represent Frusciante's first forays back into the land of the living.
But it's an uneasy peace he maintains with what we call reality. "I think the reason he embraces death so much," says his friend and former bandmate Flea, "is that he wants his spirit to be free. He really doesn't care about being alive in the physical world."
Listening to Smile from the Streets You Hold can be unnerving. Raw, vulnerable and stream-of-consciousness, it's a dark ode to the demons and spirits that inhabit Frusciante's head – the sound of an extremely talented guitarist in search of himself.
"The title song was a very intense moment," says Frusciante quietly, "because I was having verbal communication with the spirits while I was recording, and I started crying at the end of it. The spirits give you ideas for things, and what's important to them is what's important to me. I'm much more concerned with my fame in their world than with my fame in this one. That's why it's been difficult for me to adjust to being alive at all."
John Frusciante was born in New York in 1970 to John and Gail Frusciante. John Sr. was a Juilliard-trained pianist who became a lawyer and later a judge. Gail, too, was a promising musician, a singer who became a homemaker, says her son, because her husband ruled out the possibility of a musical career, though she now sings for her church and provided the background vocals on "Under the Bridge."
The family lived in Queens, relocated to Tucson, Arizona, and then moved to Florida for a year, during which time John's parents separated. Moving with his mother to Santa Monica, California, John, like a million other California kids, became obsessed with skateboarding, Aerosmith and Kiss.
By age nine he was already a budding punk rocker, wearing out copies of the Germs' G.I. record. By then he'd figured out most of the Germs' songs in his own tuning that allowed him to play everything with a single-finger barre. It was a habit he'd have to break when he started lessons a year later while living in nearby Mar Vista with his mom and new stepdad, an avid philosophy reader and black belt who listened to Beethoven and '50s R&B but "understood where punk rock was coming from. He really supported me and made me feel good about being an artist."
From the Germs, John graduated to Jimmy Page, Jeff Beck and Jimi Hendrix, tackled the almighty barre chord and blues scale, and began pursuing increasingly complicated rock like King Crimson, Yes, early Genesis and Frank Zappa, whose work he'd study for hours, learning solos and syncopations in detail.
Captain Beefheart, the Residents and other out-rock prophets became John's pantheon, and by 17 he'd dropped out of high school and moved to Los Angeles, where he and a friend figured out a way to punch in for classes at G.I.T. without actually attending in order to appease their parents' desire that they get an education. He even showed up at a Zappa audition, only to leave the rehearsal room before stepping up to the plate.
Cold feet? "Nah. I realized that I wanted to be a rock star, do drugs and get girls, and that I wouldn't be able to do that if I was in Zappa's band."
In 1988 Frusciante first jammed with Michael Balzary, a.k.a. Flea, the bass player of his favorite local band, the Red Hot Chili Peppers. Frusciante had begun jamming with former Dead Kennedys drummer D.H. Peligro, who would soon temporarily replace Jack Irons in the Peppers, and when Peligro learned of the young guitarist's fascination with the band, he invited John to jam with him and Flea at Flea's house on Fairfax Avenue.
Less than a year later, following original guitarist Hillel Slovak's fatal heroin overdose and a short collaboration with former Funkadelic guitarist Blackbyrd McKnight, Flea called the 18-year-old Frusciante with the news: He was the new Chili Peppers guitarist. "There were bootmarks five feet high on the wall in my room for months after that call," Frusciante remembers.
"He was just a kid when he joined," says Flea, "totally overexuberant about everything. His playing was amazing. He was technically very competent and much more theoretically knowledgeable than I was, with a bit of the Steve Vai guitar wizard damage. I've always relied on intuition and emotion to get me through, and I think that concept is something he latched onto real quickly."
From the start Frusciante wrote with the band. "Pretty Little Ditty" was salvaged from his and Flea's first jam, and the hit "Knock Me Down" – a knockoff of Zeppelin's "The Wanton Song" – took the band's writing to a new level of tunefulness and economy. By the recording of the enormously successful Blood Sugar Sex Magik in 1991, Frusciante had developed into an intuitive and technically astute player who played funk as if it were second nature.
"But I wasn't really a funk player before I joined the band," says Frusciante. "I learned everything I needed to know about how to sound good with Flea by studying Hillel's playing, and I just took it sideways from there."
It was a half-hour before showtime at a gig in Japan in 1992 when Frusciante announced his intention to leave the group. "He just said, 'I can't do it. I can't play anymore,'" says Flea. "He didn't even want to play that night, so we had to beg him to do the last gig." Frusciante's disaffection had been brewing for months. "Toward the end you could tell that his playing was angry at the band. If the band got really soft, he'd start playing louder, and vice versa. He did it just to be anti. He was really hating it, so as much as I loved playing with him, it was a huge relief when he left."
"When I quit the band I couldn't do anything but lay on the couch depressed, and then I became a junkie and came to life and started playing music again," Frusciante told L.A.'s New Times in late '96. Earlier that year, he said, he had nearly died, a result of his body having "a twelfth of the blood it's supposed to have, and that blood was infected."
John's house in the Hollywood Hills became notorious for its horrific mess and graffiti-covered walls ("My eye hurts" and "Stabbing pain with discipline's knife" were among the scrawled epithets), and after an accidental fire and difficulty with payments, John eventually moved out, bouncing through a succession of short-lived hotel stays at the Chateau Marmont and the Mondrian.
Due to the arrest of a friend under whose name the room was booked, John's many notebooks, crammed with poetry, mathematics, word games, drawings and story ideas, are presently locked away in the Mondrian. He wants them back, but his concern is less for his past work than for what's going through his head at any given moment.
"All he wants to do is be creative," says Flea. "He doesn't care about money or personal hygiene or anything else. And he never has. If we made $10,000, he'd give it to the pizza delivery guy. He only cares about art."
Flea, a former drug user himself, tells Frusciante what he thinks about his habits. "John once told me, 'I don't have a problem with drugs, you have a problem with me doing drugs.' In retrospect, I realize, yeah, I do have a problem with drugs. I do have a problem with my friends dying. It makes me really fucking sad. I don't want him to do any drugs at all, and I tell him that. That's all I can do as someone who loves and respects him."
All the latest guitar news, interviews, lessons, reviews, deals and more, direct to your inbox!