"Be Careful What You Wish for": Warren DeMartini Tells the Tale of Ratt's 1984 Breakthrough Hit, "Round and Round"
The guitarist reveals how he spun a riff into the pop-metal smash that propelled his band to dizzying heights of stardom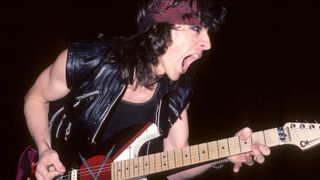 (Image credit: Ron Galella, Ltd./Ron Galella Collection via Getty Images)
It was late in 1982 when Jake E. Lee tendered his resignation from the band Ratt after snagging the plum guitar spot with Ozzy Osborne. Rather than leave his ex-bandmates high and dry, he brought in his pal Warren DeMartini as his replacement.
DeMartini, all of 19 at the time, drove from San Diego to Los Angeles with little more than an electric guitar, an amp and a cheap tape deck on which he had recorded a few rough song ideas he was messing around with.
"I had chord patterns and riffs, but I didn't know how to connect any of the parts," DeMartini says. "Writing songs was a process I was still trying to figure out. Once I joined the band, I got better at it."
One of DeMartini's chord patterns eventually became "Round and Round," the ear-candy pop-metal smash that exploded on radio and MTV in 1984, propelling Ratt to instant stardom.
"One minute, nobody knew us. The next, we were everywhere," DeMartini says, "and all of it from one song."
Sealing the Deal
Funnily enough, it took DeMartini close to a year to show some of his ideas to his new bandmates. He shared an apartment in north Culver City with Ratt rhythm guitarist Robbin Crosby and singer Stephen Pearcy, and one day he set up his practice amp in the living room and began playing.
"It was what I thought were the verse and chorus parts of a song," DeMartini recalls. "Robbin came in and said, 'What is that?!' He was pretty excited." Crosby grabbed his guitar and started following along with DeMartini, and within moments Pearcy came into the room with his antenna already up.
The three sat around and began working together.
"Robbin had a bit of another song that we used for the pre-chorus out of the verse," DeMartini says. "Then I came up with the solo chords and the B section of the chorus. We fleshed out everything else and recorded it.
"Stephen had his own tape deck, so he recorded what we had into his. He started scatting and singing lyrics, and pretty soon everything took shape."
At gigs, Ratt had been playing selections off their self-titled indie EP, but they quickly added "Round and Round" into their live show.
Atlantic Records president Doug Morris came to see them at the Beverly Theater and was stunned to see the crowd singing along to the new song. "He said, 'It's not even on the radio and they know the words,'" DeMartini recalls. "That pretty much got us our deal."
Seat-of-the-Pants Solos
While cutting the song with producer Beau Hill, DeMartini used his Charvel Bomber and Bloody Skull models, which he ran through Marshall Super Lead and Fender Super Champ tube amps.
The rhythm tracks were a breeze to record, but when it came time for the solo section, the guitarist remembers a last-minute change-up to the arrangement.
"Originally, I was playing a lead section, and then Robbin would take his own part," DeMartini explains. "He didn't like what he was playing, so he suggested that I do it all. I didn't want to do that, so for the second section I came up with the double lead that we both played.
"I pretty much did it right on the spot. We ran through it a few times, and it sounded great. It was really exciting to do it kind of seat-of-our-pants."
Uncle Milty + Metal = Success
"Round and Round" was picked as the lead single from the band's Atlantic debut, Out of the Cellar, but while label execs were high on the song, DeMartini admits that he wasn't sure how it would fare.
"Honestly, I didn't know if it was a hit at that point," he says. "I thought it was good, but I think I lost all objectivity. I'd heard it so many times, so I was too familiar with it."
Radio jumped on the track, however, and once MTV started airing the uproariously entertaining video, featuring TV icon Milton Berle in drag (his nephew Marshall managed the band), "Round and Round" raced up the charts, and Out of the Cellar quickly went triple Platinum.
"It was an incredible feeling," DeMartini says. "It was like an out-of-body experience, like, Wow, this is really happening!
"We had a huge lull between finishing the album and the time it came out. But the video changed everything fast.
"MTV was all over us, and we went from playing clubs to headlining large venues. We were off and running."
He pauses, then adds, "And then it became, 'Be careful what you wish for.'"
Order Ratt's Out of the Cellar here.
All the latest guitar news, interviews, lessons, reviews, deals and more, direct to your inbox!
Joe is a freelance journalist who has, over the past few decades, interviewed hundreds of guitarists for Guitar World, Guitar Player, MusicRadar and Classic Rock. He is also a former editor of Guitar World, contributing writer for Guitar Aficionado and VP of A&R for Island Records. He's an enthusiastic guitarist, but he's nowhere near the likes of the people he interviews. Surprisingly, his skills are more suited to the drums. If you need a drummer for your Beatles tribute band, look him up.