Jake E. Lee: My Career in Five Songs
The Ozzy Osbourne and Badlands axman reveals five of his career-defining favorites.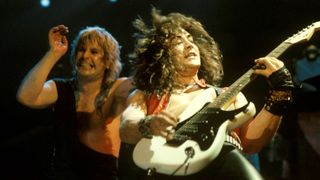 (Image credit: Richard E. Aaron/Redferns)
Jake E. Lee says he never considered himself a shredder, but guitar fans who grew up in the '80s might beg to differ. Lee first burst onto the national stage in 1983 with Ozzy Osbourne's band as guitarist and official successor to Randy Rhoads, following Rhoads' death in a plane crash the previous year, at the age of 25.
Filling the spot previously occupied by such a charismatic and talented star was no easy task, but Lee quickly carved out his own unique spot, cutting now-classic Osbourne songs like "Bark at the Moon," "The Ultimate Sin" and "Killer of Giants," that balanced melodic, metal-edged riffing with jaw-dropping lead guitar flash.
After his tenure with Ozzy, Lee took a turn toward a more classic rock–influenced approach with his own band, Badlands, with whom he recorded two albums in the late '80s and early '90s. But when that group dissolved, he decided to take a break from music, at least commercially, and disappeared from the public eye for nearly two decades.
When he reemerged on the scene in 2013, it was with his new band, Red Dragon Cartel. The quartet splits the difference between Lee's metal beginnings with Ozzy and the more bluesy sounds of Badlands, as heard on Red Dragon Cartel's second and latest effort, Patina.
"It was recorded old-school, and it definitely has that vibe to it," he says. Lee has explored a variety of styles over the years, but if there's one thing that runs through his work, from Ozzy until now, it's a commitment to incendiary, technically dazzling electric guitar playing.
Here we take a look at the writing of – and his playing on – five great tracks from his long career...
1. "Bark at the Moon" (Ozzy Osbourne, 'Bark at the Moon', 1983)
I had written the music to that song back when I was in Rough Cutt. But at that time the riff was all in eighth notes because that was the L.A. thing. It was sort of along the lines of [Mötley Crüe's] "Looks That Kill," and it worked pretty good that way.
Then when I joined Ozzy's band, he said, "Okay, we need some songs." I thought of that riff, but it just didn't seem very Ozzy-ish. And then it came to me: "I'll throw 16th notes underneath it." And it instantly sounded like an Ozzy song.
The outro solo definitely wasn't the easiest thing I've ever played. What makes it hard is that, up to the end tag, I play the whole thing on the B and G strings. That involves doing this big spread with the fingers on my left hand, because the top notes get higher and the bottom notes get lower. And I didn't do it so that my fingers would be all spread apart and look impressive. I did it so that, tonally, the solo would sound consistent. But nobody else really does it that way. They do it the easy way, which I understand. But to me it just sounds better on those two strings.
2. "Killer of Giants" (Ozzy Osbourne, 'The Ultimate Sin', 1986)
As a song and the way it flows from one part to the other, "Killer of Giants" is maybe my proudest achievement. I had written the intro as a whole separate thing and included it on a tape of song ideas that I gave to Ozzy.
It was just this minute-and-a-half of music that I thought was really cool but didn't know what to do with. We had "Killer of Giants," which at that time we started by going straight into the first verse. It seemed like it needed some sort of intro, so I decided to take this other piece and tack it onto the front of the song. But there still needed to be some sort of segue between the two parts.
I was sitting with Ozzy and I said, "What's the first couple of notes you would sing after the intro?" And he gave me the first line, which is, "If none of us believe in war…" And he and I wrote the segue into the song, which was one of the few times that I sat down with a singer and we figured something like that out together. So it was an interesting session for me.
3. "Winter's Call" (Badlands, 'Badlands', 1989)
It's very Zeppelin. When Badlands first got together, everybody assumed it would be a heavy metal band because I came from Ozzy, and Ray [Gillen, frontman] and Eric [Singer, drummer] had been in Black Sabbath. But we decided to go back to the shit that we listened to when we were growing up. Which is probably why the record didn't sell very well.
The first note I hit in the solo to "Winter's Call" is a really weird one. I don't know what you would call it – maybe a flatted second, or a sharped first. Whatever it is, it's the note I heard my head, and then I played it with an octave so that it came out really pronounced. And I remember Paul O'Neill, who co-produced that record, he hated it. He said, "Just try hitting the root as that first note." But I refused. Finally, he started trying to bribe me. He said, "Look, I have $500 in my wallet. I will give you this $500 if you try it once my way. We won't even have to use it." Then he threw in two tickets to Cats, because that was playing on Broadway at the time. But the more insistent he became, the more I dug my heels in. I had a sneaking suspicion that if I did do a more normal entry for the solo, somehow it would end up on the record. So I stuck to my guns on that one.
4. "Havana" (Red Dragon Cartel, 'Patina', 2018)
This one was originally titled "Horchata," because when I came up with the riff I was drinking the horchata-flavored Blue Moon beer. [laughs] Then, when we got the lyrics and the melodies on there, it was retitled "The Joke's On," because that's what Darren [James Smith, vocals] sings during the hook. But I just didn't like the way that sounded, or looked on paper, and since I tend to overanalyze shit, I started thinking, 'Well, the song's sort of about having a laugh,' so I came up with "Havana," which is like havan-a-laugh. Plus, it also sounded close to "Horchata."
Musically, the "Havana" riff is cool and a lot of fun to play. And I won't reveal the actual song that I got the riff from, but I'll say this: One time I was sitting around with the other guys, playing a riff from a song I had listened to earlier that day. And I said, "God, I wish I could write a riff like this." And then Anthony [Esposito, bass] said to me, "Well then, why don't you?" And I was like, "Oh, yeah, like it's that easy. What am I gonna do? Just turn it around and play it backward?" And so I did. And that's the "Havana" riff!
5. "Crooked Man" (Red Dragon Cartel, 'Patina', 2018)
One of the reasons this song is called "Crooked Man" is because it's such a weird riff. I didn't even know if it was a particularly good one when I came up with it. I was very leery when I first showed it to the rest of the band, like, "Yeah, if this sucks, just tell me." But they liked it, so we kept working on it. And the thing is, because the riff is so quirky, I felt like the next part needed to offer some sort of relief, like, Okay, you endured this whole weird riff, let me relax you a bit with something very nice. [laughs] And that's why the bridge section is very kind of sweet and melodic, and then it goes into a more conventional chorus. And I like how it goes back and forth between those two vibes.
This is the second single from Patina, and even though I think it was kind of an odd choice, I'm glad it's out there, because it shows people that the record is deep. If you just heard "Havana" and were hoping the whole record was going to be basically that, then I think "Crooked Man" shows that it's not. It's a much more varied album than you might expect.
Buy Red Dragon Cartel's Patina here
All the latest guitar news, interviews, lessons, reviews, deals and more, direct to your inbox!
Rich is the co-author of the best-selling Nöthin' But a Good Time: The Uncensored History of the '80s Hard Rock Explosion. He is also a recording and performing musician, and a former editor of Guitar World magazine and executive editor of Guitar Aficionado magazine. He has authored several additional books, among them Kurt Cobain: Montage of Heck, the companion to the documentary of the same name.