"I Still Get Excited About New Music": Stone Gossard's Loosegroove Records Returns After a Long Hiatus With New Discs From Jonny Polonsky, Brittany Davis and Brad
"We want to encourage bands to take it one day at a time and to really enjoy the ride," says the Pearl Jam guitarist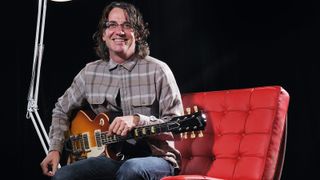 (Image credit: Future/Joby Sessions)
Back in 1994, as Pearl Jam were ascending to the very top of the rock universe, guitarist Stone Gossard teamed up with Regan Hagar, a friend and bandmate in the side project Brad, who had also played drums with fellow Seattle rockers Malfunkshun.
Together, they formed Loosegroove Records, a label dedicated to, as Gossard puts it, "signing artists that we loved and wanted to support."
Over the next few years, the small imprint provided a home to a wide range of unique, innovative acts, among them the rock-funk-hip-hop collective Weapon of Choice, the instrumental and experimental Critters Buggin and the then brand-new Queens of the Stone Age, who issued their landmark 1998 self-titled debut through Loosegroove.
Not long after, Loosegroove closed its doors. Now, more than 20 years later, Gossard and Hagar have resurrected the label, and they're doing it in a big way.
In addition to issuing Jonny Polonsky's new Rise of the Rebel Angels, Loosegroove has been working with numerous up-and-coming acts, including British rock trio Tigercub and Welsh hard rockers James and the Cold Gun, as well as multi-instrumentalist, songwriter and "soul music innovator" Brittany Davis, who, Gossard says, "is going to change the world. I'm really excited about their music."
Davis also plays with Gossard in another side project, Painted Shield, which released their sophomore album, Painted Shield 2, through Loosegroove last year.
In addition, the imprint has put out 1982, a collection of vintage recordings from the Living, the early '80s Pacific Northwest punk act that featured a teenaged, pre-Guns N' Roses Duff McKagan on guitar and vocals.
Coming up, Gossard reports that there are two Brad releases on the horizon, including a 30th anniversary reissue of the band's 1993 debut, Shame. "The agenda is, 'Let's see what happens if we just have fun with it,'" Gossard says of the label, adding that a bonus aspect has been the ability to "get to work and collaborate with old friends."
As for Loosegroove's goal in the 21st century? "I still get excited about new music," Gossard says. "And being able to offer any sort of wisdom that we can to younger bands – whether it's in the studio or in terms of album artwork or in their approaches to their careers – is a great thing.
"So we want to encourage bands to take it one day at a time and to really enjoy the ride. Keep things in perspective as they move through it, and have some fun, too. Just live and learn and grow."
All the latest guitar news, interviews, lessons, reviews, deals and more, direct to your inbox!
Rich is the co-author of the best-selling Nöthin' But a Good Time: The Uncensored History of the '80s Hard Rock Explosion. He is also a recording and performing musician, and a former editor of Guitar World magazine and executive editor of Guitar Aficionado magazine. He has authored several additional books, among them Kurt Cobain: Montage of Heck, the companion to the documentary of the same name.