Nashville Session Ace Kenny Greenberg Releases First Solo Record, 'Blues for Arash'
Music for a film that never was, this cinematic guitar album features Wally Wilson, Juldeh Camara and Justin Adams of Robert Plant's Sensational Shape Shifters.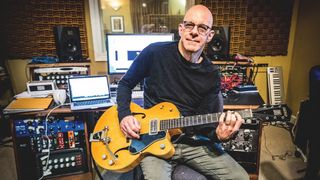 (Image credit: Kenny Greenberg)
After decades of working with artists like the Mavericks, Bob Seger, Kenny Chesney, Willie Nelson, Buddy Guy and Taylor Swift, 2012 ACM Guitarist of the Year Kenny Greenberg has released a record of his own, Blues for Arash (We R They Records).
But we would still be waiting had not screenwriter Arash Amel requested music for a prospective film about a blues fanatic from West Africa.
"He was looking for a combination of African rhythms and American blues," Greenberg says. "Slide guitar and some cinematic stuff."
Greenberg ensconced himself in his home studio and began recording. For the West African flavors, the guitarist had invaluable help from Justin Adams of Robert Plant's Sensational Shape Shifters, but the blues is all courtesy of the Nashville session ace.
Some of the aforementioned slide was played on a Gibson SG with mini-humbuckers, but for the bulk of the record he used the more unusual DiPinto Galaxie.
"I was buying a compressor and the guy said, 'I'll throw in this guitar,'" Greenberg says, with a laugh. "I put on big strings and love it for playing slide. I ran a '90s Fender Pro Jr. into a 4x12 cabinet that I close- and distance-miked. I had an overdrive pedal on, just to get a little more gain from the amp."
For the acoustic blues guitar parts, the guitarist used a wooden National resonator guitar and a Harmony Sovereign. With each, he combined direct pickup and miked tracks.
Electric guitar rhythms were courtesy of his Strat through a Jeff Heim custom amp.
The music's spirit is best embodied in the track "Nairobi, Mississippi."
"That's my favorite thing on the record," Greenberg reveals. "Justin sent me files of Juldeh Camara playing the one-string Gambian fiddle. We flipped the beat around and added this acoustic hill country blues on top."
Greenberg recorded most of the record working alone, yet his playing retains a live energy that makes the tracks pop.
"I try to turn my mind off and just play," he explains. "I'm fortunate to have this great home facility here, where I can play as long as I want. I loop the song, get a cup of coffee, stand in front of the speakers and try to not think too much. That's when the good stuff comes."
Once it became clear that the movie wasn't going to get made, the music was released to the guitarist to use as he wished.
"Rather than have it sit in obscurity, I thought I would just put it out," Greenberg says. "I mean, why not?"
Buy Kenny Greenberg's Blues for Arash here.
All the latest guitar news, interviews, lessons, reviews, deals and more, direct to your inbox!