"It wouldn't have worked!" Keith Richards on why Jeff Beck wasn't the right fit for the Rolling Stones, Paul McCartney's bass carnage – and why his 5-string Telecaster works
In a new interview in the latest Guitar Player, Keith Richards opens up about Charlie Watts, Jeff Beck, playing with McCartney and this theory on why his 5-string Telecaster works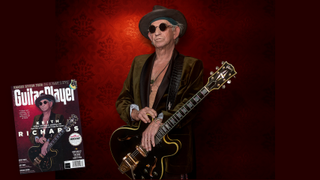 (Image credit: Rolling Stones/Geffen)
"Who does every kid that picks up an electric guitar want to be?" asks producer Andrew Watts. "You want to be Keith Richards, right? That's the whole fucking thing!"
The incomparable Keith Richards is the cover star of the latest issue of Guitar Player magazine, in a wide-ranging interview with both Keith and producer Andrew Watts that provides some insights into the making of the Rolling Stones' brilliant new album, Hackney Diamonds, as well as his incredible career and some of the many musicians he's played with.
Hackney Diamonds is a true return to form for the band that has already been compared to some of their 70s classics, and features a range of guest stars, from Stevie Wonder to Lady Gaga, former bassist Bill Wyman, and one Paul McCartney – although it's far from the first time that a Beatle has played on a Stones record. Lennon and McCartney wrote the Stones' first hit, I Wanna Be Your Man, and were fast friends and collaborators.
"The Beatles and the Stones have been basically joined together at the hips from the beginning," says Richards. "We were totally different bands, but we knew each other well. I think we first met them in the fall of '62, when they came down to see us play in London, and from there, every now and again, we'd get in touch. Later, John and Paul sang on We Love You and on Dandelion.
"We've always sort of been in touch," he says. "Ronnie [Wood] and I used to hang with George Harrison quite a bit in the 1970s, so there's always been an open door between the Beatles and the Stones. We were the only ones that knew what it's like to have that extreme kind of fame in the 1960s, so that created a bond."
Producer Andrew Watt was also working with McCartney during the recording of the album and, with the Stones without regular bass player Darryl Jones, he suggested McCartney drop by the sessions. McCartney brought a '64 Hofner Violin bass that Watt had given him as a gift, modded with a Univox Super Fuzz circuit. He used it on the track Bite My Head Off. "During the breakdown section of the song, he activated the Super Fuzz switch and it was complete carnage," says Watt. "Everyone was like, 'What the fuck was that?'"
In the interview, Richards opens up about his five-string Fender Telecaster tuned to open G [G, D, G, B, D]. Is it because it automatically creates a great blend with a standard six-string? we asked.
"Yeah, that's part of it," says Keith. "That's the sound of a Stones record: a five-string with a six-string on top, and Ronnie. It always creates a beautiful blend. A great example is how it sounds with Ronnie's Dobro on [the Hackney Diamonds track] Dreamy Skies. You always have to play around with the amps a bit, but guitars are amazing things. You can make an orchestra out of them with just a simple blend."
Does eliminating the low sixth string open the mix up so that other instruments can be properly heard? "Yes! It's always been the mystery to me why so much space opens up for other instruments by taking off the bottom string," he says. "You're right, but I can't really put my finger on a reason why, but somehow that one extra note disappearing allows for all kinds of other instruments to come through. It's just one of those things, I guess."
The interview touches on life without Charlie Watts ("I still have conversations with the fucker"), the appearance of Bill Wyman on the album ("a reunion of sorts") and the long-standing story of the time that the Stones auditioned Jeff Beck after the departure of Mick Taylor, in 1974.
"We felt that Jeff had his own furrow to plow and that he was not a team man," says Richards. "He was a soloist to the max. He was such an individualist. It wouldn't have worked with the Stones at all. We're all about teamwork.
"But don't get me wrong, he was a tremendous player. The odd times we got together, I was always amazed by the stuff that he did with his tremolo bar. He was one of the best, man, and he's going to be missed."
Read the full interview with Keith and Andrew Watt in the latest issue of Guitar Player, onsale now and available to buy here.
All the latest guitar news, interviews, lessons, reviews, deals and more, direct to your inbox!
Tom Poak has written for the Hull Daily Mail, Esquire, The Big Issue, Total Guitar, Classic Rock, Metal Hammer and more. In a writing career that has spanned decades, he has interviewed Brian May, Brian Cant, and cadged a light off Brian Molko. He has stood on a glacier with Thunder, in a forest by a fjord with Ozzy and Slash, and on the roof of the Houses of Parliament with Thin Lizzy's Scott Gorham (until some nice men with guns came and told them to get down). He has drank with Shane MacGowan, mortally offended Lightning Seed Ian Broudie and been asked if he was homeless by Echo & The Bunnymen's Ian McCulloch.