Meet the Beatles Guitars
Collector Chip Sgro reveals the stories behind a half dozen Beatles-inspired pieces.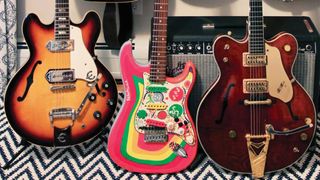 (Image credit: Chip Sgro)
As a young boy growing up in 1960s suburban New Jersey, Chip Sgro acquired his first guitar in a very 1960s way: by collecting S&H Green Stamps at the checkout counter of his local grocery store and redeeming them for his reward: a plastic, yellow-and-red nylon-string guitar that came complete with a battery-operated amplifier "the size of a Pop-Tarts box," he says.
By the time Sgro was starting a family, he had amassed roughly four or five guitars – "what most people call a collection," he says with a laugh. His plunge into the world of vintage instruments, however, came unexpectedly.
"My wife, Kim, knows I'm a big Beatles fan... Years ago she bought The Beatles: Rock Band for our kids for Christmas," he recalls. "And it came with the plastic McCartney bass [the Höfner 500/1 violin bass] and the Lennon 325 Rick [Rickenbacker 325] replicas. My kids loved that. I would play the guitar parts to these Beatles songs and they would sing along. It was great."
Shortly after, his wife took things a step further. "She actually bought me a 1965 Höfner violin bass," Sgro says. "From there, I became interested in trying to acquire what I call 'key' guitars, and in particular what I call 'key Beatle guitars.' I slowly went about identifying them and finding examples that were in really great condition."
Sgro was kind enough to share some of the prized Beatles-related electric guitars in his collection and discuss their histories and significance, both in the Beatles' world and in his...
1963 Gretsch 6119 Chet Atkins Tennessean
The Gretsch Tennessean debuted in 1958 as a single-cutaway, single-pickup offering. By 1962, it had been altered to feature a slimmer body, two single-coil Hilo'Tron pickups and painted-on f-holes. George Harrison used his '63 model both live and in the studio, and it can also be seen in the movie Help!
"When I first started pursuing Beatles guitars, my focus was on George's instruments," Sgro says. "And if you look at his guitars, the first three that people were aware of were the '57 Duo Jet, the '62 Country Gentleman and the '63 Tennessean. I got the Tennessean first, because it is a more accessible guitar.
"There were a lot of them made. I actually found this one in the vintage section of a Guitar Center in California." Sgro's Tennessean "is an interesting guitar, because it has two serial numbers. There's the official serial number on the top of the headstock, which dates it to 1963, but then on the back, in what looks like white marker, there's another number. I never figured out the significance of that number. But the guitar itself is in really good shape."
1957 Gretsch 6128 Duo Jet
Harrison once called his '57 Duo Jet his "first good guitar," and he played it on early Beatles singles, during the Please Please Me sessions and at gigs of the period. "I had been looking for a '57 Duo Jet for a while, and I found this one at Willie's American Guitars in St. Paul, Minnesota," Sgro says. "This example is a 'transition' model, likely produced near the end of 1957.
"Somebody might say, 'Well, this isn't the same year as Harrison's,' because the neck has the Neo-Classic thumbnail fret markers that were on the '58 as opposed to the hump block inlays on Harrison's '57. But it has the '57 DeArmond Dynasonic pickups and the '57 body. Another difference from George's guitar is that his had a Bigsby, while mine has the original G marked tailpiece.
"So there are some distinctions from the standpoint of vintage guitar collecting, but in the end that made it a little bit more accessible, too. And it's just a great guitar. Plug it into a Vox AC15 or 30 and you can immediately hear the Beatles' tunes on Please Please Me come to life."
Circa 1955 Gibson J-160E
Lennon and Harrison received nearly identical J-160 acoustic-electrics on September 10, 1962, and used the guitars in the studio for Please Please Me and With the Beatles. Lennon's was stolen in 1963 (though, as it turns out, he and Harrison had unknowingly switched J-160s) and was later replaced. The original eventually turned up in 2014 and sold at auction for more than two million dollars.
"Because of the connection to the Beatles, the guitar is hard to find, especially one in good condition," Sgro says. "And they're expensive, quite frankly. Mine is an older model than the ones John and George had. It's from '55 or '56, and theirs were from '62. But I was really happy to get this.
"To my knowledge, the J-160E is the only guitar that was played on every Beatles album, from Please Please Me right to Abbey Road. And this example has a killer finish on it, with all the right nicks in all the right spots. Sometimes you just look at a guitar and you say, 'Oh, my God, I have to get that. I don't care what it sounds like.' This one I wanted because it sounded good, but it also looks so good that I think I would've gotten it anyway!"
1967 Epiphone Casino E230TD
McCartney, Lennon and Harrison all played Epiphone Casinos in the mid '60s, and used them extensively in the studio as well as on the final Beatles tour in 1966. Harrison and Lennon later sanded the sunburst finishes off their instruments, with John's now "natural finish" Casino on prominent display during the band's famous 1969 Apple rooftop performance. McCartney continues to play his Casino to this day.
"The Epiphone Casino is a highly coveted guitar by Beatles fans because all three guitar-playing Beatles had one," Sgro says. "I have a 2002 Casino, but I was on a quest to find a true '60s model. This one is a '67, and it's in essence the same as their Casinos, other than the fact that mine has black control knobs, whereas John and George's had gold. But the guitar sounds killer and it's in great shape.
"This one came to me through Danny Courtenay, who owns Chelsea Guitars in New York City and helps me find a lot of my instruments. The guitar has an unfortunate backstory. A friend of Danny's who was also a collector passed away, and Danny was helping his wife sell some of his guitars. He was going to hold onto the Casino for himself, but he decided to sell it to my wife, Kim, who then gave it to me for my birthday. He felt like he was keeping it in the family. It was an extremely difficult situation for everybody, but it makes me appreciate and cherish the guitar that much more."
2016 Fender Stratocaster "Rocky"
In 1965, Harrison and Lennon acquired matching 1961 Fender Stratocasters with Sonic Blue finishes. Harrison used his Strat extensively that year on Rubber Soul, including on "Nowhere Man." In '67, just before the Beatles' performance of "All You Need is Love" for the Our World global satellite broadcast, he painted it with fluorescent Day-Glo paint and named it Rocky. The guitar can also be seen in the "I Am the Walrus" scene in the Magical Mystery Tour television special.
"This is a 2000s guitar," Sgro says of his copy. "I actually don't have a whole lot of background on it, other than one of Danny's dealer friends called him one day and said, 'Hey, do you know somebody who would want this?' Apparently, an artist had painted it for a client, but the client never came to pick it up.
"When Danny saw it, he knew immediately to call my wife, who bought it for me for Christmas one year. The paint job is almost dead-on, and it sounds really good. But it's not one I play a whole lot, because I don't want to chip off the finish." Sgro laughs. "Which is the whole point of the guitar – to play it!"
1963 Gretsch 6122 Chet Atkins Country Gentleman
Harrison had two Country Gentlemans, one of which was destroyed when it fell off the group's vehicle as they were traveling up England's M1 motorway on December 2, 1965. The Country Gent became an instant classic when he used a 1963 model for the Beatles' historic performance on The Ed Sullivan Show in February 1964.
"This guitar is one of my most recent acquisitions, and it was a hard one to find," Sgro says. "First of all, these Gretsches are expensive because they're so closely associated with George. Secondly, Gretsch bindings from that time period are notorious for crumbling and falling off. You could find a '62 Country Gent, but it might have replaced binding or no binding. This one has the original binding, with no cracks, and the guitar itself is in near-mint condition.
"It also came with the original bill of sale – purchased on November 30, 1962, from Leonard's in Fort Worth, Texas for $575 – as well as the original 'Gretsch Quality Control Department OK Card' checklist. It's just an amazing instrument. And it's particularly special just because of the rarity and the condition that it's in."
Brock & Sgro
Years ago, Chip Sgro formed a cover band with other New Jersey musicians and began playing out at local bars, performing hits from the likes of the Beatles, Tom Petty, the Rolling Stones and the Foo Fighters – "typical cover-band stuff," he says. But when the group went on hiatus ("people have jobs and families and other responsibilities"), Sgro and bandmate Alan Brock, who he describes as "a killer lead guitarist," decided to try their hand at writing some original songs.
They began sending musical ideas back and forth to one another over their phones, and, Sgro says, "it kind of snowballed from there." The result was Brock & Sgro's debut album, No Reason to Complain, a 12-track collection the duo pieced together at Brock's home studio, singing and playing all the instruments themselves.
And because Sgro believes in using the prized guitars in his collection, they recorded with a variety of them, primarily his 1942-'43 Gibson J-45 but also a Rickenbacker 330/12 12-string, a 2016 Les Paul Custom "Lucy" copy and a 2002 Epiphone Casino.
Click here to listen to Brock & Sgro's new release mastered at Abbey Road Studios – Peace In A World Of War – and available on all digital music outlets.
All the latest guitar news, interviews, lessons, reviews, deals and more, direct to your inbox!
Rich is the co-author of the best-selling Nöthin' But a Good Time: The Uncensored History of the '80s Hard Rock Explosion. He is also a recording and performing musician, and a former editor of Guitar World magazine and executive editor of Guitar Aficionado magazine. He has authored several additional books, among them Kurt Cobain: Montage of Heck, the companion to the documentary of the same name.