"For the First Time in a While, I'm Very Excited About Electric Guitar Again": The Edge Talks Rekindling His Passion for Tone
Don't miss our June issue celebrating U2's latest album, 'Songs of Surrender,' and the 40th anniversary of their milestone 'War' LP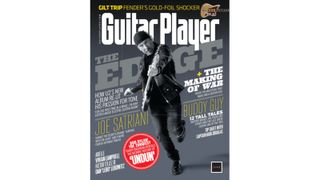 (Image credit: Future)
Don't miss our June issue celebrating U2's new album, Songs of Surrender, on which the group re-interprets 40 of its own classic tracks from their decades-long career.
Speaking of the effort to GP contributing writer Joe Bosso, The Edge says the group gave itself full latitude to re-create the songs. "That was our early decision: 'Are we going to going to suspend reverence here and just go for it?' And we decided to go for it, because we thought we'd get into more interesting territory if we gave ourselves that freedom."
At the very least, we expect U2's efforts will reveal new layers of depth and subtlety to these familiar tunes.
Throughout the course of their career, U2 have been a daringly stubborn, forward-thinking lot, rarely repeating a proven formula, and constantly searching for the next big idea.
And now they've really gone and done it.
Songs of Surrender is a whopping collection of 40 "reimagined" songs that will invariably provoke intense reactions, both good and bad, from their fans, many of whom regard the band's original recordings as sacrosanct.
"We're not just treading lightly on hallowed ground. We're going in with jack boots," says The Edge with a laugh."
Punk rock in 2023, at least in The Edge's world, is bathed in the lush sound of acoustic guitars.
In this interview extract, the legendary guitarist reveals the secret to getting studio-quality acoustic recordings in your bedroom and touches on his rekindled excitement for electric guitar.
You're something of the ultimate gear guy. On this project, did you learn anything new about miking acoustic guitars?
Very often, I would do a quick initial acoustic demo at home. If I was in Dublin, I would be by the piano. And to my surprise, the engineers on occasion would go, "Whoa, that's amazing. How did you get that sound?"
I think it was because I had some really nice microphones. I found this one by Aston, an English mic that's currently in production. It's a very warm-sounding mic for acoustic guitars.
Some of those recordings I made ended up on the album. It was that kind of project. Some of it was done in a proper recording studio in London, but a few were literally recorded in my bedroom.
Now that you've spent a considerable amount of time focused on the acoustic guitar, do you think you might go back to exploring new sounds on the electric with a fresh attitude?
I know the answer to that. [laughs] I've been working a lot on new guitar music, and I'm very excited about it. It's at that prototype stage where… who knows?
But the answer to the question is "yes." I'm finding myself for the first time in a little while getting very excited about the electric guitar again.
Maybe it's something to do with the lockdown, having the time to not do very much. For me, that was such a creative opportunity.
Read more in our June 2023 issue, available to order here.
All the latest guitar news, interviews, lessons, reviews, deals and more, direct to your inbox!
Joe is a freelance journalist who has, over the past few decades, interviewed hundreds of guitarists for Guitar World, Guitar Player, MusicRadar and Classic Rock. He is also a former editor of Guitar World, contributing writer for Guitar Aficionado and VP of A&R for Island Records. He's an enthusiastic guitarist, but he's nowhere near the likes of the people he interviews. Surprisingly, his skills are more suited to the drums. If you need a drummer for your Beatles tribute band, look him up.