Jam-Jazz Cat Scott Metzger Steps Out With New Album 'Too Close To Reason' Armed With a Vintage Martin
This intimate solo debut highlights the unique charms of a 1955 Martin 000-18.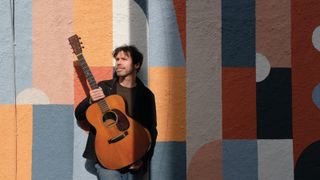 (Image credit: Andy Hess)
Scott Metzger is known for kicking out Grateful Dead grooves and whooping up cosmic electric licks in Joe Russo's Almost Dead tribute act, as well as jamming with improv maestros like Nels Cline and John Scofield.
But when the live scene went dark due to COVID, Metzger followed a vintage Martin down an acoustic rabbit hole to create a cool, understated solo album.
Too Close to Reason (Royal Potato Family) is mostly moody and spacious, rather than chock full of burning chops, although Metzger is capable of conjuring fire.
Check into the Showdown Kids to hear his proficient gypsy jazz hands, as well as those of his violinist wife, Katie Jacoby, who also happens to hold down the fiddle gig in a little British Invasion band from London led by Pete Townshend.
To hear Metzger's electric howl, turn an ear to his power trio WOLF! On the other hand, his new solo acoustic album is a truly singular effort. He plays every note, except for Jacoby's delicate violin on "Only Child."
Too Close to Reason is simply a lovely listen, and a departure from run-of-the-mill guitar showcases. Metzger is not trying to juggle five parts simultaneously or worried about pulling it all off alone onstage.
To cut the album, he simply followed his acoustic muse, either melodically or rhythmically, and then typically threw in a complementary track, plus another for texture. The result is kind of like a duo with himself, with some sauce on the side.
It's refreshing to hear an electric guitar player taking a stab at an unplugged album in his own style, completely for its own sake.
Performed with a plectrum, Metzger's effort falls outside the realm of flashy fingerstyle fabulosos or the jam-jazz world he usually inhabits.
The first single, "Don't Be a Stranger," is a slice of Americana built on a lilting melody that downloads direct to memory.
"Café Hidalgo" is a haunting minor mystery, and "When Katie Smiles" is classically inspired.
Metzger excels at playing in 3/4 time, and the latest release, "Waltz for Beverly," has a wistful bounce.
How does your acoustic guitar approach compare to electric?
The acoustic is a completely different instrument that has to be approached completely differently, but hopefully I have a similar voice on both.
I try to incorporate more open strings and let them ring out to maximize resonation on the acoustic. The idea is to highlight its beauty by featuring the overtones and other elements that you can't get out of the electric.
Two of your primary influences, Django Reinhardt and Jerry Garcia, blurred the lines between acoustic and electric styles. How did you get into Django?
I got to Django through the jazz guitar players I admired that he inspired. I grew up reading interviews with players like Jim Hall and Wes Montgomery, who would mention Django, so I picked up one of his CDs.
I think it was the third volume of Djangology, which was a lucky choice, because some of that stuff is stronger than others, and I fell in love with it immediately.
The feeling of swing and forward momentum in the groove was unbelievable, and his control over the guitar seemed impossible, covering such wide spans with so many arpeggios and other methods on the fretboard.
And then I found out he was doing it with only two fingers on his left hand, which led to more disbelief and deepened my obsession.
I formed Showdown Kids with Simon Kafka on guitar and my wife, Katie, on violin essentially as a vehicle to get my version of gypsy jazz out of my system, because I love that music so much. It's a great way to blow off steam.
How awesome is it to have a wife that can play Stéphane Grappelli to your Django?
Well, that was a big moment in the courting process, I've got to be honest. When she picked up a violin and started playing the Grappelli solo on "Minor Swing," I was like, "Oh, wait a minute. This has potential." [laughs]
I definitely did a double take.
What element of the Django inspiration carries over into your own album?
The biggest thing for me is the way he emotes. He could sound angry or gentle, or anything in-between. His ability to set the mood made it very obvious.
It's in his approach to dynamics, his sense of rhythm and all of the fundamentals involved with playing the guitar. I don't think there's a better example of a player having mastered them all.
What do you love most about Jerry Garcia's playing?
Actually, Jerry would always mention Django Reinhardt in interviews as well, and I think it's the Django influence in his playing that I love most.
That's obviously more apparent in his acoustic playing, due to the nature of the instrument, but I don't claim to be an expert on all things Jerry. I tread lightly when I get into Garcia's stuff. I tend not to study it too much because I do so much of it with Joe Russo's Almost Dead, and I don't want to end up sounding like a watered-down version of Garcia.
I did get a chance to play his [Doug Irwin–built] Wolf guitar after it was auctioned off in New York City. Joe Russo put together a stacked lineup of players, including Nels Cline, John Scofield, Neal Casal, Cass McCombs and Tom Hamilton Jr. [from Almost Dead].
I remember that the guitar was very heavy, had a lot of switches and played great. It was amazing and nerve racking to hold such a piece of rock and roll history. All I could think about as it was handed off from player to player to take a solo was, I don't want to be the guy that drops it. [laughs]
I had a chance to check out his 1943 Martin D-28 and had a similar feeling. Wasn't it a vintage Martin that triggered your recent run of acoustic material?
Yes. Around late May of 2020, when it became clear that I wasn't going to be touring that year, I decided it was a good time to fulfill a lifelong dream and add a nice vintage acoustic to my collection.I shopped around online and wound up buying a 1955 Martin 000-18 from Carter Vintage Guitars in Nashville.
I live in Brooklyn, so the salesman played a few chords over the phone and sent me a photo. It sounded good and I thought it looked cool. I actually wanted an instrument that had been played and looked beat up, not some collector-grade guitar.
When I received the package, it was perfectly in tune right out of the case. The clear, chimey tone pops right out. It doesn't take much effort with the plucking hand to make it project. You can really feel the guitar doing its thing.
All of these melodies almost started playing themselves on this guitar. I couldn't put it down, and there was nowhere to go anyway. I wrote over 30 songs within a few weeks.
The most unusual song with the most unusual sound is actually the opening track, "Appropriate Wattage." Are you playing that acoustic with an EBow?
Yes, you're absolutely right, well, it's actually two acoustic guitars playing counterpoint off of one another. I used an EBow on both. There's no pickup, just a microphone in front of the guitar.
To me, the sound is like when you rub your finger around the outside of a wine glass. It's a very pure, crystalized sound. Every now and again the string would catch the EBow a little bit and make a sharp, metallic sound. I liked the contrast of those two things.
During the mixing process, [engineer] D. James Goodwin added in a lower-octave effect and drenched it in reverb. The concept was to have an off-center introduction that didn't really have anything to do with the rest of the record.
The title comes from a conversation I had with Nels Cline about the appropriate amps to bring to a gig we were doing together.
The rest of the record has more of a rootsy vibe, and the first single, "Don't Be a Stranger," sounds like perhaps there's a bit of a Chet Atkins influence?
The melody is nice and simple, almost like a Christmas song that's hopefully catchy and has a bit of metric modulation in it on the back half. I was trying to highlight the dynamics of the guitar on the bridge.
It's very quiet compared to the following melody as well as the outro, where there's certainly a Chet Atkins influence. I went through a very big Chet Atkins phase years ago, and while I would never try to make an entire record in that style, it's definitely a nod to that phase.
You just released a video for "Waltz for Beverly." What's the story behind that tune?
I was kicking around that melody, which is like an Irish reel, with no harmony supporting it at all. So I put that down and then worked up some changes behind it. I'm not a huge fan of playing to a click track, but it was necessary for this situation in order to put the pieces together cohesively.
What's great about playing over a waltz rhythm?
The great thing about a waltz is that the feel can be either very sad or very happy. It can sound lonely or like you've got a spring in your step walking down the street, depending on the feel.
I'd like to think "Waltz for Beverly" threads the needle between both of those. It's got a little bit of sentimental melancholy as well as a hopeful, very major diatonic sound.
There are three tracks: one straight rhythm, one straight melody and then a third track for atmosphere, with lots of harmonics, open strings and clusters of very close-voiced chords ringing over the top.
"Only Child" is a lovely lullaby in waltz time with your wife Katie on violin, and "When Katie Smiles" has an interesting feel because it sounds like a waltz with a rest on the third beat, like two inside three, right?
Simon is going to play second guitar on the gigs I have coming up and he said the same thing, so there must be something to it, but I think of "When Katie Smiles" as being in four.
It's also interesting that the foundation sounds rather basic, and yet you play some of the most flowery melodies and almost classical-sounding flourishes over the top, wouldn't you say?
Sure. And a lot of the chords are slash chords [with the bass note different from the root]. I went to see the Who a bunch of times because my wife plays with them, and Pete Townshend uses so many slash chords in his writing. That influence definitely came through there.
The single-note stuff you're talking about is playing upper harmonics and extensions over a different bass note [than expected].
How fun is it that you get to hang out at Who gigs?
It's unbelievable. I don't even know what to say. Sometimes I can't believe my life.
Order Too Close To Reason here.
All the latest guitar news, interviews, lessons, reviews, deals and more, direct to your inbox!
Jimmy Leslie has been Frets editor since 2016. See many Guitar Player- and Frets-related videos on his YouTube channel, and learn about his acoustic/electric rock group at spirithustler.com.