Nail Vintage Silvertone Amp Tones With Jackson Audio's Twin Twelve 1484 Preamp Pedal
Jackson Audio teams up with Silvertone to house the Twin Twelve's preamp stage in a stompbox that can be used as a studio-grade preamp, boost, EQ or overdrive.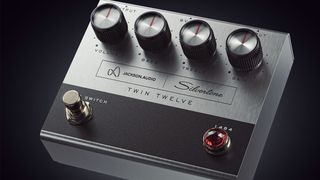 (Image credit: Jackson Audio)
If the idea of a vintage Silvertone guitar amp appeals to you until reality bites and your search is complicated by A) a lack of options, B) fiscal reality and C) the fact that old tube amps from the '60s might require a considerable amount of TLC before being gig-worthy, then Jackson Audio might just have the solution.
Teaming up with Silvertone, Jackson Audio has created a "part-for-part recreation" of the legendary Twin Twelve amp's circuit, replacing the tubes with JFET transistors, and housing it in a stompbox that can be used as a preamp pedal for those classic Silvertone sounds that the likes of Jack White and Dan Auerbach love so much, or as a boost, EQ or overdrive pedal.
The design incorporates an internal voltage doubler, that takes the 9V from your DC supply and pumps it up to 18V to widen the dynamics and touch sensitivity of the pedal. Indeed, Jackson Audio promises the 1484 Twin Twelve pedal offers players the exact same feel as the real life amp.
It certainly looks like the amp. The Silvertone design ethos is clearly at hand here, with that polished-steel enclosure and dials giving the pedal a '60s hi-fi look, a red jewel power lamp a nice amp-like touch, and the dials look like they've been hauled off a vintage Twin Twelve and put in a shrinker (they were custom manufactured, says Jackson Audio).
You've got controls for Volume, Bass, Treble and Gain, a single soft-click footswitch to engage/bypass the unit, and all sockets are mounted on the top of the unit to aid pedalboard integration.
And that's it, an amp-in-a-box pedal for all your preamp pedal needs. Or rather, a rare old and much sought-after amp-in-a-box, that retails for $249, and won't need to be put into your local engineer for a service.
Just stick a 9V DC pedalboard power supple and you're good to go. For more details, head over to Jackson Audio.
All the latest guitar news, interviews, lessons, reviews, deals and more, direct to your inbox!