Classic Gear: Silvertone 1482
Silvertone's mid-'60s tube combo is crude, rude, and full of attitude.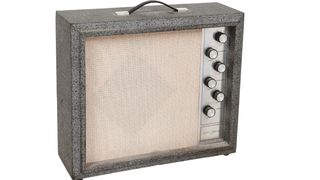 (Image credit: Heritage Auctions)
Given Fender's prominence in the guitar-amp market of the 1960s, it can be easy to declare any lower-powered B- and C-list 1x12 combo of the era "a poor-man's Deluxe."
Numerous sellers of mid-'60s Silvertone 1482 amps like the one shown here often apply that tag to their ads. Yet, for many hip guitarists, the appeal of this downmarket catalog model owes much to the fact that it is very much not like a Fender. In fact, it's not even close.
Having been made throughout the mid '60s, this version of the Silvertone 1482 would appear to be a natural competitor to the similar 1x12, dual-6V6-equipped Fender Deluxe Reverb. It was not.
The masterminds behind Silvertone – the musical instrument and audio brand of Sears, Roebuck & Co. – might have hoped to lure underfunded young guitarists toward a combo with similar features, minus reverb, but the circuit inside this 1965 Model 1482 is far closer to that of Fender's tweed Deluxe of the late '50s.
Even then, it's a long way from the California maker's level of quality, from components to construction. But that's part of the fun.
Never mind that you can still acquire one of these amps in decent original condition for about a sixth (or less) of what a highly collectible tweed Deluxe costs; the real fun begins when you plug in, crank up the raunch, and your mile-wide smile obliterates any preconceived bias you might have had about an amp that cost $68.95 when the original owner acquired it from the 1965 Sears catalog. (The tremolo-equipped, non-reverb Fender Deluxe of that year cost a full $100 more.)
The Silvertone 1482 was manufactured for Sears by Danelectro, a maker long associated with an impressive tone-to-cost ratio. It delivers approximately 15 watts of what the catalog called "clean and clear music" through a single 12-inch Fisher speaker, with two 12AX7 tubes for preamp and phase inverter, a 6AU6 in the output-modulating tremolo, the aforementioned dual 6V6GT output tubes and a wee 6x4 tube rectifier.
It was all wired up "rat's nest" point-to-point style, with no circuit board, inside an L-shaped bent-metal chassis that was affixed to the cabinet, side-on, with three wood screws at the rear edge only. The cabinet itself was made from pressed-paper fiberboard, with a speaker baffle made from a thinner version of the same stuff, and covered in silver-fleck sticky paper with a silver-and-fawn grille cloth.
Essential Ingredients
• 15 watts from two 6V6GT output tubes
• Two 12AX7 preamp tubes
• Tube-powered tremolo with 6AU6
• Hand-wired, point-to-point circuit
• Single 12" Fisher speaker
• Fiberboard cabinet and baffle construction
Aside from the Silvertone's addition of a tremolo effect and individual tone controls on each channel, the circuits in the 1482 and the late-'50s 5E3 Deluxe are roughly similar. Still, it's worth noting a few crucial differences between them.
Despite the lower voltages on the 12AX7 preamp tube that comprises the first gain stage on each of the 1482's two channels, these are biased pretty coldly, and there's no bypass cap around the cathode-bias resistor to fatten up the voice tweed-Fender style.
Many guitarists have noted there is not a lot of treble response in this circuit, which some have sought to improve with simple modifications, and the inefficient, lo-fi speaker doesn't help on that score either.
Add the small rectifier and slightly undersized output transformer – both of which contribute to a characteristic softness and compression in their own different ways – and it's a pretty raw, browned-out amp overall. But fold in the tube-driven tremolo, selected with a foot switch made from a simple wedge of wood, and there are plenty of rootsy atmospherics to be had here.
And therein lies much of the charm. So many guitarists' tone quests these days are about achieving snarling overdrive at reasonable volumes, and this Silvertone combo gets there much quicker than most of its similarly rated competitors from the era. And in doing so, its sound is utterly rock and roll. Mic it up onstage and it will absolutely slay at your next grunge or garage-rock gig.
Stick it through something like a Fryette Power Station to crank it up into a bigger speaker cab and totally floor your bandmates. Obviously, it also eats up studio work for anything where headroom and fidelity are not the least bit desired. The downside is that the 1482's combo cab isn't especially roadworthy.
You'll need to handle it with care, keep it out of the rain, and ideally add a little more mounting support to the front of the chassis if you plan to cart it to gigs frequently (along with undertaking any necessary functional electronic repairs a long-dormant example might require).
In addition, it would probably be wise to add a more efficient and simply better-sounding modern speaker, one that will also survive the 1482's fully cranked-up output.
Yet, even with those caveats accounted for, this Silvertone provides pretty easy access to a genuine vintage tube amp that's crackling with personality and certainly won't leave you sounding like the next player on the bill. Or the next, or the next.
Unless, perhaps, those guitarists are stars like Jack White, Dan Auerbach, or Mudhoney's Mark Arm and Steve Turner, all of whom have taken advantage of the charms of larger amps from the Silvertone and Danelectro stable.
All the latest guitar news, interviews, lessons, reviews, deals and more, direct to your inbox!
Dave Hunter is a writer and consulting editor for Guitar Player magazine. His prolific output as author includes Fender 75 Years, The Guitar Amp Handbook, The British Amp Invasion, Ultimate Star Guitars, Guitar Effects Pedals, The Guitar Pickup Handbook, The Fender Telecaster and several other titles. Hunter is a former editor of The Guitar Magazine (UK), and a contributor to Vintage Guitar, Premier Guitar, The Connoisseur and other publications. A contributing essayist to the United States Library of Congress National Recording Preservation Board's Permanent Archive, he lives in Kittery, ME, with his wife and their two children and fronts the bands A Different Engine and The Stereo Field.