GP Presents the Waybacks feat. James Nash in Berkeley, CA – Win Tickets!
Guitar Player welcomes the Americana maestros to the Bay Area's legendary folk venue, the Freight & Salvage, next Friday, July 8.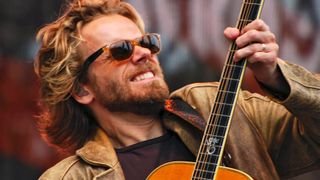 (Image credit: James Nash)
GP deemed James Nash one of the top 50 acoustic guitar players of all time in the August 2018 acoustic special issue cover story.
He's a Santa Cruz Guitars signature artist whose main axe is an OM, and oh man can he make it sing!
Nash is one of those crazy cats who seems to have every lick ever played on ready recall plus the nature to make up new ones on the fly from here to the Moon.
His acoustic-electric tone is as round as Earth, and he's equally at home on a Stratocaster or a mandolin.
Nash does it all in his main band of over two decades, the Waybacks.
"The spirit of improvisation has always been the cornerstone of this band for me," Nash says.
"Through all the stylistic changes and regardless of the instruments we're playing, the fun has always been that in some ways I can do whatever I feel like doing at any moment."
Witnessing Nash harmonize and swap solo flights with fiddle virtuoso Warren Hood grounded by bassist Joe Kyle Jr. and drummer Chuck Hamilton is an excellent adventure.
They have a way of transcending time, alternately tracing various branches of roots music back to the sources while pioneering improvisational paths forward.
Check out this video of the Waybacks performing "Black Cat" at Music City Roots live from the Loveless Café…
The Waybacks are regulars at MerleFest and 2019's clever Zeppelin-themed Stairway to Hillside was recorded there.
The 'backs don't tour as extensively as they used to, so when they do it's extra special.
On the Friday after Independence Day they return to their Bay Area stomping grounds at the fabulous Freight & Salvage where tickets will likely sell out – so get yours now here!
WIN TICKETS!
For a chance to win a pair of tickets to see GP Presents the Waybacks featuring James Nash, send an email to gp@jimmyleslie.com with "Waybacks" in the subject and simply include a sentence about yourself and why you want to go.
Phone contact greatly appreciated for confirmation.
Winner must provide his or her own transportation to the Freight & Salvage in Berkeley, California on Friday, July 8, and have his or her own accommodations in the Bay Area.
Proof of COVID vaccination and facemask required.
Best of luck!
EVENT DETAILS
GP Presents the Waybacks

Friday, July 8, 2022
Freight & Salvage
2020 Addison Street, Berkeley, CA 94704
8:00pm
Free GP magazines, Martin strings
***Proof of COVID vaccination and facemask required***
All the latest guitar news, interviews, lessons, reviews, deals and more, direct to your inbox!
Jimmy Leslie has been Frets editor since 2016. See many Guitar Player- and Frets-related videos on his YouTube channel, and learn about his acoustic/electric rock group at spirithustler.com.