'GP' Presents Django Reinhardt Birthday Celebration on Saturday, January 21, in Berkeley, CA – Win Tickets!
'Guitar Player' welcomes a gang of Django-style virtuosos including Stephane Wrembel and Mimi Fox to the historic Freight & Salvage for a full weekend of shows and clinics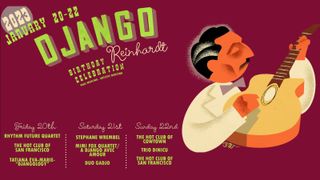 (Image credit: Freight & Salvage)
It's time to celebrate Django's 113th birthday!
The maestro's influence is so profound that his first name alone is as singularly recognizable as the "gypsy swing" or "jazz manouche" style he pioneered.
By combining American jazz with his French and gypsy influences the first international guitar superstar revolutionized the instrument and left an indelible impression on the world of music.
Leading the Quintette du Hot Club de France, Reinhardt was perhaps the most prominent guitarist of the late '30s and early '40s, and he famously played a Selmer acoustic guitar designed by Mario Maccaferri with a cutaway and an oval sound hole.
"Hot" jazz is still burning with "hot club" bands happening in every nook of the globe dedicated to keeping the strings swinging.
An extraordinary annual Django Reinhardt Birthday Celebration takes place at the legendary Freight & Salvage folk house in Berkeley, California, but GP is usually busy in Southern California covering the Winter NAMM Show.
With that event rescheduled for April, we're thrilled to be onboard for the Django bash happening on the third weekend in January, with an onsite presence Saturday, January 21st.
Featured players include Stephane Wrembel, Mimi Fox, and Duo Gadjo. Guitarist Paul Mehling from the Hot Club of San Francisco is the artistic director.
---
Stephane Wrembel
Stephane Wrembel resides in New Jersey, but was raised in Fontainebleau, France, where Django Reinhardt lived and finally passed in 1953.
Wrembel originally learned the gypsy guitar style by hanging out at countryside campsites before heading to Boston's Berklee College of Music.
Wrembel came to international prominence in 2011 when his signature song, "Bistro Fada" was featured in the Woody Allen film Midnight in Paris.
Wrembel has released a slew of Django-oriented albums, and he's got another on the way. Django in New Orleans is due in May, when Wrembel spearheads his 20th annual Django A Gogo Music Festival in New York City.
In his June 2017 Frets feature Wrembel said, "Django Reinhardt is the only musician I can think of that has festivals dedicated to him all over the world."
---
Mimi Fox
Mimi Fox is a killer straight-ahead jazz improviser and an accomplished acoustic guitar artist, making her a natural Django enthusiast with a unique perspective on his amplified acoustic style.
We're looking forward to hearing Fox infuse bebop influences into the gypsy-style jazz brew being whooped up in the spirit of Django.
GP once summed up Fox by saying, "Beyond her passion and technical virtuosity, Fox plays with a profundity that only results from a lifetime of commitment and total immersion in one's art."
---
Duo Gadjo
Duo Gadjo is largely inspired by the sounds of the '20s and '30s when jazz was the new thing and Paris was the place to be.
Duo Gadjo's repertoire, featuring Isabelle Fontaine on vocals, includes many French classics as sung by Edith Piaf, Charles Trenet and Yves Montand as well as standards from the Great American Songbook.
Its distinctive French Cafe sound emanates from their guitars plus the melodica.
---
Workshops
The Freight is famous for its fantastic educational programs, and there's a special synergy happening during the Django Birthday Celebration.
Your show ticket is also good for complimentary registration at workshops happening throughout the weekend.
They include Stephane Wrembel's Art of Django Reinhardt's Guitar Style on Saturday morning, as well as Django Style Techniques and Finding Your Own Ideas with Paul Mehling and Straight Ahead Jazz Guitar for Django Style Players with Mimi Fox, both happening on Sunday morning and afternoon.
There are clinics for violin and vocals as well, so invite your musical mates to view all classes.
If you're a player or appreciator of the Django Reinhart guitar style or have such friends in the San Francisco Bay Area over the third weekend in January, make plans to visit the Freight now, and get tickets for the GP Presents event on January 21 here.
Full weekend passes are also available.
WIN TICKETS!
For a chance to win a pair of tickets to see GP Presents Django Reinhardt Birthday Celebration send an email to gp@jimmyleslie.com with "Django" in the subject and simply include a sentence about yourself and why you want to go.
Phone contact greatly appreciated for confirmation.
Winner must provide his or her own transportation to the Freight & Salvage in Berkeley, California on Saturday, January 21, and have his or her own accommodations in the Bay Area.
Best of luck!
Event Details
Guitar Player Presents Django Reinhardt Birthday Celebration
Saturday, January 21
Freight & Salvage
2020 Addison Street
Berkeley
CA 94704
7:00pm; All Ages; Health & Safety info
Free GP magazines, Martin strings
For more information email Freight & Salvage at info@freightandsalvage.org.
All the latest guitar news, interviews, lessons, reviews, deals and more, direct to your inbox!
Jimmy Leslie has been Frets editor since 2016. See many Guitar Player- and Frets-related videos on his YouTube channel, and learn about his acoustic/electric rock group at spirithustler.com.