Gibson Announces Marcus King, Jerry Cantrell, and Peter Frampton Signature Guitars
Details on the new models are still scarce, but here's what we know.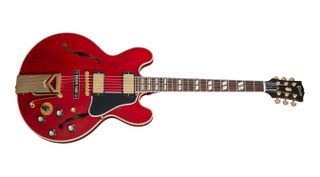 (Image credit: Gibson)
As part of the unveiling of its 2021 lineup, Gibson has announced new signature guitars for Marcus King, Jerry Cantrell, Peter Frampton, Sergio Vallin, and Slim Harpo.
Details and specs are still fairly hard to come by on all of the new models, but here's what we know so far.
First, there's the Marcus King ES-345 (pictured above). Based on King's own '62 ES-345, the new signature guitar features a sideway Vibrola tailpiece, split parallelogram inlays, and a "Custom Made" plaque behind the bridge.
Second, there's the Peter Frampton "Phenix" Les Paul Custom VOS. This will likely be a wider reissue of the ultra-limited-edition 2015 replica of Frampton's legendary triple-humbucker Black Beauty.
As such, we're expecting a mahogany body and neck, an ebony fingerboard, a pearl custom inlay, and a '54 Les Paul Custom holly veneer headstock. It remains to be seen, however, whether or not the "Phenix" Les Paul Custom VOS will boast the aged finish of the 2015 reissue.
Third among the new signatures is a new Les Paul for Jerry Cantrell, the "Wino" Custom. Given the guitar's name, we're guessing this is a replica of the Alice in Chains guitarist's '90s Wine Red Custom Shop Les Paul.
Additional signature models were also announced for Maná's Sergio Vallin – a 1955 Les Paul Bigsby – and Slim Harpo, an ES-330.
We'll bring you more info on all of the new signature models as soon as we have it. For now though, keep your eyes on gibson.com.
Get the latest news, reviews and product advice straight to your inbox.
Thank you for signing up to The Pick. You will receive a verification email shortly.
There was a problem. Please refresh the page and try again.