Peter Frampton on Recovering His Les Paul Custom Years After It Went Down in a Deadly Plane Crash
In this excerpt from his new autobiography, Frampton tells the story of how the Phenix got its wings.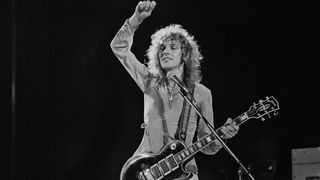 (Image credit: Fin Costello/Redferns)
"All I ever wanted to do was play guitar, and it's taken me many different places – physically and mentally," Peter Frampton writes in his new autobiography, Do You Feel Like I Do?: A Memoir.
Written with Alan Light, the tell-all elaborates thoroughly on that statement, as the guitarist reveals his career highs with Humble Pie and his monster solo breakthrough album, Frampton Comes Alive!. and his personal lows, including his struggles with substance abuse and recent battle with the muscle disease inclusion body myositis.
In addition to sharing stories about his friendships with artists like George Harrison and David Bowie, Frampton discusses his own relationship with the guitar, including one very special – and now quite famous – instrument: his mid-1950s Les Paul Custom "Black Beauty."
That guitar is the subject of this excerpt from the forthcoming memoir. In it, Frampton tells the story behind how he recovered the Custom years after it was presumed lost in a plane crash.
Frampton acquired the guitar in 1970, while he was a member of Humble Pie, from his friend Marc Mariana. As the guitar's owner, Mariana had switched out the guitar's P-90s with humbuckers and sanded down the neck.
Frampton loved the Black Beauty and made it his main guitar, using it for Humble Pie's breakthrough album, Performance: Rockin' the Fillmore, and his own Frampton Comes Alive!, where it appears on the cover.
The guitar continued to serve him until 1980. That November, Frampton and his band narrowly escaped Panama after they were forced to cancel a concert there, incurring the wrath of then-president Manuel Noriega. The group's gear was less lucky: The cargo plane carrying it crashed on takeoff from Curaçao.
In fact, the Custom was among four guitars that survived with minimal damage, though this information was never passed along to Frampton.
The Black Beauty was subsequently sold to a musician in Caracas, Venezuela who played it for 15 years. Its origins were finally discovered when his son brought it to a local luthier named Donald Balentina, who was also an immigrations officer at the Curaçao airport.
Balentina instantly knew the identity of the guitar and made contact with Frampton through the guitarist's manager, Lisa Jenkins. But when he told the owner's son he knew of the guitar's background, the boy fled with the instrument. Frampton's excerpt picks up the story in 2011, two years later.
---
Two years go by and I thought I'd lost the guitar forever. But then the son of the current "owner" came back to Donald's place again. He asked him, "So how much are you going to pay me for this guitar? I want to buy another one."
Donald asked, "What do you want for it?" And the boy said $5,000 – which was pretty close to the price of a nice new Gibson Custom Shop Les Paul. He said, "Give me your number and I'll contact Mr. Frampton."
Donald called Lisa Jenkins to let us know that he had made contact with the boy again, and he now wanted to sell the guitar. Lisa immediately started talking with Donald to facilitate the return of my old Black Beauty. Lisa suggested that we all meet in Nashville at the hotel where I always stayed when I drove in from Cincinnati.
But we think Donald was worried that we were going to have whoever brought the guitar back arrested in Miami by the FBI, because it was still technically stolen merchandise.
I had no such intent – all I ever wanted was to have my lost treasure back in my hands, and that it wasn't going to cost me an arm and a leg. This goes on and on; he's scared to bring it, and then he said that he couldn't pay for the guitar himself, anyway.
Donald went to Curaçao's Minister of Tourism and explained the situation. He said, "Look, it will be great if Peter Frampton gets his guitar back after so many years, and the island's Minister of Tourism gets to be the savior!" I guess he loved the idea, because in the end, both Donald and the Minister of Tourism flew up from Curaçao, bringing the guitar with them.
Before they got on a plane, though, they were still worried that I was going to have them arrested. Lisa told them to call the hotel in Nashville we had booked for them, and once the hotel confirmed that they did have reservations, the trip was on. I could then, and only then, begin to see a light at the end of a 32-year-long tunnel.
We had three cameras set up in the suite waiting. My tour manager, Donnie Lewis, had a friend stationed there who does personal security. We had no idea how this was going to play out.
The two very excited travelers came in and everyone was introduced. The thing I noticed first was the case that was covering the guitar. When I got my very first guitar, the case was just a plastic cover and a zip; it kept the dust off, but it wasn't protective. Well, that's what the Gibson was in, I swear.
Donald had read everything anyone had ever said about this guitar. He handed it to me, and it's a very light Les Paul, so before I even took the cover off I could feel the weight of it. He said, "It's light, isn't it?"
Without even looking, I could just feel it was mine. I finally got the cover off and it was just like putting on an old pair of extremely comfy shoes. "Yes, it's mine." And there she was! Back home!
Once the expletives, cheers, and thank yous had all died down a bit, I was left in this wonderful kind of shock with a shit-eating grin. During the drive over to the Gibson Custom Shop, I couldn't help feeling I was having a weird dream and I would wake up any minute. We had some fine guitar aficionados waiting to see and check this baby out.
All my friends at Gibson – Rick Gembar, SR VP/GM; Mike McGuire, head of the Custom Shop; and George Gruhn and Walter Carter – were there studying it, taking this plate off and that knob off. They finally agreed that it was a 1954/'55 Black Beauty retrofitted with three humbucking pickups (the serial number had been sanded off before Marc Mariana gave it to me).
I got the guitar back for the last couple days of rehearsal before the second half of the Frampton Comes Alive! 35 tour, but the band didn't know I had it yet. I had my back to them as I put it on. We never run through "Do You Feel" or any of the older songs we play every night, so I casually said, "Let's run through the beginning of 'Do You Feel,' just so I can check my sound."
I counted it in, we started to play the intro, and I turned around – and I could see the band had a look of surprise in their eyes, which were now huge, "Hey what is that? It's the sound. That's the sound of the record! That's your guitar!"
They realized what it was just from listening to me play the intro; the difference in sound is that noticeable. And then we played through just about everything off Frampton Comes Alive! that afternoon. Now we all had shit-eating grins! That was a rehearsal I will never forget. Thank you, Curaçao!
I had to leave the guitar at Gibson so they could bring her up to speed. I wanted all the scars left as is, but anything that didn't work properly, like the tuners or any bad electronics, had to be replaced.
I can't thank all my friends enough for donating original pieces for the guitar, like "Patent Applied For" pickups and '50s capacitors and volume and tone knobs, some still in their new old boxes. We call those beautiful old parts new old stock – NOS.
There are still burn marks, dents and tons of other scratches, but that's the way she will stay. I only wish we could sit down together, have a nice cuppa tea, and find out what, when, how, and where she's been for the last 30 years!
It was finally ready by the time we played the Beacon in New York. Anthony Mason had already done an interview with me for CBS about the return of the guitar, so he was there that night, filming me on the bus before the show. He asked how I felt about playing it onstage, and I said, "I'm scared shitless that I'll make a mistake!"
Right before "Do You Feel," which is always the last number of the set, I walked off and the stage went dark. My tech brought out the guitar, placed it in the middle of the stage on a stand, pitch dark, and then all the spotlights hit it at once – bam! The crowd went nuts; she was the star of the show, they could see what she was.
I picked her up and we started to play "Do You Feel" – and I did make a slight mistake in the intro, but they edited it out of the CBS Sunday Morning piece. The Phenix wasn't nervous, but I was. Thank you, Anthony.
Years after we had returned from South America in 1980, Barbara and I stayed over the weekend in New York, and on Monday morning, before we checked out, I had Good Morning America on and I heard my name. I sat up and it was the Lifestyles of the Rich and Famous guy, Robin Leach.
He said, "News has finally reached me. I now have the true story about Peter Frampton escaping from Panama and Noriega's troops." What? "Back in 1980, a well-placed call was made to the White House, as Frampton had connections there" – yeah, because I'd been to the White House once!
He said that a military jet with troops had been sent down to Panama, that there was a rescue mission and Frampton, his band, and crew had all been rescued by the CIA and brought back to Andrews Air Force Base. We were in hysterics! We had gotten out of there all on our own.
The American consulate wasn't a lot of help, if I remember. I just couldn't believe my ears hearing him spew all this bullshit. It was pretty exciting stuff, but it was totally untrue.
It's wonderful to have my old Les Paul back because for so many years after the crash, fans would ask me, "Is that the one you played on Frampton Comes Alive!?" and I'd have to say no.
When I moved to Nashville in the '90s, Gibson's Mike McGuire suggested we work on a replacement. I was thrilled! He and I and many great people at Gibson worked for about a year on building one that was as close to the original as I could remember.
I played it for years, but when the Phenix arrived back and I compared the old and the new, it was no contest. They both sounded great, but the Phenix just sounds and plays like the Phenix! When I announced her at the Beacon Theatre show, I could see this was her night in the limelight.
Peter Frampton's Do You Feel Like I Do?: A Memoir was written by Frampton with Alan Light and is out now via Hachette Books.
All the latest guitar news, interviews, lessons, reviews, deals and more, direct to your inbox!