Billy Gibbons Announces New Solo Album, 'Hardware'
Hear the record's surf-infused lead single, "West Coast Junkie."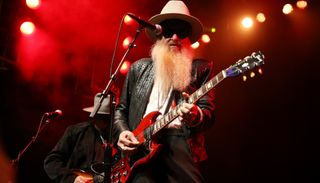 (Image credit: Phillip Faraone/Getty Images for Gibson )
ZZ Top's Billy Gibbons has announced a new solo album, Hardware.
Set for a June 4 release via Concord Records, the album was recorded at Escape Studio in the California desert – near Palm Springs – and was produced by Gibbons along with Matt Sorum and Mike Fiorentino, with engineer Chad Shlosser.
You can check out the music video for the album's first single, "West Coast Junkie," below.
Hardware features Gibbons, guitarist Austin Hanks, and Sorum – a veteran of Guns N' Roses, Velvet Revolver, and the Cult – on drums. Larkin Poe meanwhile, guest on the song "Stackin' Bones."
"We holed up in the desert for a few weeks in the heat of the summer and that in itself was pretty intense," Gibbons said of the album in a statement. "To let off steam we just 'let it rock' and that's what Hardware is really all about. For the most part, it's a raging rocker but always mindful of the desert's implicit mystery."
You can check out the album's cover art and track list below.
To preorder Hardware, step right this way.
Billy Gibbons – Hardware:
1. My Lucky Card
2. She's On Fire
3. More-More-More
4. Shuffle, Step & Slide
5. Vagabond Man
6. Spanish Fly
7. West Coast Junkie
8. Stackin' Bones (featuring Larkin Poe)
9. I Was A Highway
10. S-G-L-M-B-B-R
11. Hey Baby, Que Paso
12. Desert High
Get the latest news, reviews and product advice straight to your inbox.
Thank you for signing up to The Pick. You will receive a verification email shortly.
There was a problem. Please refresh the page and try again.