"I Want to Be an Inspiration to Young Girls": Blues Phenom Ally Venable Steps up to the Big Leagues With New Album, 'Real Gone'
"If I can be a role model to girls and get them to pick up the guitar, then I'll feel like I made a real impact," says the Les Paul-toting Texan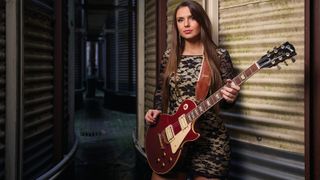 (Image credit: TINO SIELAND)
Ally Venable has been releasing records for nearly half her life – which is saying something considering the fact that the guitarist and singer is all of 23 years old. "Nobody told me that I couldn't start putting out records when I did, so I just did it," she says. "Thank goodness I didn't know about any of these supposed rules, because they probably would have held me back." She laughs, then adds, "Of course, I do like breaking rules."
Over the past decade, the Les Paul-toting Texan has become a hot commodity in contemporary blues circles. Her 2021 release, Heart of Fire, hit number two on Billboard's Blues Albums chart, and she's proved to be a reliable draw in concert. But as she graduates to the big leagues, Venable makes it clear that she has more aspirational goals in mind.
"I want to be an inspiration to young girls," she says. "I'm starting to see it. After my shows, I'll sign stuff at the merch table and there will be a line of young girls who want my autograph or to talk to me. It's so cool. If I can be a role model to girls and get them to pick up the guitar, then I'll feel like I made a real impact."
Venable's forceful playing – a vibrant mix of traditional influences and modern flash, delivered with a highly theatrical flair – has attracted admirers such as Buddy Guy and Joe Bonamassa, both of whom turn up on her new album, Real Gone. On the blues stomper "Texas Louisiana," Venable and Guy intertwine high-energy vocals and guitar solos as if they were part of one body and mind. Bonamassa takes much of the six-string spotlight on the soulful ballad "Next Time I See You," turning in a corker of a lead matched only by Venable's emotive singing.
Other highlights, such as the half-acoustic, half-electric grinder "Blues Is My Best Friend" and the hard-driving blues-rock title cut, belong to Venable herself. Her extraordinary instrumental command – she simply never seems to repeat a phrase or nuance – elevates the best set of material she's ever had.
"I give a lot of credit to my producer, Tom Hambridge, and a songwriter named Rich Fleming," Venable says. "We got together in Nashville and wrote the whole album in two days, which is crazy. On my other albums, I had complete control, but this time I handed the reins to Tom, and we made a pretty magical record together. I never felt so comfortable in the studio before. With Tom calling the shots, I could focus on singing and playing, and I could just let go."
As the story goes, you got into the blues at the age of 12. That's not exactly normal.
No, I guess it isn't. [laughs] I just really connected with it. My dad and I would listen to music every morning when he dropped me off at school. He liked '80s hair bands and stuff. One day I noticed he had a CD of Stevie Ray Vaughan's Texas Flood in his truck, and I was like, "What's this?" I popped it in and said, "Wow, this is different!" I didn't know anything about the blues, but I really liked the sound of Stevie's voice. Then I watched YouTube videos of him, and I was like, "Oh, he's playing guitar. Wow, he's amazing!"
This was around the time that I started learning songs and playing guitar. I had an acoustic, but seeing Stevie play made me really want to rip into the electric. I got one and started learning his songs and then some Buddy Guy songs. It just started snowballing into the rest of the blues.
Did you just go down the YouTube rabbit hole?
Exactly – the rabbit hole of the blues music. I had a Mexican Strat, and then I got an anniversary model Strat. I just played and played. I could play by ear, and I could sing and match pitch really well. I think that played a big part in how I learned to play. I could hear things and emulate what players were doing.
You're saying that learning to play wasn't a big struggle for you. It came to you pretty naturally?
Pretty much, but I still had to work at it and practice the delivery of everything. I studied how songs were structured. Once I got to that point where I could play a full song, I'd hone in on my emotions to really deliver the song to an audience. That's something I worked at, because there's so much you're thinking about during a performance.
What kinds of gigs did you do at first?
I played anywhere I could. I played at a crawfish stand and in front of a grocery store. I played at coffee shops. I would play and I would practice with my band. Every week we would play four-hour shows for tips.
Guitarists often have quirks to how they play. I notice you bend your thumb over the neck.
Yeah, I do the thumb thing. That's how Stevie played. I learned that by watching his videos. I saw other players do it too. I always noticed their thumb was on the top of the lowest string, and it seemed like a good way to get the bass note and play the high strings at the same time. People always point out that I don't use my pinkie much. I tuck it back a little. I guess if I lost my pinkie, I could still play.
You've always had a very musical feel for how you use a wah, especially on the new album.
Oh, thanks! The guitar players that I look at for a wah are probably Buddy Guy and Jimi Hendrix. Stevie, too, but mainly Buddy. I like using a wah because it lets me glide more. It's like this other frequency. I just think I play differently with a wah.
You're also a great acoustic player. I love the way you dig into the acoustic on the opening of "Blues is My Best Friend."
That was fun. Different guitars require different approaches. I play a Les Paul differently than when I play a Strat, so it figures that I'd play an acoustic differently, too. You do have to dig into it a bit more.
I was expecting you and Joe might sing together on "Next Time I See You."
No, he just plays.
How did you and Joe work out your guitar parts?
[laughs] We didn't. I thought the progression of the song was perfect for Joe. It just called out for the "Joe B. sound." We recorded the song, and I even did a solo on top, kind of anticipating what he might do. But then we took my solo out and sent the track for him to play on.
After Joe sent the track back, did you tweak your playing at all?
I think we just left it. It's Joe Bonamassa, you know? I didn't want to take away from anything he was doing. [laughs]
You and Buddy sing and play together on "Texas Louisiana," though. Were you together in the studio?
We were. It's a pretty magical thing working with Buddy. It feels like a kind of passing-the-torch thing. It's just a dream being around him. We have a dialog with our guitars – we're friends, and we've toured together. I'll play a lick, and I can kind of anticipate what he might do, because nobody else sounds like him. I don't know if he's anticipating what I might do, but I do think we're sharing a moment when we play.
All the latest guitar news, interviews, lessons, reviews, deals and more, direct to your inbox!
Joe is a freelance journalist who has, over the past few decades, interviewed hundreds of guitarists for Guitar World, Guitar Player, MusicRadar and Classic Rock. He is also a former editor of Guitar World, contributing writer for Guitar Aficionado and VP of A&R for Island Records. He's an enthusiastic guitarist, but he's nowhere near the likes of the people he interviews. Surprisingly, his skills are more suited to the drums. If you need a drummer for your Beatles tribute band, look him up.