Want to Be as Stylistically Fluid as Bill Frisell? The Man Himself Explains How
Forget about labels. Drop the attitude. Be humble.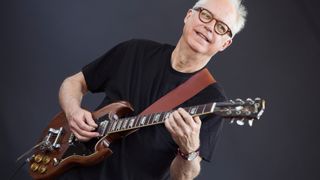 (Image credit: Luciano Viti/Getty Images)
Bill Frisell has played with musical artists across the gamut of styles.
But whether he's jamming with John Zorn, recording with drummer Matt Chamberlain in the group Floratone, or performing with Elvis Costello (as he did for 1995's Deep Dead Blue), he approaches the music with the idea of listening and understanding.
Here, the guitar master tells us about his chameleon-like ability to blend with other players and connect with the music while letting his unique voice shine through...
How do you get the dexterity to jump from one style to the next?
You know, this whole thing with styles and genres and all the labels we put on all these things... We need to talk about it, so we have to have words for it. But when I'm playing or listening or whatever, I'm not thinking, This is jazz, or This is rock, or This is Americana...
I don't really change what I do from situation to situation. Just listening is the main thing. And then just trying to understand as deeply as I can what's going on around me and reacting to it.
The context may change, but my process is the same. It's just about being open to certain things.
And what do you think attracts so many different artists in different genres to you?
I think it's the same thing: I appreciate and listen to what they're doing. All you have to do, if you like something, is be open to it. I've been lucky to be able to tell people I like their music, and then they'll usually welcome me into their world.
What can others do to develop that fluidity?
It's about being straightforward about what you like, and being humble about it too. If there's someone you want to play with, go to them and try to learn from them. That's how my own bands work.
It's like, the guys in my band are blowing my mind so much that I'm really not the leader of the band. I have them in my band because I want to figure out what they're doing. I heard Ry Cooder say that a long time ago: that you learn from your band. If you go in there with that attitude, then you'll be welcomed.
Most people are generous and want to share what they know. But if you go in there saying, "Oh, I'm going to be a super bad ass, I'm gonna show this guy," that puts someone off. So, humility is the key.
And if I do a workshop with younger players, I always tell them to not be afraid to show what it is that you actually like. The worst thing is to try to be cool, or to try to do what you think somebody else thinks is cool.
So you've got to be strong. And if you happen to like a Burt Bacharach song or whatever, then just play it. That's what gives each person their own individual voice. Again, it's just that openness to all music. There's so much amazing music and I keep trying to figure out what's going on with it.
Order a copy of Philip Watson's Bill Frisell, Beautiful Dreamer: The Guitarist Who Changed the Sound of American Music here.
All the latest guitar news, interviews, lessons, reviews, deals and more, direct to your inbox!