Nita Strauss's Top Six Tips for Guitarists
While her career continues to skyrocket, the shred merchant keeps down to earth with these practical habits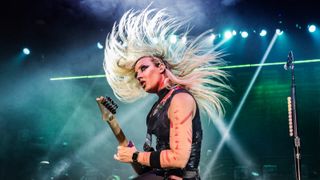 (Image credit: Katja Ogrin/Redferns)
Anybody who has heard Nita Strauss play electric guitar – whether on her own chart-topping solo releases, during her longtime stretch in Alice Cooper's band or now as Demi Lovato's six-string sidekick – has marveled at her versatility and seemingly boundless creativity.
But where does that inventiveness come from? As Strauss tells us, sometimes it's born out of frustration. "I'm just like anybody else," she says. "There are days when I feel like I'm playing the same old things and I'm not doing anything new. It's rare, thank goodness, but when it happens it can be a drag."
Strauss's remedy starts by making her mind a blank. "I just clear out all the stress and mental cobwebs," she says.
Next, she starts to improvise. "I'll just play without any real agenda. Whatever happens, happens. Sometimes I'll put on a guitar backing track and I'll just play whatever comes into my head. Usually that will inspire me to break out of the box I'm in. Before long, I'm feeling totally inspired."
For Strauss, the art of playing guitar is both physical and mental. Here, she offers some thoughtful and practical advice for fellow guitarists…
1. Play Guitar in Front of People
"With YouTube, Instagram and TikTok ruling the music world, it's tempting to think that you can create your art from the comfort of your home. But if your ultimate goal is to be a live performer, then you need to get some onstage experience as early as you can.
"It can be daunting at first, but I think you just have to jump in – you'll see that the water is fine. There are plenty of opportunities to play in front of people – a lot of clubs have open-mic nights, so you can just show up with your guitar and play.
"Or you might consider joining a cover band or getting with a local group that's gigging. However you do it, you'll see that playing live improves your playing quickly.
"For my first show, I was in a brand-new group in L.A., and it was a pay-to-play battle of the bands gig. We only sold three tickets, so my dad, who was a touring musician, bought seven tickets so we could play.
"I had already competed in sports, so I was pretty comfortable being in front of people. I realize that's not the case for everybody, but get out there. You'll mess up – we'll get to that later – but that's okay.
"Just do it!"
2. Listen to the Song, Not Your Ego
"Years ago, I had a chance to audition for a gig with a huge artist. The audition required that I send in a tape of me performing one of the artist's songs. I got 'all my shit in,' to use a wrestling phrase: I did all my fancy moves and flashy tricks. I thought it was great. Of course I'll get the job, right?
"Then I got a call from the artist's producer – a legend in the business – who said, 'Have you even listened to the song?' It was a mortifying but very instructive moment.
"Very quickly, I realized that the audition process was to determine if I would be a good fit for the artist and the music. It wasn't about showing off everything I could do. I was crushed at first, but it helped me to develop an awareness I never had before.
"The gig wasn't about Nita Strauss and her ego; it was about the songs the artist wanted to play onstage. And think about it: If they're calling you to audition, they already know you can play. But can you play what is required of you? That's totally different."
3. Be Versatile…
"We all have our favorite bands and artists who inspired us to want to play music. And perhaps because of those artists, we gravitated toward one style of music.
"There's nothing wrong with loving your favorites – I still do – but realize there's also nothing wrong with branching out and learning other styles and techniques. In fact, it will only help you become a more versatile player.
"I came to this understanding through my desire to play guitar as much as possible. I started getting onstage with anybody I could – rock bands, punk bands, funk bands, singer-songwriters who needed acoustic accompanists... you name it.
"Sometimes I'd play two gigs a night with two different artists. I learned to adapt very quickly to playing different styles of music. And I had a great time, too."
4. …But Maintain Your Own Voice and Identity
"Perhaps you've seen me perform with Alice Cooper or Demi Lovato, or maybe you've seen one of my own shows – in each case, you'll hear a big difference in style. However, if I'm doing my job right, you'll also hear something that makes you go, 'That's Nita!'
"When you're a hired gun, your first responsibility is to serve the gig. At the same time, you want to bring that certain something about you that makes you stand out. It's a bit of a fine line and an art form in itself.
"As I mentioned earlier, I learned this the hard way. You can't just blaze shred solos and pinch harmonics over the song – that won't be tolerated, no matter how awesome you are.
"Instead, you need to pick your moments. Maybe just sneak in one little phrase that speaks to your personality. They'll say, 'That's why we hired you!'"
5. Accept That Shit Happens
"Let's face it: There is no perfect show. No matter what, something will invariably go wrong. Your cable breaks, you bust a string, you take a wrong step and slip. Or maybe your singer dances around, steps on your tuner pedal and mutes your guitar.
"Shit happens. This stuff used to drive me crazy, and then I realized, 'Nita, tomorrow's another day. Get over it.'
"The only good way to react to onstage accidents is by correcting the situation smoothly, like a pro. Move on and don't make a scene. It's better if your audience says, 'Man, she slipped and kept right on going,' instead of 'Oh, my god. She fell down and they had to stop the show. It ruined everything.'
"Recover gracefully, and never let 'em see you sweat. And chances are, unless you draw attention to something, people in the audience won't really know that you played a note wrong, or whatever.
"That's happened to me so many times. I'll come offstage and think that I did something wrong, and everybody will come up to me: 'That was the best show ever!'"
6. Don't Lose Sight of the Most Important Thing
"I'll let you in on a little secret: The most important thing about playing a show is to have fun. Always.
"My mother texts me before every show I do, even if I'm just doing one song somewhere, and a lot of times she'll write, 'Remember the most important thing.' It's really sweet.
"There's a lot of work that goes into performing. You've put in hours of dedicated practice. You've learned the songs and you're ready for the show. But when you hit the stage, it shouldn't feel like work.
"Don't ruin the moment by stressing out. Relax, shake your shoulders out, take a deep breath, trust your muscle memory, and have a great time.
"Think back to the best shows you've ever seen. The performers probably looked like they were having a blast – because they were."
Click here to visit the Nita Strauss website.
All the latest guitar news, interviews, lessons, reviews, deals and more, direct to your inbox!
Joe is a freelance journalist who has, over the past few decades, interviewed hundreds of guitarists for Guitar World, Guitar Player, MusicRadar and Classic Rock. He is also a former editor of Guitar World, contributing writer for Guitar Aficionado and VP of A&R for Island Records. He's an enthusiastic guitarist, but he's nowhere near the likes of the people he interviews. Surprisingly, his skills are more suited to the drums. If you need a drummer for your Beatles tribute band, look him up.