Why the Gibson Custom Shop's Jimi Hendrix Models Are the Definition of Cool
These Gibson Custom Shop creations are extremely hip, evocative, and lovable.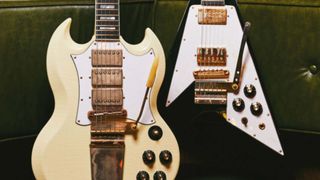 (Image credit: Gibson)
If we're seeking a definition for the term 'cool' that bookends the title of this monthly feature ("New & Cool") we could do far worse than hold up a pair of detail-precise re-creations of Jimi Hendrix's guitars.
Unveiled by the Gibson Custom Shop at the tail end of 2020, the Jimi Hendrix 1967 SG Custom and 1969 Flying V will be produced in just 150 examples of each model, including 25 left-handed Vs.
Together, they deliver a heady trip some 50-odd years back in time. The SG Custom got national TV coverage when Hendrix played it on The Dick Cavett Show on September 9, 1969, and it made appearances at plenty of other live dates with the guitarist as well.
The Flying V was custom-ordered direct from Gibson in a left-handed configuration, to replace a restrung right-handed 1967 Flying V with post-factory psychedelic paintwork that Hendrix had played with the Experience in late '67.
The '69 model entered into rock history when, among other appearances, it hit the stage with Hendrix at the Isle of Wight Festival in England on August 31, 1970, just two and a half weeks before his death.
The chance to recreate these two iconic models came about courtesy of the guitarist's sister, Janie, who is also president and CEO of Experience Hendrix LLC and Authentic Hendrix LLC.
"Having the opportunity to release Jimi's 1969 Gibson Flying V and 1967 Gibson SG Custom is an amazing opportunity that comes with an obligation for all of us at Gibson to pay tribute to Jimi," says Cesar Gueikian, Gibson's chief merchant officer. "He left this world way too early, but the legacy and influence he left behind is unparalleled."
In addition to the use of historically accurate construction details and components throughout, each guitar has been finished and hand aged in Gibson's Murphy Labs, a special division established last year and headed by Tom Murphy, the acclaimed master of applying realistic artificial wear to paint and parts.
All include special accompanying documents, including archival photos of Hendrix bundled with Certificates of Authenticity.
Opening the case on the '67 SG Custom, I felt like I'd encountered a shift in the time-space continuum. The case is itself a period-correct form-fit hardshell stenciled with "J.H. Exp." and "Handle with Care." Inside, a section of fabric that re-creates clothing Hendrix wore while playing his SG Custom on Cavett's show quilts the accessories pocket.
As for the SG Custom, it looks and feels so much like a '60s SG Custom that it's uncanny. The finish checking and patina on the hardware and pickup covers are extremely realistic, the only possible "miss" being the lack of aging on the oddly bright heads of the gold-plated pickguard screws.
The SlimTaper neck profile does a good job of representing the somewhat fuller but flattish neck shapes Gibson returned to later in the '60s after the super-slim speed necks that the Les Paul/SG was born with in '61, and this one's easy to grapple with and a pleasure to play.
Strapped on, there's a little neck dive, of course – hey, it's an SG – and the guitar is a little on the heavy side for an SG in general, at around 7.8 pounds. But with the long Maestro lyre vibrola and third pickup, it's carrying a lot of hardware, too.
Other details among the accurate appointments include Kluson waffle-back tuners with tulip buttons, an ABR-1 Tune-o-matic bridge with nylon saddles (often a partner to a vibrato), and a nylon nut. The three pickups are what Gibson calls '68 Custom Buckers, wound to represent the early T-tops that a '67 would have carried and appropriately pitched at around 6.75k-ohms in each position.
As per the originals, the SG Custom is wired so that the three-way switch selects neck pickup, middle and bridge, and bridge, with the latter's volume and tone controls also governing the middle pickup when it's in circuit.
Distinguishing its presentation somewhat, the 1969 Flying V's rectangular case is stenciled "Band of Gypsys" and "Handle With Care," while inside, the lid of the accessories pocket is covered in repro fabric from Hendrix's Isle of Wight Festival garb.
The guitar itself is a rendition of what the Flying V had evolved into in the late '60s after returning to the catalog following the deletion of the original '58–'60 Korina model. The circa '67–'69 version – with a mahogany body and neck, enlarged pickguard, and some other changed-up features – actually has more of a pedigree in rock, late-'50s Vs being so utterly rare.
The aging of the Murphy Lab's finish on this one is a little less apparent, given its ebony hue, and the entire guitar again feels like it could have been a lucky-day pawnshop find. (As on the SG, some overly bright gold-plated pickguard screws are the sole exception.)
Accurate late-'60s Flying V construction makes for a narrow neck by Gibson standards, with a nut width of just 1.60 inches. The comfortably rounded profile, with just a bit of fullness in the palm and a depth of .85 inches at the first fret, helps fill out in that dimension what the other might lack.
Tuners are single-line Klusons with tulip buttons, the nut is Corian, and the ABR-1 bridge again carries nylon saddles to ease the strings' movement when the short Maestro vibrola is in action.
The pickups on this one are Custom Buckers, wound to a slightly punchier 7.81k-ohms in the neck position and 7.76k-ohms in the bridge, wired through a traditional three-way switch, individual volume controls, and a master tone.
I tested both guitars through a tweed Deluxe–style 1x12 combo and a Friedman Small Box head and 2x12 cab. The SG Custom displayed a predominantly bright, wiry plugged-in tone, yet one with decent girth behind it.
The guitar is surprisingly adept at jangly clean chord work, and hides a lot of sting in cranked-up lead playing. The 1969 Flying V definitely expresses a sound and amped-up playing feel all its own.
A light, slim-bodied guitar, its core tone is balanced and open, and the Custom Buckers in this guitar find it pushing the front of the amp just a little harder than the SG did, too.
At the end of the day, the Jimi Hendrix 1967 SG Custom and 1969 Flying V are extremely hip, evocative, and lovable creations from the Gibson Custom Shop.
Both admirably evoke that time-machine feeling that an aged, limited-edition artist guitar should deliver, and are simply a real joy to behold. And I'll be holding them as long as I can. Or at least until the big brown truck shows up later today with a pair of return labels.
PRICE: $9,999 each
CONTACT: Gibson
All the latest guitar news, interviews, lessons, reviews, deals and more, direct to your inbox!
Dave Hunter is a writer and consulting editor for Guitar Player magazine. His prolific output as author includes Fender 75 Years, The Guitar Amp Handbook, The British Amp Invasion, Ultimate Star Guitars, Guitar Effects Pedals, The Guitar Pickup Handbook, The Fender Telecaster and several other titles. Hunter is a former editor of The Guitar Magazine (UK), and a contributor to Vintage Guitar, Premier Guitar, The Connoisseur and other publications. A contributing essayist to the United States Library of Congress National Recording Preservation Board's Permanent Archive, he lives in Kittery, ME, with his wife and their two children and fronts the bands A Different Engine and The Stereo Field.