A Rare Treat Among Vintage Treasures, This Wandré Roby Is One of the Most Collectible Italian-Made Electric Guitars of the 1960s
A groovy relic from the stylish Italian guitar maker that sits in the sweet spot between art and utility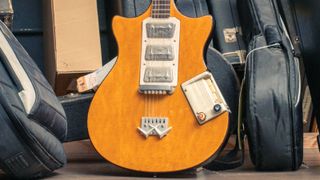 (Image credit: Future/GUITAR COURTESY OF T.R. CRANDALL GUITARS, PHOTOS BY DREW GANSZ )
Buddy Miller has a lot to answer for. Few guitarists lusted after a Wandré before this first-call Nashville session ace, solo artist and producer began churning out lithe, buttery riffs on one of these oddball guitars. Thanks to Miller, we know these things sound fantastic. As such, they have become the most collectible of the stylish, modernist Italian-made electric guitars of the 1960s, and highly worthy acquisitions for their looks, rarity and playability.
The circa-1960 Wandré Roby featured here sits in the sweet spot between art and utility. Whereas some Wandré models look more like a Salvador Dalí painting than a guitar, the Roby abounds with the maker's signature features and esthetics, while it offers familiarity in form and function.
The man behind Wandré guitars was born Antonio Pioli in Cavriago, Reggio Emilia, Italy, in 1926. His father, a noted luthier, nicknamed him Vandré – meaning "to go in reverse" in the regional dialect – for his eclectic tendencies, and the moniker became an entirely suitable brand for his guitars when Antonio started building them himself.
Unlike so many Italian electric guitars that would follow, which were arguably "style first and functionality be damned," Wandré guitars' fashion-forward appearance potentially disguises the fact that they were made by a luthier who was heir to a great tradition in the craft, and who was serious about improving all aspects of the instrument in his work.
An artist first and foremost, and an eclectic modernist at heart, Pioli was also a friend to both Dalí and Brigitte Bardot (his curvaceous B.B. model was designed in her honor). And if his eccentric designs kept his guitars from becoming popular at the time, they eventually helped him establish a niche that has become valued and appreciated many years later.
Miller recalls that he purchased his first Wandré Soloist model in the 1970s from a Colorado pawn shop for $50 and went back a year later to buy four more at the same price once he'd realized how great it actually played and sounded.
You'd likely have to pay a hundred times that price today for an example in decent condition, and perhaps significantly more than that for some of the rarest models, such as the Bikini (with a built-in amp) or the B.B.
Though less dramatically styled in its lines than the more extreme designs, the Roby model sports the myriad quirks that have come to define Wandré guitars. It carries a trio of trapezoidal single-coil pickups made by Davoli, notably lively and slightly microphonic and the ideal enhancement to the guitar's sonic personality. They are wired through a push-button switching system that allows individual on/off selection of each, with shared volume and tone controls. The neck pickup is reversed and wired out-of-phase to add a funky edge to the sonic options.
Image 1 of 2
The simple tail plate has slots for string anchoring and sports the nifty stylized double-V "W" logo, but the bridge itself is even more thoughtfully engineered, if equally unusual. Rather than carrying a row of saddles, it's designed with six small holes through which the strings are threaded, with a small metal knob to adjust the intonation position of each contact point within the tubes. A "pass-under" bridge, it actually functions better than the "wrap-under" bridge found on the first year or so of Gibson Les Pauls in 1952 and early '53.
Arguably most noteworthy of all, though, is the Wandré's neck. It's made from aluminum, with the express purpose of avoiding warpage, and is covered with a thin adhesive plastic to present a warmer feel to the hand. It's bolted to a headstock made from a central piece of rosewood, with a wrap-around aluminum plate onto which the tuners are mounted sideways, in the style of a traditional slot-head acoustic guitar. Other than that, most Wandrés sport a lot of plastic in their construction, although our Roby model does feature a slice of bird's-eye maple on its top.
For the crowning touch, the fingerboard is adorned with decorative and informative inlays: Every other one features an inscription that tells the guitar's maker, model and "Export" status, while the image of some unknown rampant animal and two seemingly random shapes fill the remaining positions.
Wandré guitars don't come cheaply or very often at all these days. Should you have the chance to strap one on, you'll not only stand out both visually and sonically but also enjoy a rare treat among vintage treasures.
Image 1 of 2
Essential Ingredients
Aluminum neck
Bolt-on rosewood-and-aluminum slotted headstock
Body made from wood, aluminum and plastic fiber
Three single-coil Davoli pickups
Console-style pushbutton pickup selector
"Pass-under" bridge construction
Guitar Player would like to thank TR Crandall Guitars for showing us this fantastic example.
All the latest guitar news, interviews, lessons, reviews, deals and more, direct to your inbox!
Dave Hunter is a writer and consulting editor for Guitar Player magazine. His prolific output as author includes Fender 75 Years, The Guitar Amp Handbook, The British Amp Invasion, Ultimate Star Guitars, Guitar Effects Pedals, The Guitar Pickup Handbook, The Fender Telecaster and several other titles. Hunter is a former editor of The Guitar Magazine (UK), and a contributor to Vintage Guitar, Premier Guitar, The Connoisseur and other publications. A contributing essayist to the United States Library of Congress National Recording Preservation Board's Permanent Archive, he lives in Kittery, ME, with his wife and their two children and fronts the bands A Different Engine and The Stereo Field.