Stageworthy Strategies, Part 5: Understanding Acoustic Amps
The right acoustic amp is your best gig buddy – so find your niche, dial in your tone and rock the planet!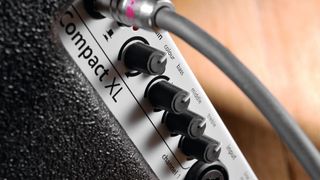 (Image credit: Future)
Do you need a dedicated acoustic amp? If you play a significant amount of acoustic-electric guitar, especially in a performing group, then of course you do. The other members will bring their noise, and relying on house monitors can be a crapshoot.
Troubadours traveling with a personal P.A. will be fine, especially if armed with some of the signal processors we've addressed in the past few columns. But it's often good to bring an acoustic amp as well. It's nice to have as a monitor, helps with the overall sound, and is a handy backup for the larger P.A. system.
Acoustic Amps 101
An acoustic amp is designed to accommodate the signal from an acoustic-electric guitar, which is usually equipped with a piezo pickup and preamp. Compared to a magnetic pickup, a piezo delivers a broader frequency spectrum, so it generally doesn't sound awesome through an electric amp, with its narrow midrange focus.
A magnetic soundhole pickup can sound great through an electric amp or an acoustic amp, but that setup is akin to turning the acoustic guitar into a hollowbody electric guitar with a midrange emphasis.
A piezo pickup into a P.A. will deliver a broad tonal range that's fine for a solo act or in the context of certain ensembles, but for most acoustic rock outfits it's easier and more appropriate to bring an acoustic amp. It maximizes the magic in the high midrange, where the acoustic sits best in a band mix. It can also be a good idea to use a dual setup, complementing it with a magnetic pickup feeding a beefy tube amp. Warning: Doing so tends to piss off the bass player!
Acoustic Amps 102: What's For You?
Whereas an old-school acoustic amp was often simply an amp, many modern acoustic units offer all sorts of bells and whistles. Which one is right for you boils down to what you plan to do. If you're an acoustic-tone aficionado, sonic integrity is paramount. The amp must accurately deliver everything from delicate fingerpicking to aggressive strumming and percussive playing.
There is simply no substitute for top-quality circuitry, which is why tone freaks such as Tommy Emmanuel and Eric Johnson go for something like an AER, which can cost twice as much as amps of similar size and power. AER co-founder Udo Roesner notably launched his own amp line in 2020.
Such amps handle like sports cars designed to let the driver feel every nuance of the musical terrain. Manufacturers engineer the majority of acoustic amps more like sedans, designed to smooth out the ride and offer creature comforts for the average player.
Acoustic Amps 103: Trends
Most manufacturers have settled on a similar format for the modern acoustic amp: dual channels with at least one XLR input for a vocal mic, onboard effects, and medium solid-state power pushing a relatively small speaker configuration, with extended I/O to accept extra signals such as Bluetooth and send everything out directly to a larger system.
If not, then the amp acts like a little P.A. Many electric amp manufactures are veterans in the acoustic arena as well, and more keep entering, with notable additions in recent years coming from Orange, Rivera, Hughes & Kettner and Mesa. Godin just announced its new ASG-8, which fits the format to a tee.
Digital effects improve with each generation. Vocal channels do too, and specialized offerings such as the Boss Acoustic Singer range include useful tools for the singer-songwriter, such as a vocal harmonizer and a looper. One of the most exciting trends is the year-to-year upgrade in über-portable battery-powered units, like the Fishman Loudbox Mini Charge and Fender Acoustic Junior GO, which earned an Editors' Pick in our review.
This is such an exciting time to be an acoustic-electric performer. With amps available for players of all styles and situations, it's never been easier to get a consistent signature sound.
Further Reading...
All the latest guitar news, interviews, lessons, reviews, deals and more, direct to your inbox!
Jimmy Leslie has been Frets editor since 2016. See many Guitar Player- and Frets-related videos on his YouTube channel, and learn about his acoustic/electric rock group at spirithustler.com.