Stageworthy Strategies, Part 4: Acoustic Effects
Don't let the electric guitar players have all the fun. When playing live, a carefully curated pedalboard can give your sound the edge.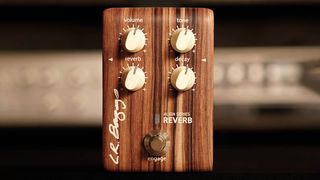 (Image credit: LR Baggs )
When it comes to effects, acoustic-electric players generally fall into three categories: purists who eschew them, dabblers who are open to possibilities and gear heads who are into full-on processing.
If you use effects at all, it's important that you apply quality sounds artistically and judiciously. The primary acoustic guitar effects are chorus, delay and reverb, and while many modern acoustic amps offer them onboard, we'll focus on pedals here and look at amps next time.
Get your effects in order
Chorus can add depth and sparkle. Put the chorus first (after compression or gain) following the cardinal rule of modulation before time-based effects. A nice tight chorus applied at a generous depth can provide a decent approximation of a 12-string.
Add the upper element of an octave pedal to make it more convincing. A wider chorus will add a watery texture, but don't slather on so much chorus that the dry glory of the wood gets lost in a flood. Delay and reverb are time-based effects and are ideal for adding ambiance.
Think of delay as extra hits of a particular sound. Put the pedal after modulation effects and before reverb, with its potentially long tail. Reverb is the last in line as it puts everything in a new space that can be as small as a room or as huge as a stadium. Put acoustic effects in an effects loop if one is available on the amp or D.I. pedal to keep the tone as tidy as possible.
Stir it up
Mixing up effects keeps tone interesting over the course of a gig. Take the chorus away for some songs, and change the rate and depth for others.
Consider using two reverb pedals the way acoustic solo act Christie Lenée does, with one set short and another long so she can quickly click them on or off rather than interrupt the show to tweak a single unit. Use two reverbs individually for different types of tunes, or together for a more prominent overall effect. Uilizing a short reverb provided by the amp in conjunction with a lush, spacious pedal reverb for slower songs can also work well.
Customizing delay tempos to tunes is crucial. A delay with tap tempo capability is awesome for live applications when it's not practical to bend down and adjust timing.
Express Yourself
Extension and expression pedals are a live processor's best buddies. Many pedals feature extended I/O for connecting a tap/toggle footpedal that can control delay tempo or chorus rate. Expression pedals can expand capability tremendously and allow unique real-time control of everything from chorus depth to reverb size or rate of decay on a delay.
This is where effects processing becomes an art form. And in live art, real-time expression is everything. Pro pedalboards are often configured with expression and extension foot controllers prominent, and with effects set up to let the foot controllers take precedence for performance.
The actual pedals are frequently housed in a rack or cabinet sitting side stage. A volume pedal is simply a dedicated expression pedal, and it's always a good idea to have one handy to home in on overall level for a particular part, or back off quickly in the case of a random feedback attack.
On the modern market
Myriad modern modulation and time-based effects are expanding horizons immensely for the acoustic effects enthusiast. Eventide's MicroPitch Delay blurs the line between the two camps, earning an Editors' Pick in the July issue of Guitar Player.
Editor-in-chief Christopher Scapelliti reviewed Earthquaker's new Astral Destiny and noted, "Earthquaker Devices has made uncommon reverbs a specialty of its extensive pedal line." Strymon is another such manufacturer embraced by acoustic gurus such as Kaki King for expansive pedals such as the BigSky reverb. King now swears by her laptop rig based on Apple's MainStage software, and we're certainly entering an era when that won't be at all weird.
There is another trend toward pedals designed specifically with the acoustic player in mind. L.R. Baggs entered the effects pedal arena in 2018 with the Align Series, and its Reverb and Delay pedals earned Editors' Pick Awards.
Fender introduced the stage-friendly Acoustic Preverb preamp and reverb pedal last fall and is developing an entire acoustic-oriented range. Meanwhile, Universal Audio introduced its UAFX pedals, designed to bring studio-quality ambiance and modulation to the stage.
It's obvious that there has never been a better time to get into acoustic-electric effects. As we emerge from the pandemic and move into a new era of performance, take the opportunity to explore how they can spice up your live tone.
Further reading...
All the latest guitar news, interviews, lessons, reviews, deals and more, direct to your inbox!
Jimmy Leslie has been Frets editor since 2016. See many Guitar Player- and Frets-related videos on his YouTube channel, and learn about his acoustic/electric rock group at spirithustler.com.