Christie Lenée Talks Gear, Performance and Her Phenomenal Percussive Fingerstyle Technique
2019's Acoustic Guitarist of the Year, Lenée is taking the instrument forward with each passing release.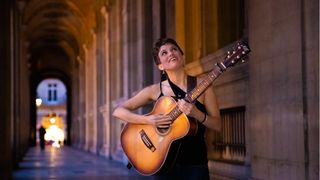 (Image credit: Mat Ninat Studio)
Watching Christie Lenée perform her solo acoustic act is like seeing a firecracker execute a high-wire circus routine while doing flips and juggling flaming bowling pins. But Lenée is not only a one trick pony.
Her use of dexterous fingerpicking and two-hand tapping to relay deep emotions through tuneful compositions was more than enough to win her the 2017 International Fingerstyle Guitar Championship, an acoustic-only competition held at the Walnut Valley Festival in Kansas.
Fast forward to the 2019 U.K. Guitar Show in London this past September, where the rules of acoustic engagement were more modern.
Performing before a panel of esteemed guitar magazine editors and virtuosos, including Andy McKee, Molly Tuttle and John Jorgenson, Lenée put on her trademark pedal dance, incorporating live looping while wearing a tambourine on her left foot and stomping on a Kopf Percussion ToeKicker with her right.
On a typical touring gig, Lenée often pulls it all off while singing like an angel and using a TC-Helicon Harmony Singer to create a vocal presentation more akin to the lush layers found on her recordings. In the end, she wowed the judges and came away winning Acoustic Guitarist of the Year.
In the wake of her most recent big win, Lenée compiled the album Circles 'Round the Sun (Best of Christie Lenée) - featuring the funky new track "Free World Citizen" - and embarked on a European tour in the fall, where she opened for Tommy Emmanuel.
Frets caught up with Lenée on the flipside of the New Year after a stellar set at Club Fox in Redwood City, California, and then again after a Fretmonkey Records showcase during the Winter NAMM Show, where she shared the bill with Kaki King, Vicki Genfan and a host of other top-tier female fingerstylists.
Congratulations on another huge win. Can you compare and contrast the two competitions?
They are very different. The International Fingerstyle Guitar Championship is strictly acoustic, with no effects or amplification allowed, and the judging is done blind. The judges wear headphones and are sequestered away in a bus behind the venue. They can't see you, and they don't even know your name, only your contestant number.
I played a Martin D-18 Golden Era sitting down in front of a microphone. Both of the competitions have a series of rounds to dwindle down the field, but the U.K. show uses video submissions for everything except the final round.
The judges understand exactly who they are looking at, and then the final round is a full-blown live performance, where you're allowed to use all your gear and have a vocal microphone, which I appreciated. I played my main stage guitar, which is a Maton EGB808.
Did you play the same material?
I played the same instrumental that I'd used to win the International Fingerstyle Competition, figuring that if it worked once before, it might work again! "Song for Michael Pukac" is my most versatile piece. It tells a story through different themes and variations.
I drum on the guitar in the beginning, then there's a fingerstyle section with a hummable melody, and then there's a tapping section and a tempo change. It's the best representation of what I can do on a guitar in five minutes.
Once they proclaimed me the winner and invited me back up for an encore, I sang my new single "Free World Citizen," which is a groove-based tune that features bassist Tal Wilkenfeld on the recording. I was very grateful for that opportunity to show the different elements of what I do, especially since it was my first time ever playing in London.
Was it nerve-racking to be judged by such accomplished players?
Well, having Andy there was particularly interesting, because he is the quintessential fingerstyle percussion guitarist in this day and age. Michael Hedges was the first player I'm aware of who did a lot of slapping and tapping successfully.
Andy took it to a different level by arranging pop songs such as "Africa" in that style, which brought it to a broader audience. It works well for him, but every single time I try to approach arranging a pop song instrumentally, I can't help but want to sing it in the end. My take on "Graceland" from the new album is a good example.
Since McKee is the most recognizable modern percussive fingerstylist, could you provide some insights by comparing your technique to his?
He approaches it more like a piano, where the left hand plays the bass and the right hand plays the melody, whereas my hands are usually flipped around.
I tend to tap the bass notes with my right hand and use my left hand to play the melody. I'm not exactly sure why that's the case, but it might be because I'm also a drummer. I'm used to playing the kick drum with my right foot and opening and closing the hi-hat with my left foot.
That probably translates to how I think about the right and left hands on the fretboard, where my right hand is used like a bass to line up with the kick, and the left hand works over the top.
"Ivory Coast" is a good example. Interestingly though, some of the tapping at the end of "Song for Michael Pukac" is an example of when that's not the case, and I flip the script.
I'm playing the bass with the index and middle finger on my left hand, but both the left and right hand are covering the other parts. It's a mix between the two. I incorporate more of an Eddie Van Halen style of tapping, where both hands are part of the same riff.
What about the Maton accommodates your style so well onstage?
I like the parlor-size guitar because it delivers plenty of bass without being too boomy. I can throw a loop with a kick underneath it.
The parlor also allows me to play a little bit faster up on the top, which I only noticed recently when I picked up my jumbo Martin J-40 again after not playing it for a while. I wasn't used to the neck, and I'd gotten accustomed to how easy it is to navigate around that parlor-sized body.
I also love the color and energy of its sunburst finish, which has nothing to do with playing, but "Sunburst" by Andrew York was the song that first inspired me to play. Of course, the internal electronics system is one of the main reasons why I love the Maton.
That's not the case on other guitars, even ones with great microphones inside. Because of the Maton's electronics, I've been able to integrate more into my performances. That guitar has changed my live show significantly.
What were you using before?
A Martin J-40. I have a special connection with it, because I toured all over the world with that guitar. It has such a sweet tone, with a beautiful, airy shimmer on top. These days I use it more for composition, and I've always used it in the studio.
The J-40 and Martin D-18 Golden Era are the six-string guitars on pretty much all of my recordings. I have a Martin D12-35 50th Anniversary 12-string that I've used a lot, but I wound up getting a 12-string Maton for playing live as well, because the pickup cuts through so wonderfully. It's very alive, clear and balanced.
How do you achieve the super-chimey tone heard on several tracks from the new compilation?
It's a soprano Veillette Gryphon 12-string, which is like a cross between a 12-string and a mandolin. You can hear it well on the instrumental I did with Will Ackerman producing, called "Sweet Little Piece." I wrote that song on the Veillette. It's also featured at the very beginning of the first track on the record, "Calling Me Back Home," and you can see it in the video.
What other gear are you hot on?
Last year at NAMM I got turned on to Savarez strings, which are made by a French company. I was so knocked out by their sound that we started working together on a signature set of phosphor-bronze strings. It's based on a medium set of gauges starting at .013, but for my set the two lowest string gauges are increased to .058 and .060. We'll be ready to release them soon.
What else is coming down the pike?
I'm recording a new album that will feature several new instrumentals. I plan to release "Eve of the Solstice" as a single. Jonathan Yudkin [Dierks Bently, Blake Shelton, Rascal Flatts] produced it and plays a bunch of amazing stringed instruments on it. I'll also be releasing a series of videos that were shot in Poland when I opened for Tommy Emmanuel.
Got any more competitions planned?
Not at the moment, but I'm sure there are more that I should know about, and when I do, I'll submit. Why not?
Christie Lenée's Circles 'Round the Sun is out now.
All the latest guitar news, interviews, lessons, reviews, deals and more, direct to your inbox!
Jimmy Leslie has been Frets editor since 2016. See many Guitar Player- and Frets-related videos on his YouTube channel, and learn about his acoustic/electric rock group at spirithustler.com.