Mike Baranik's B-1 is a Retro-Modern Marvel
The acclaimed luthier's high-end solidbody brings 1960s-inspired guitar design to the boutique market.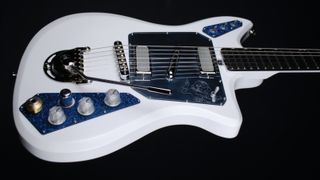 (Image credit: Baranik Guitars)
If a casual glance tells you the Baranik B-1 is an homage to the fun, funky, cheap and cheerful Italian catalog electric guitars of the '60s, you are entirely correct. But it's only when you get in close and take this beauty in your hands that you discover what that quirky inspiration becomes when rendered by an acclaimed luthier long known for his achievements in high-end acoustic guitar building.
As a teenager growing up in New Jersey in the 1980s, Mike Baranik was inexorably drawn to heavy rock and the electric guitar that was front and center within it. Heading west in his late teens with plans to attend the Guitar Institute of Technology in Los Angeles as a springboard to rock stardom, he was dismayed by the number of struggling guitarists he found populating the Sunset Strip. Seeing their plight gave him the notion that it might be better to build guitars for a living than to play them.
After attending the Roberto-Venn School of Luthiery in Phoenix, Baranik segued into high-end acoustic guitar making and quickly forged a reputation for creating original and finely crafted instruments. Dial up an example of one of Baranik's flattops from the 2000s and you'll see how quickly the maker hit his stride. These exotic and original creations display a number of elegant and innovative touches, and commonly sell for $6,000 to $10,000, even on the pre-owned market. While his interest in the acoustic remained hot, however, the electric was calling him back – and he was ready to indulge in something special.
One school of thought holds that beauty is found in symmetry. Another, conversely, contends that true beauty in any work of art lies in both slight imperfections and asymmetry, which better grab the attention. The B-1 somehow manages to have it both ways, blending the symmetrical, asymmetrical and offset in one doozy of a Jetsons-aged retro-rocket monster guitar.
As playful and idiosyncratic as our review guitar – dubbed Arabella – might appear, it is undeniably a first-rate instrument, something that becomes obvious the moment you take it in hand. As such, it achieves a very specific end toward the maker's own desires.
"I've always loved weird guitars that have their own personality," Baranik tells us. "The problem with a lot of those guitars, especially the ones from Japan, is that they are usually hard to play. I have a couple of Teisco guitars, and they look and sound amazing, but the necks are really thick, there's no truss rod, the frets are uneven and the hardware isn't so great. So I take a lot of inspiration from these guitars and then design something that looks along those lines but has the best possible playability and tonal options.
"I do think that my experience with building acoustics for so long – and really not paying attention to the electric guitar trends of the past 20 years – has perhaps helped create a unique perspective. I try to stay away from whatever is trending, even with acoustics."
To check the basic-specs boxes, this guitar is an original offset design made to a 25-inch scale length, with a bolt-on neck made from hard maple, a solid alder body and three pickups.
Dig in, though, and you'll find these basics barely tell the story. The body is carved in Baranik's dome-top style, with hand-carved bevels and softly rounded edges, made even more ergonomic with leg and belly contours at the back. It gives some subtle arch and motion to what would otherwise be a flattop build and aids the guitar's overall esthetics in a subtly appealing way.
Baranik hand-mixes his own colors, and our example features a Satin-White Pearl combined with what he calls Blue Mist for just a hint of blueing that makes it whiter than white. The blue-sparkle control plates are immaculately cut and beveled, and they're complemented by a pickguard of polished aluminum with an engraving of a "space girl" brandishing a ray gun, an image entirely apropos to the comic-book themes here.
The neck has a comfortably rounded slim-C profile that's relatively thin without feeling flat, and it's topped with a fingerboard cut from a sleek piece of torrified royal blackwood (a.k.a. purpleheart), with glow-in-the-dark side-edge position markers (the first I've seen that don't look gimmicky).
Down at the far end, a "captured" – inset from the edges – Corian nut spans a fingerboard width of 1.70 inches, so there's plenty of room to roam between the immaculately dressed frets. It's up at the far end, though, that Baranik exercises one of his signature moves: a uniquely offset, three-per-side headstock that cleverly allows for a straight string pull while looking extremely groovy. It's faced with a matching sliver of that nifty blue-sparkle that the control plates are made from, and carries locking Hipshot tuners with barrel buttons.
Although those control plates will get a lot of attention for their looks, there's also plenty going on with the electronics mounted into them. The neck and bridge pickups are Mojo (U.K.) gold-foil-style single-coils inside Firebird enclosures with silver-foil inserts, and there's a Baranik-made lipstick-tube pickup in the middle. Each has its own on-off switch – a NOS Alco mini-toggle – as well as its own volume control, a NOS Centralab potentiometer.
The shared tone control is capped with a recycled radio knob with a push-pull switch for bass-cut of the neck pickup. A locking mini-switch on the lower cutaway horn flips the phase of the middle pickup. Finally, the 1/4-inch output jack is in a custom brass housing that further emphasizes the ray-gun theme.
Body-end hardware includes a Goldo tremolo and roller-saddle bridge, which are both efficient and work extremely well together. The '60s-era catalog-grade setup may suggest otherwise, but tuning stability is surprisingly good, and the action is smooth and easy, if not dive-bombingly deep. It should be noted that Baranik has recently begun selling his guitars via direct-order only. This one was commissioned by boutique dealer Destroy All Guitars and sold to a new owner in Switzerland as soon as it arrived.
We tested the B-1 "Arabella" through a Carr Super Bee 1x10 combo and a custom JTM-45-like head with 2x12 cab and found it a delightfully original and inspiring experience throughout. It should go without saying that this guitar was designed first and foremost to allow players to create new and original tones.
By default, we like to assess if a guitar can achieve this or that classic tone, and to some extent, yes, the B-1 can get you into several ballparks with the guitar and amp controls set just right. But you're not acquiring a unique creation like this to sound like Angus Young (to take it in one direction) or Mark Knopfler (to take it in another). Yet it approximates those sounds just fine when you ask it to.
The overall setup lends a slightly Jazzmaster-like jangle and chime to the whole affair, but the B-1 is begging you to throw convention out the window and craft entirely new templates that will stand out in the mix, and that's what's so refreshing about it. It delivers lots of trebly shimmer and bite without driving into harshness, as well as loads of funky, scooped, phasey sounds with that characteristic gold-foil blend of brightness, bite and girth.
The B-1 is a superb machine for janglier indie and alternative stylings, snarling garage rock when pushing some overdrive, and bountiful soundscaping. Plus, it will get you noticed onstage, which is half the fun of a playful guitar like this.
For more information head on over to Baranik Guitars.
All the latest guitar news, interviews, lessons, reviews, deals and more, direct to your inbox!
Dave Hunter is a writer and consulting editor for Guitar Player magazine. His prolific output as author includes Fender 75 Years, The Guitar Amp Handbook, The British Amp Invasion, Ultimate Star Guitars, Guitar Effects Pedals, The Guitar Pickup Handbook, The Fender Telecaster and several other titles. Hunter is a former editor of The Guitar Magazine (UK), and a contributor to Vintage Guitar, Premier Guitar, The Connoisseur and other publications. A contributing essayist to the United States Library of Congress National Recording Preservation Board's Permanent Archive, he lives in Kittery, ME, with his wife and their two children and fronts the bands A Different Engine and The Stereo Field.