"It's Not the Gear That Makes the Player; It's the Player That Makes the Gear": Joe Bonamassa Talks Turkey About Tone
The blue-rock giant explains how to get a great sound for under $1,000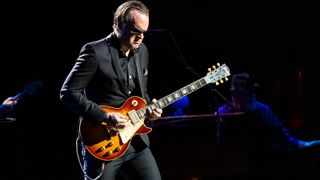 (Image credit: Scott Legato/Getty Images)
***The following interview extract originally appeared in the November 2018 issue of Guitar Player***
Pull up to the entrance of Joe Bonamassa's Los Angeles residence and you're greeted by a large glowing sign that's proudly emblazoned with the phrase Welcome to Fabulous Nerdville, California.
The display is a nod to the famous signage at the southern end of the Las Vegas Strip. And indeed, for a certain type of nerd – one that hyperventilates at the sight of a '59 Les Paul Burst, a '54 Strat or a room full of vintage Fender tweed amps – Bonamassa's home is a guitar gear jackpot.
Just how much equipment is currently housed at Nerdville? Bonamassa estimates it's somewhere south of 1,000 guitars and amps – but maybe not too far south.
Whatever the actual number, it's safe to say Bonamassa is a long way from his first instrument, an Erlewine Chiquita that he "got from Santa" when he was just four years old.
That guitar, however, is no longer part of his collection. "The thing with being a collector is that you horse-trade your way into trouble," he says matter-of-factly.
But one man's trouble is another man's – or, in this case, the same man's – treasure. To be sure, Bonamassa's gems result from a lifetime of intense devotion to his instrument as a player, scholar and historian.
A '59 Les Paul through a vintage Fender Twin is a pretty classic – and pricey – setup. Let's say you're on a tight budget: How would you go about achieving a good blues-rock tone on the cheap?
I always say you can get a great blues-rock sound for under $1,000. You can go to any store and buy a used Epiphone Les Paul or an ES-335, or really anything with a humbucking pickup or a P-90.
And then you can buy a [Fender] Hot Rod or a Blues Deluxe or a Pro Junior amp, then you buy a cable, and for $1,000 you can have a very usable world-class sound.
It's a matter of saying, "This is what I've got, and this is how I'm gonna make it work," rather than, "If I only had a '59 Les Paul!" Because you know what the problem is when I pick up a '59 Les Paul?
No. What's the problem?
Unfortunately, I still sound like myself! [laughs]
So you don't need the specific gear. It's like the whole woman tone thing: How do you get Clapton's woman tone? There's no box that says… Well, there is a box that says "woman tone" [the Rick Gram Woman Tone overdrive pedal]…
But when Clapton first devised that tone there wasn't.
Right. Maybe Clapton had a fuzz – an Arbiter or a Vox or something. But you don't necessarily need it. You can get a woman tone with an SG and a [Marshall] Super Lead. Just turn the amp all the way up, put the front pickup on and roll the tone off.
I know that because there's a video of Clapton doing it back in 1967! That's what I learned from, you know?
Then I saw he had this fancy thing called a wah-wah pedal. Shit, that's like launching rockets! [laughs] And the wah-wah pedal, as forward thinking as that was, it's just a tone pot you control with your foot. But you've already got a tone pot on your guitar.
So the point is, it's not the gear that makes the player; it's the player that makes the gear.
When I plug into any of this stuff that I'm known for collecting, I don't sound any different than if I just plugged into that $1,000 rig I described.
Bonamassa's new live album, Tales of Time, will be released on April 14 via J&R Adventures in CD/DVD, CD/BR, vinyl and digital formats.
Pre-order Tales of Time here.
All the latest guitar news, interviews, lessons, reviews, deals and more, direct to your inbox!
Rich is the co-author of the best-selling Nöthin' But a Good Time: The Uncensored History of the '80s Hard Rock Explosion. He is also a recording and performing musician, and a former editor of Guitar World magazine and executive editor of Guitar Aficionado magazine. He has authored several additional books, among them Kurt Cobain: Montage of Heck, the companion to the documentary of the same name.