Behold, Three of the Earliest Fender Stratocasters Known to Exist
Vintage guitar expert David Davidson of Well Strung Guitars fills us in on the origin of the Strat species.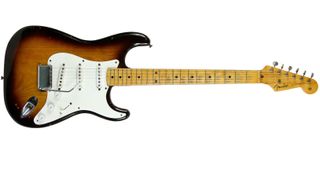 (Image credit: Paige Davidson/Well Strung Guitars)
I've been fortunate enough to have handled and possessed several prototype Stratocasters that were made very early on. It's assumed the first 200 Stratocasters had [serial] numbers that appeared on the tremolo cover, starting with 0100. However, there are definitely prototype Stratocasters with earlier appointments made prior to this that were not serial numbered, some of which left the factory later.
The first Strats that went out were sent to sales reps as demo guitars. They went all around the country and even up into Western Canada – one of the Strats I've had was a guitar that belonged to a dealer rep in Calgary.
One of the earliest Stratocasters I've seen was at the Songbirds museum [in Chattanooga, Tennessee] and it had a January 1954 neck. The nut step was different – the part of the headstock face behind the nut. It was significantly longer than what Fender later settled on. Another prototype I had featured 'television-size' 1¾-inch potentiometers dated early 1952. Some of the 'trem cover' models, from the first 200, also have '52 pots, but they're the regular-size diameter. We also know the earliest Strat pickups have larger diameter polepieces, and the body routing and contouring are different.
Other early Stratocasters were finished in sunburst using what people sometimes call 'furniture polish', but is really a furniture stain, before being cleared over. Fender tried different things during this time. They experimented quite a bit during '53.
It appears Leo Fender's input to the Strat was limited to the development of the [Synchronized] Tremolo/vibrato unit, while others had input into the refinement of the Stratocaster's design, right up until the regular production models.
I currently have Stratocasters 0102, 0103 and 0194. All three were demo guitars. 0102 is a completely original, beautiful instrument in fine condition. So is 0194. 0103 defines the true demonstrator guitar. It is a heavily worn instrument. It is also extremely heavy; it's 8lb 12oz. That is extraordinarily heavy for a Stratocaster. Ash can be heavy sometimes, and that guitar happens to be the heaviest one from that era I've ever touched. Early 50s Broadcasters can be heavy, too.
To me, this was just a test mule guitar they sent out to a dealer/rep to be a demonstrator. The tuning pegs were changed once before the originals were put back on, so it's got some extra holes. The other two guitars, however – numbers 0102 and 0194 – remain completely intact and original. All three have their original 'poodle' cases. 0194 even has its original strap and cable.
I've had around 12 of these early electric guitars. All of the early guitars are between January and May of 1954, but I have seen preproduction Strats from May. There may have just been parts lying around the shop for a while and they said, 'We might as well put it together and get it out of the door!'
The early Strats seem to have very tight neck pockets. Every time I've had to take one apart, the neck fights me coming off the guitar. It's just stuck with lacquer and the fact it's such a tight seal makes it difficult. I think by the time the Strats went into production, they made a bit more space so they could service the guitars without damaging the wood or finish. The back routing on the salesman samples is also sometimes done a bit differently.
The guitar bearing the serial number 0100 [neck date January '54, body date April '54] was sold by Gruhn a few years ago. One of my regrets is finding out about that guitar the day before it went online. It was marked up at a price I thought was ambitious at the time, but would love to buy it now! Because it's really the first serial numbered Strat. Is it the first Stratocaster? No, it's not. Is it the first serial numbered Strat? Yes, it is.
I've had 0102, 0103, 0112, 0117, 0108, 0158, 0168 and 0194. And I can tell you every one of those guitars is memorable. More memorable than the distinctions between one 'Burst and another. Each one is distinctly different. The neck shapes and edges are different. They're all cut the same, but the hand-finishing process seems to vary. I think there were possibly way too many cooks in the kitchen at certain points. They had a lot of local musicians working there like Bill Carson and Freddie Tavares, and they all had input.
Leo wasn't a player and could only trust the advice of those around him. But, he was listening all the time. By September '54, the Stratocaster had evolved substantially. In my opinion, they were constantly trying to make a more perfect wheel.
Vintage guitar expert David Davidson owns Well Strung Guitars in Farmingdale, New York.
All the latest guitar news, interviews, lessons, reviews, deals and more, direct to your inbox!
Rod Brakes is a music journalist with an expertise in guitars. Having spent many years at the coalface as a guitar dealer and tech, Rod's more recent work as a writer covering artists, industry pros and gear includes contributions for leading publications and websites such as Guitarist, Total Guitar, Guitar World, Guitar Player and MusicRadar in addition to specialist music books, blogs and social media. He is also a lifelong musician.