Watch Funk Guitar Master Wah Wah Watson Groove With Herbie Hancock
See the Motown legend jam with his long-term collaborator in this awesome live clip from the mid-'70s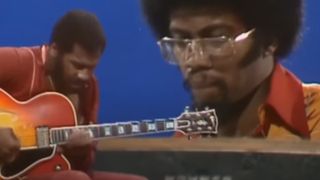 (Image credit: YouTube)
Melvin Ragin (1950-2018) – a.k.a. Wah Wah Watson – is one of the most influential electric guitar players in the history of recorded music. And while he may not be a household name, he can be heard on a plethora of hit singles and albums from the 1970s onwards.
Indeed, the guitarist's website states, "Wah Wah Watson has appeared on more than 150 number one records!"
His decades-long career as a session player took off when he teamed up with Detroit studio aces, the Funk Brothers, in 1968.
Ragin first came across the wah-wah pedal when he met fellow Funk Brothers guitarist Dennis Coffey who had joined Motown Records' elite posse of musicians earlier in 1966.
Coffey's wah-wah chops featured prominently on the Temptations' 1968 psychedelic soul classic "Cloud Nine" – the Grammy-winning title track from the group's ninth studio album released the following year.
This landmark track is said to be the first Motown song to feature a wah-wah pedal and its unique sound instantly grabbed the young maestro's attention.
"When I first got to Motown, I didn't play the wah-wah," said Ragin, "but there was a guy named Dennis Coffey that did "Cloud Nine," "Ball of Confusion," and all that stuff. And I'm saying, 'Damn! Where did you get that from?' He said, 'Oh man, that's a wah-wah pedal.'"
Intrigued, Ragin purchased his first wah-wah and began to explore its capabilities. But not everyone was a fan of the sound he was making. Early on, he faced some harsh criticism.
Speaking of the more conservative musicians he played with, the guitarist recollected some less-than-flattering words: "They said, 'I wish he'd turn that chooka chooka wah-wah shit down!'"
Nevertheless, their condemnation only served to encourage Ragin's sonic exploration of this classic effect.
"I just got to the point I'm saying, 'I would like to make it sound like something else other than wah wah," he recalled, "but have control of it."
Ragin's approach to the wah-wah pedal would forever be altered upon hearing Isaac Hayes' 1971 Shaft soundtrack.
That iconic sixteenth-note wah-wah guitar part from "Theme from Shaft" was created by Charles "Skip" Pitts (1947-2012) who played with Hayes from 1971 until his passing in 2008.
"At that time, I was using a [Maestro] Boomerang, before the movie was released, if I'm not mistaken," said Pitts. "We went back to Stax and recorded the same thing all over again, but we used the local musicians and recorded with the Cry Baby. So it sounds different when you hear that first piece."
Ragin, too, was a fan of the Cry Baby, using it to outstanding effect on the Temptations' Grammy-winning "Papa Was a Rollin' Stone," among countless other classics.
"When I was in Motown, all of the work that I did was basically the Cry Baby," he said. "I did the Jackson 5, Marvin Gaye "Let's Get It On," the Four Tops, Rose Royce "Car Wash," Barry White "Love's Theme," Blondie, Gloria Gaynor "I Will Survive," Peaches & Herb, the Pointer Sisters, Barbra Streisand The Main Event, Quincy Jones Body Heat, The Dukes of Hazzard, Death Wish…"
Recorded in 1974, Herbie Hancock's Death Wish soundtrack was the beginning of a longstanding musical relationship with Ragin that spawned several albums throughout the '70s, '80s and '90s.
Digging deeper into funk, outré jazz pianist Hancock recruited Ragin shortly afterwards for the recording of 1975's Man-Child album.
Hancock and Ragin's experimental approach to the recording of Man-Child saw them using a host of unusual effects units including the Maestro USS-1 Universal Synthesizer System, Maestro FSH-1 Filter Sample/Hold, and Kustom's The Bag.
In this awesome clip from the mid-'70s, the Motown legend can be seen with Hancock performing the opening track from Man-Child, "Hang Up Your Hang Ups," using a Gibson L-5CES electric archtop.
A masterclass in funk guitar, this live rendition showcases Ragin's signature wah-wah sound and imaginative use of effects.
All the latest guitar news, interviews, lessons, reviews, deals and more, direct to your inbox!
Rod Brakes is a music journalist with an expertise in guitars. Having spent many years at the coalface as a guitar dealer and tech, Rod's more recent work as a writer covering artists, industry pros and gear includes contributions for leading publications and websites such as Guitarist, Total Guitar, Guitar World, Guitar Player and MusicRadar in addition to specialist music books, blogs and social media. He is also a lifelong musician.