How the Tiny Amp Brand Behind Grand Funk Railroad's Potent Hard-Rock Sound Became a Force to Be Reckoned With
Rock's golden age saw David West's Michigan-built amplification flourish as West Laboratories took on the majors.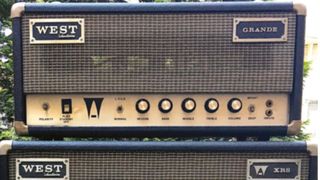 (Image credit: Future / Eija Ota)
Big, powerful, and seemingly primed to take over the world, the guitar and bass amps made in Michigan by David West and his West Laboratories in the late '60s and early '70s embodied a classic breed of local ingenuity. In an era when more was definitely more, they appealed to the archetypal American band.
Back in the golden age of rock, when the American guitar amp market was still dominated by a small handful of major manufacturers, several notable regional makers often filled the void for local guitarists who couldn't easily access or afford the Marshall, Hiwatt, Fender, Ampeg, or Sunn stacks that were slaying huge audiences in arena shows around the world.
With a "Sure, I can build you a killer stack right here!" attitude, many of these smaller shops delivered a near-classic or two to players in the Northeast, Midwest, West Coast, and beyond.
David West was just such a maker, and in an era when louder-than-loud was the name of the game, his was also one of very few regional amp brands that seriously threatened to break through on a national scale. West began his foray into audio electronics as a hi-fi retailer in Flint, Michigan, in the early 1960s.
He moved the business to nearby Lansing a few years later, where he built his best-known line of tube guitar amps under the West Laboratories brand between 1966 and 1972.
Three core models populated the lineup: the 50-watt Avalon head with two EL34s (a.k.a. 6CA7s), the 100-watt Grande with two 6550s, and the 200-watt Fillmore with four 6550s, made famous by guitarist Mark Farner and bassist Mel Schacher of Grand Funk Railroad.
According to Grand Funk drummer Don Brewer, West's amps were used on the group's first four albums – On Time, Grand Funk, Closer to Home, and Survival. "Not only did they sound great," Brewer said of the amps, "but they looked great."
Unfortunately for West, as Grand Funk had bigger hits, they moved on to other amps to suit their new pop-oriented sound. West himself was a live-music enthusiast, and even managed several regional bands for many years.
His model names came from a penchant for the great rock and roll ballrooms of the 1960s: the Avalon and Fillmore (both in San Francisco, if you think "West"), and, closer to home, Detroit's own Grande Ballroom, where Grand Funk Railroad frequently kicked out the jams alongside fellow Michiganders like the Stooges and the MC5.
"My dad's amps were the sound of the Grande Ballroom," his son Aaron West told The Lansing State Journal (opens in new tab) for an obituary following his father's death in November 2015 at the age of 71. Inside the bulky, roadworthy cabinets of the Fillmore and its brethren, the quality of the amps' construction could vary somewhat.
The circuits themselves were fairly simple, and the components and wiring configurations could look rather sparse inside the capacious chassis. All wiring was hand-soldered, with circuits mixing generally smaller eyelet boards loaded with Orange Drop capacitors and carbon-comp resistors, and with a lot of flying wires running somewhat pell-mell between these and the various tube sockets and controls.
All early non-reverb models shared essentially the same preamp topology, which used a 12AX7 to provide two gain stages – one before and another after the tone controls – with a 12AT7 as the phase inverter.
If that rings any bells, it's because those are the preamp tubes found in those same positions in a late blackface or early silverface Fender amp if you knocked it down to one channel. Indeed, the general preamp topology of West amps appears to share some DNA with the Normal channel of the 50-watt Fender Bassman of the era.
That said, West was more likely emulating the powerful Sunn amps, created by Kingsmen bassist Norm Sundholm and his brother Conrad. On his now-defunct website (formerly at westlabs.com), West described being introduced to the glories of Sunn amps by local musician Dick Wagner, then of the Michigan band the Bossmen, and later a guitarist with Alice Cooper.
"Dick told me that his friends in a local band were the first band outside of Norm Sundholm's own band to play the new Sunn amplifiers, and 'Would I like to see one?'" West wrote. "I said, 'What the heck, bring one in.' The amp arrived in the shop and I proceeded to take it apart. Much to my surprise, it contained a completely stock Dynaco Mark III power amp and a very little modified Dynaco PAM-I monaural preamp.
"They were putting these items in a cabinet, putting JBL speakers in a cabinet, and getting large bucks for these things. I thought, If they can do it, why can't I? Thus was born the original spark that led to West Laboratories and West guitar amps."
Outside the chassis, West amps carried enormous Dynaco transformers, with the output transformer clocking in even bigger and heavier than the power transformer on the 200-watt Fillmore.
Both were mounted at one end of the chassis – an odd choice, but not unprecedented – so these heads were heavy and unbalanced to carry. But hey, that's what roadies are for. Rob Grange, a bassist who later toured and recorded with Ted Nugent and the Amboy Dukes, built the cabinets for West Laboratories from 1970 onward.
"[Dave] was like a mad scientist in the shop," Grange recalled for the Lansing State Journal article. "He'd get these Fender amps and rip them all apart to see how they were made, and beat them up. He should have been a multimillionaire. He was way ahead of his time."
Whatever their origins, West's amps produced big sounds, and they satisfied players and audiences with the massive sound-pressure levels required in rock venues in the day.
Punchy, powerful, and largely clean until pretty far up on the dial, the bigger Fillmore and Grande produced tones that – if we're seeking more familiar reference points – were more akin to Hiwatt's hi-fidelity breed of rig than Marshall's crunchy, grindy flavors. In the early '70s, West signed over his brand name in what appears to have been a failed bid for wider national distribution.
Ultimately, he turned away from the business after a dispute over the declining quality of the amp designs. "I walked away from the company in 1972, and left it to its horrible, solid-state 'Motengator' future," he said, referencing the model name of a later West solid-state amplifier.
In the 1980s, he launched a computer software business and made it his central pursuit for several years. But according to Aaron West, his dad continued to build the tube amplifiers that bore his name. He was working on three new amp prototypes when his health began to decline a year before his death. Said Aaron, "He never really stopped."
Dave Hunter is a writer and consulting editor for Guitar Player magazine. His prolific output as author includes Fender 75 Years (opens in new tab), The Guitar Amp Handbook (opens in new tab), The British Amp Invasion (opens in new tab), Ultimate Star Guitars (opens in new tab), Guitar Effects Pedals (opens in new tab), The Guitar Pickup Handbook (opens in new tab), The Fender Telecaster (opens in new tab) and several other titles. Hunter is a former editor of The Guitar Magazine (UK), and a contributor to Vintage Guitar, Premier Guitar, The Connoisseur and other publications. A contributing essayist to the United States Library of Congress National Recording Preservation Board's Permanent Archive, he lives in Kittery, ME, with his wife and their two children and fronts the bands A Different Engine and The Stereo Field.
Thank you for signing up to The Pick. You will receive a verification email shortly.
There was a problem. Please refresh the page and try again.