Heard on Classic Records by the Cult, the Smiths, Frank Zappa, David Bowie, Metallica, Talking Heads, King Crimson and More, the Boss and Roland Chorus Sounds Are a Mainstay of Rock
A brief history of artists' affection for Boss and Roland's industry-leading chorus effects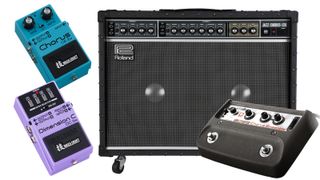 (Image credit: Roland/Boss)
So many guitarists of the late '70s and '80s were using the Roland stereo chorus in the studio that it's sometimes difficult to parse if the sound was coming from an amp (such as the JC-120), a pedal (like the CE-1, CE-2 or CE-3 Chorus Ensemble) or a Dimension D rack unit.
Regardless, "that sound" is all over countless classic recordings from the era.
When used in the studio, the JC-120 provided a meatier rendition of the tone that players had previously achieved by DI'ing their tracks.
As noted by Steve Levine, producer for Culture Club, China Crisis and others, "In the right hands it's quite a tone palette, you can do a lot with it. It does bridge the gap between being a regular amplifier and a kind of DI'd monster."
Billy Duffy of the Cult and other projects derived the clean, chorused element of his signature tone from a JC-120, often used in combination with a Marshall JCM800 or other tube amp.
Although the Cult hit "She Sells Sanctuary" has a heavy feel that helped lodge it as a classic rocker amid the British New Wave boom of the mid '80s, the guitar tone on the song is clear and clean, and slathered with JC-120 chorus.
"The signature sound of the first two Cult albums was the Gretsch and a Roland JC-120," Duffy explains on BillyDuffy.Com. "The Roland is great for the early, chimey stuff, because of that chorus sound – which I can really only get out of the combos. Some guys get a great sound with just one amp, but I've never been able to do it."
Johnny Marr's use of chorus with the Smiths was generally pretty subtle, but also an essential ingredient of his sound on many classic tracks.
"The Hand That Rocks the Cradle" and "I Don't Owe You Anything" from the Smiths' self-titled debut album reveal a nuanced chorus tone that might have been JC-120, CE-1 or Boss CE-2, while the swirl is a little thicker on songs like "The Headmaster Ritual" and "I Want the One I Can't Have" from the 1985 follow-up, Meat Is Murder.
Marr turned to that sound again for his latest solo album, 2022's Fever Dreams, where we hear it prominently on "Receiver," "Ariel" and other tracks, shining through what is otherwise a denser mix than heard on early Smiths records.
"For this album, I also dug out my old Roland JC-120 Jazz Chorus amp," he told Rod Brakes in Total Guitar magazine. "Transistor amps have a sonic presence that puts the sound right in your face. It's sort of an Ennio Morricone sound."
While Andy Summers' seminal swirl on early Police hit "Message in a Bottle" is purported to be a combination of pedals, he is also a long-time devotee of the JC-120, and often had one in his touring rig with the band.
"The Roland JC-120 has been a staple in my collection of amplifiers for as long as I can remember," he told Roland.com, "probably from the day it came out! I have used it on many recordings for its distinctive clarity of sound and always-superior chorus. If I am playing away from home and amps have to be supplied, my first choice is always the JC-120. It is a no-fail amp in just about every situation."
While it might sound counter-intuitive, heavy metal icons Metallica have often turned to the JC-120 for the clean tones tracked by guitarists James Hetfield and Kirk Hammett.
Several songs on 1988's …And Justice for All feature the amp, likely heard most prominently on "To Live Is to Die," but also apparent in the mellower passages of "One" and the intro to the title track.
It's no surprise, however, that a creative sonic sculptor like Adrian Belew might have fallen in love with the JC-120's sound, as he did from the very first listen. "I first heard a JC-120 at a casual party in L.A. in 1977," he told Roland. com. "Someone was playing some chords and noodling around – not very well in fact – but the sound mesmerized me.
"I had never heard an amp sound so pristine and beautiful. There was a shimmering clarity to every note. Then the player turned on the actual stereo chorusing. Wow! What an incredible sound. I nearly fell off my chair! I sat there speechless until I finally asked if I could play through it. Within the first two notes I played, I was madly in love with the JC-120.
"To me, the stereo chorusing and vibrato were the single most beautiful guitar sounds I'd ever heard an amp produce. I was in L.A. at the time rehearsing with Frank Zappa, my first big break in the music business. I told Frank about the amp, and the next day one showed up for us to investigate.
"Frank liked it enough to advance me the money to buy my first JC-120. I still have it ensconced in my studio. I still love it and still record with it."
Belew's first prominent use of the JC-120 appeared on the 1978 Zappa classic Sheik Yerbouti, but he also plastered the amp – with and without chorus and vibrato effects – on several tracks of David Bowie's 1979 album, Lodger, the seminal Talking Heads super-group affair Remain in Light from 1980 and King Crimson's 1981 smash, Discipline, which reveals that crystal-clear shimmer on Belew's tour de force "Elephant Talk," "Frame by Frame," "Thela Hun Ginjeet," "The Sheltering Sky" and others.
Visit the Roland website for more information on Jazz Chorus amps.
Click here for info on Boss chorus pedals.
All the latest guitar news, interviews, lessons, reviews, deals and more, direct to your inbox!
Dave Hunter is a writer and consulting editor for Guitar Player magazine. His prolific output as author includes Fender 75 Years, The Guitar Amp Handbook, The British Amp Invasion, Ultimate Star Guitars, Guitar Effects Pedals, The Guitar Pickup Handbook, The Fender Telecaster and several other titles. Hunter is a former editor of The Guitar Magazine (UK), and a contributor to Vintage Guitar, Premier Guitar, The Connoisseur and other publications. A contributing essayist to the United States Library of Congress National Recording Preservation Board's Permanent Archive, he lives in Kittery, ME, with his wife and their two children and fronts the bands A Different Engine and The Stereo Field.