Hear John Frusciante's Fender Telecaster Custom in Action in This New Red Hot Chili Peppers Live Film
See this vintage guitar and more from the Red Hot Chili Peppers arsenal in our latest issue, including rare Fender Stratocasters, a Martin 00-15 and a Gretsch White Falcon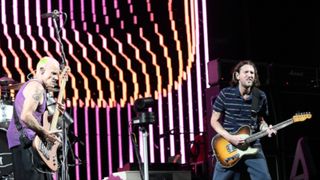 (Image credit: Tim Mosenfelder/FilmMagic)
John Frusciante likes strapping on this 1960s Fender Telecaster Custom to kick off Red Hot Chili Peppers shows.
It was acquired from Californian vintage guitar veteran Norman Harris of Norman's Rare Guitars around 20 years ago by Frusciante's former guitar tech, Dave Lee.
Prior to this, the guitarist was rarely spotted playing a Telecaster.
Though he famously plays Fender Stratocasters, his collection now spans a diverse range of electric guitars.
Guitar Player tagged along to the Red Hot Chili Peppers' October 9 gig in Austin, Texas for a look at some of Frusciante's awesome vintage instruments.
There, we came across his 1940s Martin 00-15, a trio of Strats, a single-cutaway Gretsch White Falcon, and this beauty from Fender's golden era...
"This was one we got from Norman's Rare Guitars [in Tarzana, California]," recalled Lee.
"John just decided he wanted a Tele – I believe this was around the time of By the Way – and I went to Norm and I said, "Hey, John wants a Tele." And Norm said, 'What do you think of this one?'
"I brought it to John and he loved it. I normally don't really like the sound of Teles that much, but that one just sounded so good. It had a lot of bite to it."
Image 1 of 4
"I'm pretty sure the guitar is stock," says Frusciante's current guitar tech, Henry Trejo. "John will use this guitar two or three times a night in the show.
"It's always the guitar he uses at the beginning of the set, which will be either 'Can't Stop' [from 2002's By the Way] or 'Around the World' [from 1999's Californication].
"He also uses it for "The Zephyr Song" [from By the Way] and "Tell Me Baby" [from 2006's Stadium Arcadium]."
Watch this incredible guitar in action at the Austin City Limits 2022 concert on October 9 here...
See this guitar and more in our latest issue. Follow the link on our homepage to order your copy.
All the latest guitar news, interviews, lessons, reviews, deals and more, direct to your inbox!
Rich is the co-author of the best-selling Nöthin' But a Good Time: The Uncensored History of the '80s Hard Rock Explosion. He is also a recording and performing musician, and a former editor of Guitar World magazine and executive editor of Guitar Aficionado magazine. He has authored several additional books, among them Kurt Cobain: Montage of Heck, the companion to the documentary of the same name.