Get a Close Look at John Frusciante's Iconic Martin 00-15
See this vintage guitar and more from the Red Hot Chili Peppers guitarist's collection in our latest issue, including rare Stratocasters, a Telecaster Custom and a White Falcon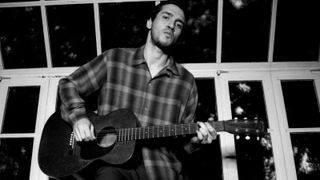 (Image credit: Bob Berg/Getty Images)
John Frusciante is most often seen on stage with the Red Hot Chili Peppers playing a vintage electric guitar, likely a Fender Stratocaster, Fender Custom Telecaster or Gretsch White Falcon.
But as fans will know, he is also an advocate of Martin's mahogany top 00-15 acoustic guitars.
Having owned a pair of these criminally underrated small-bodied flat-tops for years, Frusciante has used them innumerable times on stage and in the studio to record both Chili Peppers and solo records.
Guitar Player tagged along to the band's October 9 gig in Austin for a closer look.
Frusciante's tech, Henry Trejo, and former tech Dave Lee filled us in on the details…
"John has two of these," says Lee. "He got one from Rick Rubin, I think during Californication, and it sounded so great that John said, 'Yeah, let's get another one.'
"Like the Tele Custom, this one came from Norman's Rare Guitars. Norm usually gets people coming in looking for big dreadnoughts, but I said, 'No, we want this.'
"We had a Trance Audio Amulet pickup system installed in it."
Image 1 of 6
"The two Martins are basically interchangeable," adds Trejo. "During the recording of the two new albums, we had one in the live room and one in the room where John was staying so he could practice and write on it.
"Then he would come into the studio and grab the other one and pluck away at it. We never used the pickup systems during the recording. We would just set up microphones and he would play acoustically.
"It's the guitar you hear on 'Tangelo' [from Unlimited Love]."
See this guitar and more in our latest issue. Follow the link on our homepage to order your copy.
All the latest guitar news, interviews, lessons, reviews, deals and more, direct to your inbox!
Rich is the co-author of the best-selling Nöthin' But a Good Time: The Uncensored History of the '80s Hard Rock Explosion. He is also a recording and performing musician, and a former editor of Guitar World magazine and executive editor of Guitar Aficionado magazine. He has authored several additional books, among them Kurt Cobain: Montage of Heck, the companion to the documentary of the same name.