Our Latest Issue Features the All-Time Best John Frusciante Interview We've Ever Read
Don't miss this incredible Red Hot Chili Peppers special – out now!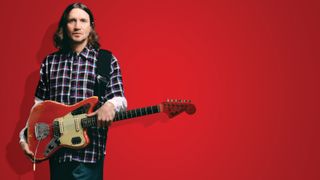 (Image credit: Future/Jonathan Weiner)
As the Red Hot Chili Peppers drop their second album of 2022, Return of the Dream Canteen, Frusciante sat down with us to discuss the guiding philosophies that have shaped him as a guitarist and continue to drive his pursuit of excellence.
He also provides a step-by-step guide to his daily guitar workout regimen, a rigorous and thorough set of drills that cover all aspects of technique.
And we get up-close with the seven guitars behind the Red Hot Chili Peppers' hits, including John's 1955 and 1962 Fender Stratocasters, 1960s Fender Telecaster Custom, 1958 Gretsch White Falcon and 1940s Martin 00-15.
Shot by Eleanor Jane, who brought us these amazing photos of Jack White's gear earlier this year, these images deliver great insights into John's collection.
Here's a taster of this incredible interview where Frusciante talks about Eddie Van Halen…
You mentioned the Return of the Dream Canteen song "Eddie," which is clearly a tribute to Eddie Van Halen, especially in regard to Anthony's lyrics. While the music doesn't much reflect the Van Halen sound, you incorporated some overt EVH flourishes into your solo – tapping, whammy-bar work, unique phrasings. What was your intention going into that one?
When we're in the studio and between takes, I'm always doing things, like two-handed tapping. The engineers hear it all the time; I'll play really flashy stuff during breaks. But when it comes to recording, I'm doing what I think is right for the song, and in most cases that doesn't involve playing really flashy. But it is something I enjoy.
Still, doing that solo was a mind fuck, I'll tell you that. And it was the last solo that I did out of all the solos on the 48 songs we recorded. I saved it for last, because the idea of having a song about Eddie Van Halen, you're basically saying to people, "Think about Eddie Van Halen." And then when it comes to this long guitar solo at the end, you're going, "Now watch this!" And I did not like that idea.
I was even thinking of cutting the solo entirely, because I did not know how to go about it. I was trying for a while, and I wasn't happy with anything I was doing. I was either going too far in the Eddie Van Halen direction, to where it was too busy and there was too much two-handed tapping and it didn't sound like me, or I was just doing it and it only sounded like me… in a song about Eddie Van Halen.
How did you find a happy medium?
I just turned my mind off and stopped thinking about it. I stopped being self-conscious about the idea that the song was about Eddie Van Halen and just did what was natural. We were recording, and I took maybe a 15-minute break. And when I came back in, I just did the whole thing, like I said, in one take.
Whatever Eddie Van Halen is in there, it's just there because of my love for him and the love that I've felt for his playing since I was eight years old – things like the fast tapping and accentuating different notes with the vibrato bar. He did that a lot.
And then there are also the parts of his style that don't involve playing fast, that are just really exciting to me – playing in a way that feels spontaneous, or when you hear feedback because he recorded his parts in the same room as his amplifier.
To this day, those things give me chills. Like, this is real, what's happening here. This isn't some guy standing in the control room punching in. This is a guy going out on a limb and taking risks. Throughout both of these albums, I tried to do a lot of that.
Follow the link on our homepage to order your copy.
All the latest guitar news, interviews, lessons, reviews, deals and more, direct to your inbox!
Rich is the co-author of the best-selling Nöthin' But a Good Time: The Uncensored History of the '80s Hard Rock Explosion. He is also a recording and performing musician, and a former editor of Guitar World magazine and executive editor of Guitar Aficionado magazine. He has authored several additional books, among them Kurt Cobain: Montage of Heck, the companion to the documentary of the same name.