Guitar Tech to the Stars Warns Guitarists of Pitfalls
The interview every gigging guitar player needs to read.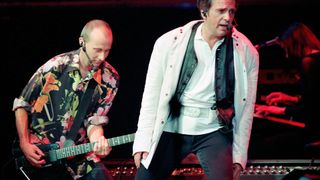 (Image credit: Rick Diamond/Getty Images)
With the live music scene gathering momentum it may be time to start thinking about dusting off your rig and shaping up to gig (if you aren't already!) And while there can be a hell of a lot to think about, you can't beat some good, old-fashioned preparation to alleviate some of that gear anxiety and minimize any problems that may occur. After all, anything can happen during a gig, right?
Chris Lawson has worked as a Guitar Tech for some of the biggest acts in the business from Kate Bush, Queen and Robert Plant to the Electric Light Orchestra and Peter Gabriel. In this priceless interview, he shares his expert knowledge so that you can get on with doing what you do best: performing!
How do you deal with the common problems faced by gigging guitarists?
Guitars, amps and pedalboards are all susceptible to having a hard life on the road. So many things cause wear and tear and you've got to factor that in when you're thinking about gigging. You've got to think 'What can I have a spare of?' Cables have a pretty hard life – they might get flight cases rolled over them, or guitar jacks will go, so it's important to have spares.
Pedalboards can sometimes be very difficult, depending on how they're put together. My tip is to have a pedalboard where you can easily access things individually, so that if something does go down you can get in there and fix it quickly.
How do you keep a guitar road-worthy?
With guitars it's really just the basic stuff. Is the instrument set up well? Is everything tightened down? Are all the electrical connections and pots good? You can do yourself a lot of favors if you check the silly stuff, like strap buttons – are they screwed in tight enough? In the past I've picked up guitars and noticed strap buttons that are about to come out, which you don't want in the middle of a show.
What should people consider when it comes to amplifiers?
Check everything's tight. Sometimes you'll get a rattle or something, especially on new amps. Just before the start of a tour, or before a gig, check the basics and make sure everything's clean, including the jack sockets. Valves can quite easily come loose and might need to be reseated if an amp has been out on the road, or it might have taken a bang during handling.
Also, keep some spare fuses. You're going to look pretty silly if the rest of the band are looking at you and you can't play any more of the gig because you haven't spent pennies on a fuse.
Is your approach to equipment maintenance generally the same, regardless of venue size?
It's all about preparation and that goes for all levels of performance. It'd be the same if I was doing a club gig or if I was going to do a concert at Madison Square Garden. I'd want a plan-B with an adequate number of spares. It's about being attentive so that if something goes wrong on stage you've got it covered.
What's really important when it comes to using musical equipment live?
What musicians actually need is gear that's just going to work and can be changed. There's a lot of nonsense talked about gear – a lot of marketing speak. After 15 minutes at full volume on stage you cannot tell the difference between cables. I'm open to anything and will listen with an open mind, but the geek in me can only go so far these days. I just want something to work and to play. I'm not a Luddite, but it needs to work.
What's the best way to mic up a guitar amp?
In a live situation things need to be miked as close as possible if you want to cut down on microphone spillage. Normally people use fairly tight dynamic mics. The classics for guitar cabs are things like Shure SM57s and Sennheiser MD409s and MD421s.
People tend to go for the traditional stuff when miking cabs, but I've also seen people using Electro-Voice RE-20s and even AKG D-12 kick drum mics for a particularly bottom-end-heavy sound. It comes down to the fact that people just know they work!
The other thing with microphones is to try and tuck them out of the way, because stuff sometimes gets knocked around at a show.
What should guitarists consider when it comes to amplifier settings?
If you have too much bottom-end in your guitar tone the chances are that the front of house are going to cut it out. Because if there's lots of washy bottom-end they'll always be trying to get on top of it.
The other thing is they're always going to try and hold your volume back. If you're louder than the PA (which is easily possible in a small venue) then they may ask you to turn down, which to most guitarists is like insulting their mother.
It's been increasingly less important to have loud amps on stage and a lot of bands use modelling these days. Quiet stages are preferable for most people, unless you're a guitar driven rock band whose trademark really is that sound of loud guitars on stage at high volume.
Some people use power soaks and there's a lot of cab simulators around now as well.
What's the best way for a band to get a good monitor mix on stage?
It's all about how you communicate with the engineer. The classic one with a band is that everybody's talking at once. If you've got a five-piece band on stage and they're all asking you for stuff at the same time then it's extremely difficult.
When it's your turn to do a monitor mix, everyone else should shut up and, likewise, you should shut up when they're doing their mix. One at a time and you'll get there much more quickly – and you'll get what you want.
Buy the Fender Custom Shop Tool Kit by Cruztools here.
All the latest guitar news, interviews, lessons, reviews, deals and more, direct to your inbox!
Rod Brakes is a music journalist with an expertise in guitars. Having spent many years at the coalface as a guitar dealer and tech, Rod's more recent work as a writer covering artists, industry pros and gear includes contributions for leading publications and websites such as Guitarist, Total Guitar, Guitar World, Guitar Player and MusicRadar in addition to specialist music books, blogs and social media. He is also a lifelong musician.