Collectors' Dozen: Epiphone's 12 Most Desirable Guitars
The 12 most desirable Epiphones – from the Thirties through the new millennium.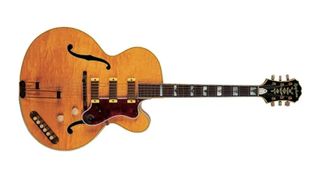 (Image credit: Epiphone)
From the moment in December 1927 when Epaminondas "Epi" Stathopoulo officially changed the name of his musical instrument manufacturing company from the House of Stathopoulo to the Epiphone Banjo Corporation (later shortened to Epiphone Inc. in 1935), the company seemed motivated to outdo their main rival, Gibson.
The rivalry probably existed well before then, but as Epiphone eventually transformed its primary focus from building banjos and mandolins to guitars, the competition between the two companies became increasingly evident. Almost from the very beginning of Epiphone's guitar production efforts in 1928, there was a synergy between the two brands – somewhat adversarial at first, but also with considerable admiration on both sides.
Epiphone's guitar production expanded rapidly during the Art Deco Thirties, and the company quickly became known as a preeminent maker of jazz archtop guitars. Gorgeous and stylish, these instruments lived up to their big city, aristocratic names– Broadway, Emperor, De Luxe – in every way. The rivalry between Gibson and Epiphone significantly drove the evolution of archtop acoustic and electric guitars during this period. For example, when Gibson introduced the Super 400 in 1934, which featured an 18-inch body and was Gibson's largest archtop at that time, Epiphone responded by developing the Emperor, which boasted an 18 1/2-inch body.
Epiphone also had a geographic advantage thanks to the company being based in the heart of New York's vibrant music scene, where they had better access to the leading performers of the time than Gibson did in Kalamazoo, Michigan. Epiphone's factory and showroom at 142 West 14th Street in Manhattan became a hangout for the city's top players, who regularly turned up for Saturday afternoon jam sessions hosted by Epi and his siblings Orphie, Frixo and Minnie, who were also involved in the family business.
One of the guitarists who frequented the Epiphone showroom was Les Paul. Although his name would later become closely associated with Gibson, Les was very much an Epiphone player early in his career during the Thirties and Forties. He even did some of the work on his pioneering solidbody electric guitar prototype, the Log, at the Epiphone factory.
"The great players like George Van Eps, Carmen Mastern and Freddie Green all had Epiphones," Les recalled. "A lot of the great players did back in those days, when you really had to thump out the rhythm. That was the sound we all craved."
Like most other American guitar companies during the Forties, Epiphone persevered but struggled due to shortages of materials and other economic challenges caused by the United States' involvement in World War II. Epiphone suffered an even bigger setback when Epi died of leukemia in 1943 at age 49. His brothers Orphie and Frixo carried on the business for the next few years, but eventually Frixo moved to Ohio in 1947 to start his own new company. When Frixo died in 1957, Orphie's interest in running Epiphone seemed to die as well.
Ironically, it was Epiphone's biggest competitor, Gibson, that breathed new life into the company. Ted McCarty, who became president of Gibson in 1950, played a significant role in bringing Gibson back from the reversals and doldrums of the war years. As the design genius behind the Gibson Les Paul, Flying V, Explorer and ES-335, McCarty successfully ushered Gibson into a new golden era.
Shortly after Frixo's death, Orphie called McCarty and offered to sell the Epiphone company to Gibson for $20,000. McCarty was initially interested only in Epiphone's upright bass-making business, but when he found out that the price included everything, including the tools, fixtures, work in progress and even the company name, he decided to establish Epiphone as a subsidiary of Gibson.
The same energy that had once driven the Gibson/Epiphone rivalry now blossomed into a beautiful partnership, and through McCarty's leadership Gibson gave new life to Epiphone that still continues to this day. Epiphone's new solidbody and thinline electric models complemented Gibson's range of electrics by filling in gaps or exploring alternate approaches, and Epiphone's flattop acoustic line expanded to provide lower-priced alternatives to Gibson flattops without sacrificing quality.
As current Epiphone president Jim Rosenberg recently pointed out, "the merging of Gibson and Epiphone turned out to be one of the landmark events in pop culture history." The new breed of Epiphone instruments helped fuel the game-changing sound of the mid-Sixties British Invasion. Prominent use of Epiphone gear by the Beatles, Rolling Stones, Yardbirds and other U.K. hitmakers made models like the Casino, Riviera, Sheraton, Rivoli and Texan an integral part of rock and roll's DNA.
And it's been that way ever since. Celebrity association, benchmark craftsmanship, beauty of style and killer tone make vintage Epiphone instruments from every era highly collectible, not to mention a savvy investment. Thanks to their relationship to Gibson, both as a fierce competitor and as an eventual partner, the quality of most Epiphone guitars is comparable to their Gibson counterparts, yet on today's vintage market the Epiphone models are priced significantly less, making them great bargains for players and collectors alike. Here are some of the most sought-after vintage Epiphone classics.
1928–31 Recording Model E
Although the Stathopoulo family built numerous guitars on a custom order basis ever since Anastasios Stathopoulo first opened shop in New York City in 1903, they did not offer standard production guitar models until Epiphone introduced the Recording Model series in 1928. Recording Model guitars were based on the ornate look of the company's popular Recording series banjos, with pearloid headstock veneers displaying etched neo-Classical scrolls bearing the company's name and Recording Model designation. Recording Model guitars are also instantly recognizable by their lopped-off cutaway on the body's upper treble bout. All were offered in both concert size (13 1/2 inches wide) and auditorium size (15 1/2 inches wide.)
The Model E was at the top of the Recording series, sporting a carved spruce top. Features are not particularly consistent, but generally the 1930-31 Model E guitars are actually slightly less ornate than their 1928-29 counterparts, which is perhaps a reflection of the Great Depression that commenced with the stock market crash of 1929. The Recording Model guitars were discontinued in 1931, which makes the 1930-31 Model E the most evolved iteration of Epiphone's historic first dedicated foray into the guitar market.
1935–40s Masterbilt De Luxe
As the big band era got underway in the Thirties, Gibson and Epiphone competed for jazz archtop supremacy. The Epiphone Masterbilt series – the very name is a riff on Gibson's Mastertone and Master Model instruments – made its debut in 1931, with the De Luxe at the top of the line. The De Luxe and other Masterbilt models underwent major redesigns in 1935. Created to compete with Gibson's legendary L-5 archtop, the retooled De Luxe boasted a big, 17 3/8-inch lower body width and Epiphone's newly developed Frequensator tailpiece.
It's far more ornate than the L-5 or any other Gibson archtop of the era, with a generous amount of binding, fan or cloud fretboard inlays, and Epiphone's iconic "tree of life" headstock inlay. Collectors also value the hand-carved, quartersawn, bookmatched Adirondack spruce tops and highly figured maple back, sides and necks on De Luxes from this prime pre-WWII era.
For many, these instruments represent the apotheosis of Epiphone archtop design. The Masterbilt De Luxe was produced in much smaller quantities than Gibson archtops from the same era, making these beautiful guitars highly collectible.
1948–57 Emperor Regent
Epiphone's Emperor model first appeared in the mid-Thirties, another product of the jazz archtop "size wars" that raged during that era. It was a marketplace riposte to Gibson's Super 400, sporting a colossal 18 1/2 inch body width. Outranking the De Luxe, the Emperor took its place at the top of the Epiphone line. The model evolved over time to include a cutaway iteration, the Emperor Regent.
One of the great jazz archtops, the Emperor Regent represents a high point in Epiphone's post World War II output. Most collectors rank Emperor guitars from the Thirties as Epiphone's most desirable archtop model, but for many the later cutaway Emperor Regent models are even more desirable from a playability perspective.
1953–57 Zephyr Emperor Regent
Designed to compete with Gibson's ES-5, The Zephyr Emperor Regent was Epiphone's top-of-the-line archtop electric guitar during the Fifties. Like the ES-5, this model is a three-pickup guitar, but pickup combinations on the Zephyr Emperor Regent are accessed via a row of six push-buttons located on the body's lower treble bout. In addition to allowing the player to instantly access any single pickup or pair of pickups (but not all three pickups at once), the push buttons impart a certain retro, mid-century élan to the instrument.
The Zephyr Emperor Regent was originally introduced with a laminated spruce top, which was later changed to laminated maple. The maple tops tend to be quite attractively figured, and they beautifully complement the Zephyr Emperor Regent's gold-plated hardware, multi-ply binding and artful inlay work. Finishes were either a rich brown sunburst or natural/blonde and, like with many Gibson models, the blonde finish versions usually sell for higher prices.
1954–57 FT 210 Deluxe Cutaway
This acoustic flattop is one of several gems to come out of Epiphone's often underrated Continental period, when production shifted form New York to Philadelphia. With a maximum body width of 17 3/8 inches, the FT 210 is a big, boomy flattop designed to compete with jumbo acoustics such as the Gibson J-200. The combination of this body size, cutaway and carved arched back make this guitar unusual for a Fifties flattop and eminently collectible. The shape of the tortoiseshell plastic pickguard, which starts at the bridge and extends upward to follow the contour of the cutaway, is bold and original.
The "epsilon" E initial on the pickguard, cloud fretboard inlays, and "tree of life" motif adorning the center-dip peghead all proudly proclaim this instrument as an Epiphone. Jazz guitarist Harry Volpe was one notable devotee of the Epiphone Deluxe Cutaway.
1963–69 FT 120 Excellente
The Excellente was one of the flashiest, most ornate flattops in Epiphone's Sixties product line. The eagle etching on the curvy pickguard invites comparison with aviary-themed Gibson flattops like the Hummingbird and Dove, as does its square-shouldered dreadnought shape, which also suggests a Martin influence. The FT 120 Excellente's Brazilian rosewood back and sides also contribute to its collectible status.
The neck profile on the 1963 and 1964 models make them more desirable to players than the 1965 through 1969 iterations, when the neck became smaller. While Epiphone's Sixties models are often considered "budget" alternatives to Gibson models, in this case the Excellente was actually an equal counterpart of Gibson's Hummingbird and Dove models in terms of materials, craftsmanship and style.
2006 USA Limited Edition Paul McCartney 1964 Texan
Every guitar aficionado knows the story of Paul McCartney's 1964 Epiphone FT 79 Texan flattop acoustic guitar, heard on "Yesterday" and many other Beatles and Macca solo tracks. Subsequent use by Kurt Cobain, Noel Gallagher and other prominent rock stars have added to the model's cachet. Some four decades down the road from Beatlemania, Gibson/Epiphone decided to create a limited edition run that faithfully replicated McCartney's iconic 1964 Texan.
They worked closely with Sir Paul himself on the instrument, and in 2006 issued a limited edition of 250 guitars made at Gibson's acoustic guitar factory in Bozeman, Montana. These were right-handed guitars strung for left-handed players, and each came with a label bearing McCartney's hand-written signature. Given their high level of craftsmanship, limited quantity and Beatles association, these instruments are prime collectibles. More accessible financially are the Japanese-made Epiphone Elitist versions of the same instrument, issued the same year, in a limited edition of 1,964.
1961–70 Casino
First introduced in 1961, the Epiphone Casino came into its own just as the British Invasion was getting underway. It would become closely identified with this pivotal era in rock history through its prominent use by both the Beatles and Rolling Stones, among many other influential guitar groups. Another great product of the Ted McCarty era at Gibson, the Casino shares many common features with Gibson's ES-330, including its dual "dog-ear" P-90 pickups (Epiphone also offered a less-desirable single-pickup Casino) and double-cutaway, fully hollow thinline body design.
The most collectible vintage Casinos are the ones most closely associated with the Fab Four. Paul McCartney, John Lennon and George Harrison all owned sunburst Casinos, and all three were integral to the Beatles' music. But there are subtle differences among them. McCartney's 1962 Casino has a Bigsby tailpiece and a Gibson-style "open book" headstock; whereas Lennon and Harrison's 1965 Casinos both have Epiphone's "hourglass" headstock. Harrison's guitar boasts a Bigsby, while Lennon's came with a trapeze tailpiece. Given that Lennon and Harrison's 1965 Casinos were used in concert, and thus photographed more often, this iteration is slightly more collectible than the 1962 model that McCartney played.
Other prominent Casino players such as Howlin' Wolf, Gary Clark Jr., Paul Weller and Noel Gallagher further enhance the model's desirability and collectability.
1958–70 Sheraton
With its double-cutaway, thinline, semi-hollowbody design, the Epiphone Sheraton is a close cousin of the Gibson ES-335. However, the Sheraton is a bit flashier cosmetically than the 335, with generous amounts of binding, inlay work and distinctive block fret markers in mother of pearl, inset with abalone triangles. From 1958 through 1961, Sheratons were equipped with Epiphone's single-coil New York pickups, white "carousel" tone and volume knobs, gold-plated metal parts and either Epiphone's Frequensator tailpiece or a Bigsby vibrato. Sheratons from this period are the most collectible.
From 1961 onward, Sheratons became more Gibson-like, with Gibson mini humbuckers replacing the New York pickups and many other small changes. That year also saw the introduction of the rarest Sheraton finish – cherry red. Only about 73 of these were produced between 1962 and 1970, giving this finish some collectible cachet.
Blues titan John Lee Hooker was one of the most prominent Sheraton players, but the model has also been favored by Kings of Leon guitarist Matthew Followill and both Noel Gallagher and Gem Archer of Oasis.
1959–70 Wilshire
With its no-frills slab body and minimal appointments, the Epiphone Wilshire is a quintessential Sixties garage rock guitar that sat midway between the Crestwood and the Coronet in Epiphone's Kalamazoo-era solidbody line. Jimi Hendrix, Pete Townshend and Bruce Springsteen all played Wilshires early in their careers. Originally a symmetrical double-cutaway instrument with two white P-90 pickups, the Wilshire moved to an asymmetrical dual-cutaway design in 1963, at which time the P-90s were replaced with mini humbuckers.
Like many Epiphones in this period, the Wilshire model became increasingly "Gibson-ized" as the Sixties went on. Earlier models tend to be more highly valued, especially those with the older three-and-three headstocks, which preceded the six-on-a-side "batwing" headstock design introduced in 1963.
1960–70 Coronet
A downmarket cousin of the Wilshire, the solidbody, single-pickup Epiphone Coronet has also gained value on the vintage market in the wake of the garage rock revival of the early 2000s. It was initially viewed as a poor kid's Gibson Les Paul Junior or SG Junior, although today many consider it an equal.
First introduced in 1958, the Coronet came into sharper focus in 1960, when a black Gibson P-90 pickup replaced the Epiphone New York pickup featured on earlier models. The body got a little slimmer, the contours a little rounder and it acquired a funky, symmetrical, plastic pickguard. The cherry red finish that came in at this time also became part of the signature Coronet look. Put it all together and you've got a pawnshop beauty that no longer goes for pawnshop prices.
1959–70 Rivoli bass
For gearheads who came of age during the British Invasion, the Epiphone Rivoli is the epitome of bass guitar cool. It was seen in the hands of Yardbirds bassist Paul Samwell-Smith on the cover of the group's seminal guitar freak-out album, Having a Rave Up. That alone sent Sixties kids scurrying to find one of these symmetrical, sunburst, semi-hollowbody bass guitars. That very same instrument later passed into the hands of Jimmy Page, during his brief spell as the Yardbirds bassist.
On top of that, John Entwistle played a Rivoli in an early incarnation of the Who, Chas Chandler played one in the Animals, as did Ronnie Lane in the Small Faces. It was also the instrument of choice for the bassists in the Searchers, Herman's Hermits, Jerry and the Pacemakers, Freddie and the Dreamers, and the Walker Brothers. If you're looking for that boomy, swooping British Invasion bass sound, a vintage Rivoli should be on your wish list.
The Rivoli was originally conceived during the Ted McCarty era at Gibson/Epiphone as a more affordable version of the Gibson EB-2. It is based around the same semi-hollow design with central body block that McCarty pioneered with the ES-335 electric guitar. When a big, fat humbucker replaced the Rivoli's original single-coil pickup in 1960, a legend was born.
All the latest guitar news, interviews, lessons, reviews, deals and more, direct to your inbox!