Before the 100-Watt Marshall Stack There Was the Mighty Fender Showman
Developed in collaboration with surf guitar legend Dick Dale, this monster amp is a fearsome experience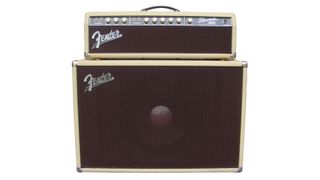 (Image credit: Tommie James)
It's often said Marshall stacks were born to fill bigger and bigger venues with enough volume to satisfy thousands of screaming rock and roll fans.
But a couple of years before Jim Marshall lifted Fender's tweed Bassman schematic to build the JTM45 – and several years before the British amp maker dreamed of doubling it to create a 100-watt amp – Leo Fender and his team in Fullerton, California, were chasing that goal with assistance from one of the most bombastic guitarists of the era: Dick Dale.
In 1959, Dick Dale and his band, the Del-Tones, began cramming some 3,000 stomping teenagers into the Rendezvous Ballroom in Balboa, California, where they moshed to something that would soon be known nationwide as surf music.
In that era of woefully underpowered P.A. systems, Dale, who passed away in 2019 at the age of 81, needed volume to get the music above the roar of the crowd and to simulate the wild, tumbling, swirling experience of catching a mammoth wave.
He turned to the Fender Showman to get him there.
The Showman quickly went through several transitional iterations in 1960 and '61 as Leo and Dale worked to build an amp that could stand up to the guitarist's abuse. In the process, they blew up dozens of test rigs, their underrated speakers or output transformers (OTs) frying under the punishment.
Fender finally achieved a suitable 80-watt OT coupled to a more robust JBL F-Series 12- or 15-inch speaker (with two 15s in the Dual Showman).
Early Showman cabs also used a complex speaker baffle with a tone ring to decouple the speaker from the structure, resulting in increased projection and efficiency.
The archetypal Showman settled in as an 80-watt head (later frequently rated as 100 watts) atop an extension speaker cabinet with a sealed back and the ability to project that power like no production guitar cab built before it. Yeah, it was loud.
The early Showman had a bigger back end fired by four 5881 output tubes. (The 5881 is similar to the 6L6GC, and a direct substitute in most cases.) In addition, the amps had a preamp stage for each of its two channels that was similar to that of the rest of Fender's medium-sized tan and blond Tolex combos and heads of the era.
Each channel had volume, treble and bass controls, with speed and intensity on the vibrato channel, and a shared presence control.
The vibrato effect in these amps was something special, too. Unlike the amplitude-modulated (i.e., volume-fluctuating) tremolo in many tube amps, which Fender errantly called "vibrato," the Showman had a complicated harmonic-vibrato circuit that achieved something much closer to actual pitch-modulating vibrato. It took a full two-and-a-half preamp tubes to achieve, but it produced a luscious sound that approximated a rotary speaker vibrato or even a lush, watery phaser.
Given its power and headroom, and the firm, efficient JBL speakers coupled to it, the Showman delivered a tight, muscular, meaty breed of surf-toned twang from Dale's Stratocaster. It quickly became popular with other professional performers who needed mega headroom from their instruments when performing in large venues.
That said, even when cranked up, the Showman's delectably thick, juicy overdrive exhibits punch and clarity amid the maelstrom. It's a fearsome experience, and one that every guitarist should enjoy at least once.
The Showman head's overwhelming power and the weight and size of the cabs (the 2x15 Dual Showman cab in particular) caused them to fall out of favor in later decades, when guitarists could rarely open up such firepower onstage.
As a result, many have languished in basements and garages. These are still superb vintage amps, however, which deliver a massive jolt of that legendary early to mid-'60s Fender tone, at volumes capable of being heard over any drummer, or even 3,000 screaming surf fans.
Essential Ingredients
Four 5881 output tubes
Four 7025 and two 12AT7 preamp tubes
Two channels
Solid-state rectification
80 watts
One or two 12- or 15-inch JBL F-Series speakers
Closed-back extension cabinet with tone-ring baffle
Complicated tube-driven harmonic vibrato
All the latest guitar news, interviews, lessons, reviews, deals and more, direct to your inbox!
Dave Hunter is a writer and consulting editor for Guitar Player magazine. His prolific output as author includes Fender 75 Years, The Guitar Amp Handbook, The British Amp Invasion, Ultimate Star Guitars, Guitar Effects Pedals, The Guitar Pickup Handbook, The Fender Telecaster and several other titles. Hunter is a former editor of The Guitar Magazine (UK), and a contributor to Vintage Guitar, Premier Guitar, The Connoisseur and other publications. A contributing essayist to the United States Library of Congress National Recording Preservation Board's Permanent Archive, he lives in Kittery, ME, with his wife and their two children and fronts the bands A Different Engine and The Stereo Field.