Watch Dick Dale Wipe Out the Audience with His Surf Rock Masterpiece "Miserlou"
By Rod Brakes published
See the King of Surf Guitar's incredible technique up close in this genre-defining performance.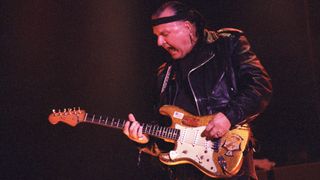 (Image credit: Jim Steinfeldt/Michael Ochs Archives/Getty Images)
Richard Anthony Monsour aka Dick Dale (1937-2019) caught a second wave of fans in the '90s when his surf rock masterpiece "Miserlou" featured in the opening credits (opens in new tab) of Quentin Tarantino's Pulp Fiction.
An endless source of inspiration for decades down the line, the electric guitar phenomenon of surf rock peaked in the pre-British Invasion years of the early '60s, during which time Californian solidbody market leaders Fender worked closely with some of the genre's biggest stars, including Dick Dale.
Dale's legacy lives on in the Dick Dale & His Del-Tones back catalog and later solo work, but his impact on the sound of the electric guitar cannot be overstated. Adopting the Fender Reverb unit early on, Dale helped establish the 'drip' sound of a wet reverb tank as a surf rock tone staple. Working closely with Leo Fender he was also instrumental in the development of the powerful Showman amps.
A true pioneer of the electric guitar, Dale helped popularize the Stratocaster – his gold sparkle finish "Beast" catching the eyes of generations of players. Though this (in)famous Strat is a lefty model, Dale strung it in reverse using extremely heavy gauge strings, as follows: .016, .018, .020, .039, .049, and .060.
Along with a heavy plectrum and plenty of volume Dale's powerful tremolo picking technique created a muscular twang that has seen him dubbed the "Father of Heavy Metal."
In his early days as a performer, Dale was inspired by country star Hank Williams while his Lebanese heritage also drew him towards non-western scales. Best known for his 1962 hit "Miserlou" – a traditional folk song of indeterminate origin – Dale's love for exotic phrasing saw him make great use of the double harmonic scale (E, F, G#, A, B, C, D#).
Click here (opens in new tab)to browse Dick Dale's catalog.
Rod Brakes is a music writer with an expertise in all things guitar-related. Having spent many years at the coalface as a guitar dealer and tech, Rod's more recent work as a journalist covering artists, industry pros and gear includes writing hundreds of articles and features for the likes of Guitarist, Total Guitar, Guitar World, Guitar Player and MusicRadar, as well as contributions for specialist books, blogs and social media. He is also a lifelong musician.
Get the latest news, reviews and product advice straight to your inbox.
Thank you for signing up to The Pick. You will receive a verification email shortly.
There was a problem. Please refresh the page and try again.