15 T-Style Guitars You Need to Check Out
15 of the best T-style guitar manufacturers operating today.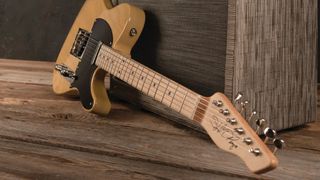 (Image credit: D'Pergo)
Fender's iconic Telecaster has become such a cornerstone of electric guitar that, over the years, the design has disseminated more broadly throughout the market, spawning alternative renditions from a wide variety of guitar makers. Although Fender originated the design – and owns the trademark to the precise shape of the slim, elegant Telecaster headstock – the T-style contributions of several other manufacturers still enhance the wonderful variety of bolt-neck single-cuts available to the player today, from extremely affordable options to the most detailed, high-end, hand-built examples. Here, we've identified 15 T-style manufacturers you should have on your radar.
ANDERSON GUITARWORKS
Long one of the most respected names in quality alternative American-made electric guitars, Tom Anderson cut his teeth on T-style creations, and the fact that titans of Tele tone such as Pete Anderson, Clint Black, and Dierks Bentley have wielded Andersons counts for a lot. Anderson's most straight-up rendition is the Classic T, which sells in the upper $2k or lower $3k range, depending on your precise specs, but the company also produces several variations on the theme, including the popular – and light – Hollow T Classic, as well as several three-pickup Ts with S-style switching, and others with humbuckers, vibratos, and all kinds of fun.
andersonguitarworks.com
CROOK
Throughout his 20-plus-year career, West Virginia-based maker Bill Crook has been known for his high-quality T-style guitars, but he has also been famous for paisley guitars in particular, thanks to the patronage of – yep – Brad Paisley. Crook built the blue-paisley copy of Brad's vintage '68 pink-paisley Telecaster in 2002, which was first seen publicly in the video for "I'm Gonna' Miss Her," and his swirlyprint Ts have been a "thing" ever since. Which is not to say that's Crook's only option – Bob Seger guitarist Jim "Moose" Brown tours with a vintage-style blonde/blackguard, for example – but even if it was, a paisley for Paisley is enough to set you up in the T-style history books all on its own.
crookcustomguitars.com
D'PERGO
Although he renders his guitars in classic shapes and formats, fans of Stefan Dapergolas' Bakersfield models will tell you these are almost as much classical instruments disguised as T-styles as they are traditional electric guitars. Which isn't to say they can't rock, twang, and wail when pointed in that direction, but the extremes of material sourcing and craftsmanship undertaken by D'Pergo are all aimed at producing instruments that exhibit resonance and response characteristics that go beyond even those of the best vintage guitars. From harvesting precious "sinker" logs of tonewoods from remote swamps, to applying a jeweler's precision to fret dressing, the effort put into these $10k-plus guitars has landed D'Pergos in the hands of top players like David Torn and Julien Kasper.
dpergoguitars.com
DeTEMPLE
California-based builder Michael DeTemple played with Bob Dylan, Dave Mason, Rick Danko, Albert Hammond, and other notable artists in the '60s and '70s before taking a sideways move into luthiery in the '80s as a means of "settling down." He has since become known as one of the world's premier builders of high-end F-style guitars, and his creations have been played by Vince Gill, Dean Parks, and Rick Springfield, to name but three. We were mightily impressed with the Editors' Pick Award-winning DeTemple Spirit Series '52 Model ($7,995 direct) reviewed in 2015, which carried refinements such as a nut made from genuine fossilized mastodon, a custom-made titanium bridge plate with titanium saddles, and in-house T-style pickups.
detempleguitars.com
DANOCASTER
Nashville-based maker Dan Strain first gained attention for his vintage-style guitars largely via word of virtual mouth on the guitar boards, and has recently become one of the more celebrated makers of pre-aged T-styles. Priced around the $2.5k mark, Strain's T-styles are largely sold by custom-order, and run the gamut from early '50s blackguards right through to '70s semi-solid models with f-holes and Wide Range Humbuckers. Fans of Danocasters praise these guitars' lusciously "played-in" feeling necks, and the old right-out-of-the-gigbag appearances of the guitars themselves. A tasty double-bound early '60s Danocaster T-style in faded Inca Silver was awarded a GP Editors' Pick Award in 2015.
danocaster.com
ESP
This versatile maker has several guitars based roughly on the bolt-neck, single-cutaway platform, including some notable Super-Ts in the USA-made series. For the hardworking T-style fan, though, the guitars getting most of the attention are those under the maker's more affordable LTD banner, which has been recognized since 1996 for its great bang-for-buck ratio. The LTD TE series has several T-styles, the closest-to-traditional of the bunch being the TE-254 with a six-saddle bridge, a single-coil pickup in the bridge position, and an uncovered humbucker in the neck – along with several other impressive specs and features – at $399 street, and in an appealingly distressed three-tone sunburst finish at that. Or for closer to $1k, the Ron Wood Signature model delivers an un-distressed T with a chrome-covered neck humbucker.
espguitars.com
G&L
Given that the company was co-founded in 1979 by Leo Fender, it's no surprise that T-style models have figured big in G&L's lineup. The California maker's T-alternative, the ASAT, has been broadly accepted by players seeking a slightly different breed of still-traditional twang, and, today, G&L produces everything from fairly classic-spec T-styles to those with updated hardware and pickups, as well as highly touted affordable Ts in their Tribute series. At around $1.5k, the ASAT Classic delivers straightforward appointments – albeit with a six-saddle bridge – while the ASAT Special is closer to Leo's original re-design of the T circa 1985, with a radically updated bridge and his own MFD single-coil pickups. Or, for $499, the Tribute ASAT Classic provides impressive quality for the price.
glguitars.com
K-LINE
Chris Kroenline began building his K-Line branded F-style guitars as a sideline in the early 2000s, and made it his full-time occupation around 2009. Although this St. Louis-based maker's Truxton model might look like a fairly straightforward T-style – and, in many ways, it is – he has put a lot of thought into subtle refinements in areas such as the neck pocket and neck width and profile, and he has also developed a reputation for his thin nitrocellulose finishes, which can come as pristinely new, or pre-distressed. Priced in the low to mid $2k range, the Truxton can be had in a fully traditional guise, or with any number of alterations and modifications: bound bodies, chambered with f-holes, full-size or mini-humbuckers, or whatever variation your single-cutaway heart desires.
k-lineguitars.com
HAHN
A veritable T-nut, Chihoe Hahn of Newburgh, NY, has devoted a huge part of his craft to nailing the optimum vintage-style tone and performance from his creations, which nevertheless incorporate several cleverly designed in-house variations on the traditional components. Running from high $2k to mid $3k price points, depending on specs, his Model 228 (another past GP Editors' Pick Award winner) comes dressed as anything from an early '50s blackguard guise to an early '60s bound-with-rosewood-fretboard configuration, and has been lauded by the likes of Redd Volkaert and Jim Campilongo as one of the finest T-alternatives available – at any price. Variations on the theme are found in Hahn's more original Model 910 and 112 (the latter a boutique bargain at $1,850), which still carry plenty of T-style DNA.
hahnguitars.com
LSL
Lance S. Lerman founded LSL Instruments in 2008, with help from his wife Lisa following a long career split between woodworking and guitar playing. Since that time, LSL has become one of the premier contenders for players seeking upgraded performance in a mid-priced F-style guitar. Their T-style model, the T-Bone (there's also a dual-humbucker-equipped Bad Bone), is built in what we'd generally call, "vintage style," yet with plenty of refinements at every turn, including in-house bridges and pickups and high-quality components in other positions – all at around the lower to mid $2k range, including thin nitrocellulose finishes with tasteful checking and distressing.
lslinstruments.com
LENTZ
Scott Lentz Sr. has been recognized as a distinguished maker of handcrafted guitars since 1975, and has been joined in recent decades by his son, Scott Jr. – a master builder himself for more than ten years after a dedicated apprenticeship under Sr.'s wing. Lentz does make a set-neck model, the Croydon, but the shop is best known for its impressively well-made bolt-neck, F-inspired designs – the cornerstone of which is the impressive T. The T Traditional is just what you'd expect, although highly customizable and extremely well made at around the mid $4k range. Or kick it all up a notch to the Reserve T, which dips into the Lentz's "private reserve" wood stocks. In-house pickups are used on most guitars, and hardware and components are all top-notch.
lentzguitars.us
SENN
Originally from Buffalo, New York, Jeff Senn made Nashville his home early in his career, which was split between stints as head of Gibson's repair department, and jaunts touring the globe as a sideman for several major artists (a passion he continues to pursue with his own instrumental band, the Crazy Aces). Through these multifarious guitar-centric pursuits, Senn developed a passion for vintage bolt-neck guitars, and he established Senn Guitars in 2004 to re-create them for others. Much of his own work has been channeled into producing aged T-style electrics, embodied in a model that he calls the Pomona (starting at $2,695). Senn has built guitars for Bruce Springsteen and John Fogerty, among others.
jeffsennguitars.com
SQUIER
As far as many players are concerned, if you can't afford a Fender Telecaster, you buy a Squier Telecaster, plain and simple. Having been launched by Fender in the early '80s as a more affordable Japanese-made line intended to combat the competition presented by other Japanese makers, Squier has grown exponentially over the years to become the vast lineup of offshore-made models that it represents today. From the vintage-spec'd Classic Vibe Telecaster ($399 to $449, depending on features) to the über-affordable Affinity Series Telecaster ($199), there's a well-made T-style here to suit all budgets. Or check out some alternatives in the Vintage Modified, Thinline, or J5 models.
squierguitars.com
SUHR
John Suhr began his career building Pensa-Suhr instruments at Rudy Pensa's famed Rudy's Music Shop in New York City in the early '80s – where his customers included Mark Knopfler, Lou Reed, Eric Clapton, and others – before moving to California to pursue a parallel passion in amplifier design. This was followed by a stint as Senior Master Builder with the Fender Custom Shop. Since setting out on his own in 1997, Suhr's line of custom-built guitars has always included a T-style, and he currently offers three: the Classic T Pro is un-aged, the Classic T Antique is pre-distressed, and the Alt T Pro is a "Thinline" style with f-holes and humbuckers. All are priced in the low-to-mid $2k range.
suhr.com
XAVIERE
Among the broad range of good-value products under the Guitar Fetish (GFS) umbrella, the Xaviere guitar range stands out as exhibiting outstanding bang for the buck, and it presents several enticing variations on the T-style to boot. The XV-820 aims for the most straight-up early '50s to early '60s themes, with a choice of colors in poplar or ash bodies, with traditional three-saddle bridges, single-coil pickups, and either all-maple or maple-rosewood necks ($169 to $189). The outwardly similar XV-830 swaps the poplar option for alder, and adds single-coil-sized, dual-rail humbucking pickups with split-coil switching ($189 to $199), while the XV-825, XV-840, and XV-845 present neck-bucker, bound-bodied, and dual-humbucker options respectively.
guitarfetish.com
All the latest guitar news, interviews, lessons, reviews, deals and more, direct to your inbox!
Dave Hunter is a writer and consulting editor for Guitar Player magazine. His prolific output as author includes Fender 75 Years, The Guitar Amp Handbook, The British Amp Invasion, Ultimate Star Guitars, Guitar Effects Pedals, The Guitar Pickup Handbook, The Fender Telecaster and several other titles. Hunter is a former editor of The Guitar Magazine (UK), and a contributor to Vintage Guitar, Premier Guitar, The Connoisseur and other publications. A contributing essayist to the United States Library of Congress National Recording Preservation Board's Permanent Archive, he lives in Kittery, ME, with his wife and their two children and fronts the bands A Different Engine and The Stereo Field.