A hip evolution of a vintage design in terms of playability, hardware, pickups and more
Pros
+

Excellent playability, quality and pickups
You can trust Guitar Player. Our expert reviewers spend hours testing and comparing guitar products so you can choose the best for you. Find out more about how we test.
In the late 1980s, Paul Reed Smith called on Ted McCarty – ex-president of Gibson and the visionary behind the ES-335, SG, Firebird, Flying V and Explorer – to consult with him on guitar design and production techniques. McCarty became a mentor and friend to Smith, and in 1994 PRS issued its first McCarty model, leading to a series that now comprises four U.S.-made Core models, three S-2 series guitars (also made in Stevensville, Maryland) and three SE McCartys made by Cor-Tek in Indonesia.
The latter includes this latest 594 Singlecut, featuring all-mahogany construction, a maple-veneer top, 58/15 LT S pickups and the zinc bridge and stop tailpiece found on the costlier Core and Private Stock guitars.
The SE McCarty 594 (the number refers to the 24.594-inch scale length) is a sweet looker, with its bird inlays and cream-white binding on the body and neck. The top on this one is straight-grained rather than flamed, but that's fine as it looks real and the wood has a lovely richness under the gloss sunburst finish. The binding and inlays are well done, and the medium-jumbo frets are nicely crowned and smooth on the tips. The nut is also level with the binding, with no sharp corners.
The strings load through a nickel-plated zinc tailpiece anchored with brass studs, and they pass over a TOM-style bridge with brass saddles and height-adjusting wheels on the way to a set of vintage-style tuners with ivory-colored "tulip" buttons. It's a classic setup that facilitates the McCarty's sweet intonation and abundant sustain and makes it fun to play without plugging in.
The factory setup provided great playability right out of the box, and the Pattern Vintage neck feels awesome with its slightly chunky profile and 10-inch radius fretboard. The guitar has ideal balance hanging from a strap, and the ergonomics are enhanced by a comfy contour on the back.
On the electronics side, there's a pair of low-wind PRS 58/15 LT S humbuckers (selected via a three-way toggle on the upper bout) that feed dual volume and tone controls, the latter with push-pull switches for splitting the coils. The system provides numerous possibilities for blending the pickups in humbucking and single-coil mode (or combinations of both), enabling the SE McCarty to deliver excellent tones for just about anything you point it at.
Tested though a Fender Deluxe Reverb reissue (with hand-wired circuitry by Alessandro), a Matchless Chieftain 2x12 combo and a Boss Katana MKII, it covered everything from sparkling clean tones to soaring distortion. The neck pickup sounds warm, with a bit of vocal character in the upper mids, and its presentation remains clear and well focused when the volume is rolled down.
The tone controls shave off highs smoothly, all the way to zero, and pulling the knobs upward to activate single-coil mode yields slimmer and more open sounds without overly reducing output. The combination of the neck pickup split with the bridge humbucker was great for rhythm, and running both pickups split also yielded some of the guitar's funkiest clean tones.
On the distortion side, a lot of credit goes to the 58/15 humbuckers, which, with their fat, gutsy snarl, make the SE McCarty a great rock machine when paired with a high-gain amp or OD pedal, such as a new TWA SH9 I used for these tests.
A classic in its own right, the SE McCarty 594 follows a traditional template, but is completely PRS in terms of playability, hardware, pickups and all the details that make it such a hip evolution of a vintage design. It makes sense that such an instrument would spring from an alliance between two guitar visionaries, and kudos to PRS for producing a version that's affordable enough for more players to enjoy.
Specifications
NUT: Black synthetic, 1 11/16" wide
NECK: Mahogany, Pattern Vintage profile
FRETBOARD: Rosewood, 24.594" scale, 10" radius
FRETS: 22
TUNERS: Vintage style with "tulip" buttons and nickel-plating
BODY: Mahogany with Shallow Violin carve flame-maple veneer top
BRIDGE: PRS two-piece bridge and stop tailpiece, nickel-plated zinc
PICKUPS: PRS 58/15 LT S humbuckers with nickel-plated covers
CONTROLS: Volume and tone for each pickup, push-pull switching on tone pots for single-coil, 3-way toggle switch on the upper bout
FACTORY STRINGS: PRS Classic .010–.046
WEIGHT: 8.06 lbs (as tested)
BUILT: Indonesia
Visit PRS Guitars for more information.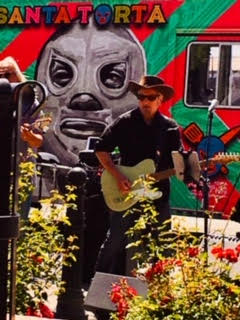 Art Thompson is Senior Editor of Guitar Player magazine. He has authored stories with numerous guitar greats including B.B. King, Prince and Scotty Moore and interviewed gear innovators such as Paul Reed Smith, Randall Smith and Gary Kramer. He also wrote the first book on vintage effects pedals, Stompbox. Art's busy performance schedule with three stylistically diverse groups provides ample opportunity to test-drive new guitars, amps and effects, many of which are featured in the pages of GP.