Puts more sounds at your fingertips than might be expected from a three-knob chorus pedal.
Pros
+

Sweet sounding chorusing with a trippy vibrato function

+

Orbit mode adds tremolo

+

Quiet operation
You can trust Guitar Player. Our expert reviewers spend hours testing and comparing guitar products so you can choose the best for you. Find out more about how we test.
Gibson launched the Maestro brand in 1962 and set the stage for stomp-box effects with its introduction of the FZ-1 Fuzz Tone, a two-knob box that etched its place in history thanks to Keith Richards' use of it in 1965 on "(I Can't Get No) Satisfaction," the Rolling Stones' first number one hit.
Maestro went on to produce numerous products – including amplifiers – throughout the '60s and '70s before fading away in 1979.
Now Gibson has revived the brand with a series of pedalboard-friendly stompboxes for 2022: the FZ-M Fuzz-Tone, Invader Distortion, Ranger Overdrive, Comet Chorus and Discoverer Delay.
While only the FZ-M is actually based on anything Maestro originally did, these colorful pedals exude vintage-style graphics, including a "three bugles" bypass indicator that lights up in red, yellow and blue.
All have three knobs, a two-position mode switch that performs different functions depending on the effect, true-bypass switching and a mechanical on/off foot switch.
They feature analog circuitry, which is laid out on glass-epoxy boards, and the housings open up clamshell-style to make it easy to change the battery (a 2.1mm jack for an external adapter is also provided).
We tested the Maestros using a new Reverend Reeves Gabrels Dirtbike Royale with MojoTone hum-canceling P-90s, a Hamer Newport with Duncan Phat Cat pickups and an early Gibson Johnny A. electric guitar.
Everything was run through either a Fender Deluxe Reverb reissue tube amp with Alessandro hand-wired circuitry or a Victoria Double Deluxe 2x12 combo with Celestial Heritage speakers.
There's more than meets the eye with the Comet Chorus, with its basic complement of depth, mix and speed controls.
The Maestro designers intended that this pedal offer a "different take on chorusing," and the Earth/Orbit switch is what makes the difference here.
As Gibson's director of engineering, Craig Hockenberry, explains, "A lot of choruses harken back to the '80s with that crystal-clear sound, and we wanted to allow some of that, but also add a different flavor.
"So in Earth mode, you have a pretty large swing of chorus effect via the depth control, but as you increase the depth setting you'll notice there's more modulation and a little pitchiness happening – that swirly thing that a lot of choruses intentionally push out.
"And then you can take it a step further when you kick it into Orbit mode, which adds amplitude modulation to create more of a rotary effect. You can dial in as much as you want with the trimpot inside, which is a level control for the Orbit and determines how deep you want the amplitude modulation to go. It's a cool pedal to explore."
The Earth mode does indeed provide a nice range of syrupy analog chorusing, up to the point where higher depth settings begin to take things in a more pitch-shifted direction, morphing from chorus into what sounds like vibrato.
Turn the mix up to noon, add some drive from an amp or pedal, and the effect is pretty cool.
Summon your inner Lonnie Mack and groove on the bent-pitch fun. Then, by switching to Orbit mode, you're suddenly adding tremolo to the chorusing/vibrato, which is variable over a wide range with the speed control, and at whatever mix level you set via the internal trimmer.
It's not exactly like having separate chorus and tremolo pedals, but the Comet does put more sounds at your fingertips than might be expected from a three-knob chorus pedal.
Specifications:
CONTROLS: Depth, mix, speed. Orbit/Earth switch
SIZE: 4.75" x 3.25"
I/O: Front-mounted input, output and power-supply jacks
EXTRAS: Level trimpot for the Orbit function. Unique "three bugles" bypass LED. Can operate on 9V battery
Visit Maestro for more information.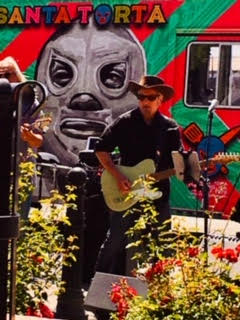 Art Thompson is Senior Editor of Guitar Player magazine. He has authored stories with numerous guitar greats including B.B. King, Prince and Scotty Moore and interviewed gear innovators such as Paul Reed Smith, Randall Smith and Gary Kramer. He also wrote the first book on vintage effects pedals, Stompbox. Art's busy performance schedule with three stylistically diverse groups provides ample opportunity to test-drive new guitars, amps and effects, many of which are featured in the pages of GP.