This amp can accommodate just about any configuration for performing or recording, while remaining a very straightforward affair if all you need is switchable clean and distorted sounds, or reverb, delay, or another effect.
Pros
+

Great range of realistic-feeling amp tones. Variable power. 18 effects plus a dedicated reverb (six types). Deep editing via Catalyst Edit app. MIDI and USB connectivity. Built-in four-channel recording interface
Cons
-

Foot switch not included. No speaker jack
You can trust Guitar Player. Our expert reviewers spend hours testing and comparing guitar products so you can choose the best for you. Find out more about how we test.
As much as tube amps rule for tone, dynamic feel, and raw punch, many players enjoy the benefits of modeling amps with their ability to deliver a multitude of sounds, not to mention their affordability and lighter weight.
One of the newest contenders in the modeling arena is the Line 6 Catalyst series combos that include a 60-watt 1x12, a 200-watt 2x12, and the 100-watt 1x12 featured in this review.
On first glimpse, the Catalyst 100 looks no more complex than a typical tube combo, with its top-mounted knobs and an open-back cabinet covered in grained black vinyl. As you'd expect from a Line 6 product, it packs a ton of technology under the hood, and user-friendliness must have been high on the list of design goals.
The amp selector knob offers six amps to choose from: Clean, Boutique, Chime, Crunch, Dynamic, and Hi Gain, all of which are original amp designs created from the ground up, rather than models of existing amplifiers.
That said, the tones they represent are in the wheelhouse of Fender, Matchless, Vox, Marshall, Mesa, and other popular guitar amps in the low-, medium-, and high-gain realms. A variable boost is available on all amp selections (each boost is different and matched to the specific amp), and there's a complement of gain, bass, mid, treble, presence knobs, plus channel- and master-volume controls.
Three lighted buttons above the input jack select channel A (white) or channel B (red), and you can configure them any way you like and save those sounds by pressing and holding either button until the corresponding light blinks.
A total of 12 user presets can be stored in six banks, which are accessed by holding down the manual button and using the amp selector knob to scroll though the banks. You can also toggle between the channels and activate any single effect – including boost or tap tempo – with the optional two-button LFS2 foot-switch ($39 street).
However, if you want to keep things really simple, pressing the third button activates Manual mode (blue) where knob settings are completely WYSIWYG, just like the controls on a typical tube amp.
I auditioned the Catalyst using three guitars – a Reverend Gristlemaster T-style, a Gibson Historic '59 Les Paul, and a Hamer Newport semi-hollow with Duncan Phat Cat P-90s – and they all sounded great through it, which has much to do with the dynamic feel of the Line 6 models and the amp's ability to preserve the guitars' distinct personalities.
The Catalyst dished out tones that worked well for rhythm and lead, with plenty of stops along the way for clean, dirty rhythm, and super-sustaining distortion sounds.
It's loud enough for gigs with a full band (although a 40-watt Fender Hot Rod Deluxe used for comparison was markedly louder), and the onboard D.I. made it easy to run a feed to the P.A. and have better control of the overall level. And in cases where less volume was required, a switch on the back sets the power to 50 watts, .5 watts, or mute, the last of which is handy for silent practice and recording.
On that note, the Catalyst doubles as a four-channel interface (four in/four out), and the USB provides computer connectivity and tone editing via the free Catalyst Edit app for desktop and mobile devices (Mac, PC, iOS, and Android).
The effects are from the Helix/HX library, and we start off with a dedicated reverb knob that lets you tweak levels on the fly, and a button above it that selects six reverb types: spring, plate, chamber, hall, modulated, and shimmer.
The 'verbs all sound smooth, airy, and well detailed, and either the blackface-style spring or the more studio-sounding plate were always on during my tests. You also get a choice of 18 other effects in the delay, modulation, and pitch categories, all of which are accessed by pressing and holding the effects button and using the tap button to switch between effect categories. From there the selector knob lets you choose between six effects in each category.
The effects all sound great, and I dug the selections from the delay category (which is the default when you turn on the power), especially tape echo and analog delay.
I also really liked the chorus, tremolo, and rotary from the modulation group, and the octave fuzz and pitch harmony settings from the plethora of pitch choices. (Tone geek alert: The effects and reverbs can be moved to pre- or post-amp voicing by holding the effect or reverb button and turning the effects knob. Lower than 12 o'clock is pre, and above 12 o'clock is post.)
Whether or not you're using the LFS2 foot switch, changing effects takes some knob/button manipulations that are tricky on the fly, and that's why it's advantageous to use an optional MIDI controller to have full access to the effects. I also liked using my own pedals with the Catalyst, running them straight into the front end, which works well with this amp.
In addition, there's the option of running time-based effects in the FX loop, and Line 6 added a switch to go directly into the power amp, bypassing the preamp and basically turning the Catalyst into a powered speaker for use with an external modeling device.
It all highlights the über flexibility of the Catalyst and how it can accommodate just about any configuration for performing or recording, while remaining a very straightforward affair if all you need is switchable clean and distorted sounds, or reverb, delay, or another effect.
The Catalyst 100 is certainly an amp for the times, a super deal for $399, and it ably earns an Editors' Pick Award.
Specifications
PRICE: $399 street
CHANNELS: 2
CONTROLS: Channel A, Channel B, Manual buttons. Amp Selector (Clean, Boutique, Chime, Crunch, Dynamic, Hi Gain), variable boost (with on/off button); gain, bass, mid, treble, presence, channel volume. Reverb knob (with on/off/select button), effects knob with on/off/select button, tap button (press and hold to engage tuner), reverb (with on/off/select button), master volume
EFFECTS: Delay (simple delay, vintage digital, tape echo, analog delay, dual delay, dynamic). Modulation (chorus, tremolo, phaser, flanger, U-Vibe, Rotary). Pitch (octaver, growler, pitch harmony, pitch shift, octave fuzz, synth string). Reverb (spring, hall, chamber, plate, shimmer, modulated)
REAR PANEL: Power switch, output power switch (100W, 50W, .5W mute), USB jack, MIDI in jack, foot-switch jack (for optional LFS2 switcher), 1/8" aux in, 1/4" headphone jack, effects loop (with FX loop, power-amp in switch), XLR direct out with ground-lift switch
POWER: 100 watts, 50 watts, .5 watt, and mute
TUBES: N/A
SPEAKER: 12" Catalyst HC100 4Ω, 100-watt
WEIGHT: 34.5 lbs (tested)
BUILT: Malaysia (USA designed)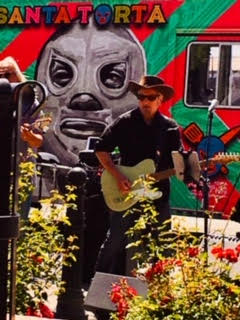 Art Thompson is Senior Editor of Guitar Player magazine. He has authored stories with numerous guitar greats including B.B. King, Prince and Scotty Moore and interviewed gear innovators such as Paul Reed Smith, Randall Smith and Gary Kramer. He also wrote the first book on vintage effects pedals, Stompbox. Art's busy performance schedule with three stylistically diverse groups provides ample opportunity to test-drive new guitars, amps and effects, many of which are featured in the pages of GP.