This versatile stompbox delivers everything from digital delay, chorus and slap-back sounds to heavenly modulated echo treatments
Pros
+

Packs more features than its small size would suggest, including Andy Timmons' coveted Halo setting
Cons
-

Ping-pong echo fiends take note: Although the Halo serves up beautifully stereophonic echo sounds, true left/right stereo repeats are not on the menu
You can trust Guitar Player. Our expert reviewers spend hours testing and comparing guitar products so you can choose the best for you. Find out more about how we test.
Longtime Andy Timmons fans surely remember an era when the Texas guitar hero gigged with two vintage Electro-Harmonix Memory Man analog delay pedals at his feet.
He would run the huge stompboxes in series, with large foot-operable levers attached to the mix knobs, allowing him to adjust effects levels on the fly.
It was a primitive setup that hogged an immense amount of pedalboard real estate, but it was all part of Timmons' eternal quest to achieve the ultimate echo sound.
Generating pristine, subtly modulated reflections that ricocheted dreamily behind the notes, the setup made simple electric guitar phrases sound spectacular.
Now you can get Timmons' treasured echo sound without having to spend hours or days toying with a mountain of old analog delays and tape echoes, as he has been doing his whole life.
Just hit preset 1A on Keeley Electronics' new Halo pedal, and his go-to echo setting is yours.
For the Timmons fan, having instant access to this sound is a huge score. It's like an RC Cola engineer suddenly getting the recipe for Coke.
Playing in mono, à la Timmons' Memory Man setup, the effect is quite inspiring, seducing your ears with hypnotic repeats tastefully chorused via the modulation and depth knobs, and warmed and compressed by the high-pass filter and saturation controls.
The most hypnotic aspect of this patch may be how the ethereal, dovetailing echoes gradually diffuse into a pleasant, reverb-like wash – a "halo," as Timmons describes it.
Running this patch in stereo through two amplifiers geometrically expands the magic, and the sound is so scrumptious it may make even a die-hard mono player crave a stereo rig.
Interestingly, while the Halo's delays are truly stereophonic, the signature diffusion sound Timmons loves arises from how the modulated delays, rather than ping-ponging aggressively left and right, subtly drift in time on each side of the mix, all the while leaving the initial guitar signal uneffected.
While Timmons' halo tone may be this box's flagship feature, it's important to note that this compact pedal is – like the Keeley Eccos and Hydra pedals, which share the same layout of knobs, switches and LEDs – a most versatile stompbox. (Robert Keeley says that, thanks to a new circuit board, the Halo noise floor is even lower than that of its sister pedals.)
From slapback echo and rich stereo chorus to ultra-saturated overdriven tape echo-style repeats and standard digital delay sounds (attained by opening the high-pass filter and minimizing saturation), the Halo is primed for many a pro application.
Halo's handy utilities include infinite repeat, which is engaged by holding down whichever foot switch is inactive along with tap tempo (hold down the active foot switch to enter tap-tempo mode).
The pedal offers five tap-controllable subdivisions, including dotted-eighth, quarter-note and "golden ratio" (quarter-note plus dotted-eighth-note) stacked echoes. The latter subdivision is a key part of the Timmons' halo sound, and is represented by the circular halo graphic located at the noon position of the rhythm control.
And forget those clumsy foot levers from Timmons' past – mix levels and any other parameter can be controlled using your favorite expression pedal.
To advance to the Halo's next preset bank, just flick the toggle switch, or, better yet, step on both foot switches at once. And while I dig all the factory patches that Timmons, Keeley and Keeley DSP engineer Aaron Tackett came up with for the Halo, it's great that you can write over them to store your own patches.
This means you have eight places to store new sounds — well, realistically, seven, because you'll never write over that first Andy Timmons patch.
My favorite Halo trait, though, is that it is, in the best possible way, a real productivity interrupter.
When I unboxed it, set it up in stereo and started playing, I lost two hours soaring in those echoes, playing for the pure joy of it, reveling in the illusion each of us hope every new pedal will bring – the feeling that, somehow, the new guitar gizmo at our feet has made us a better player.
Specifications:
CONTROLS: Feedback (push and hold to engage the other knobs' alternate functions), time/high pass filter, level/saturation, rate/ tone, depth/rhythm. Foot switches activate either of current bank's two presets. Toggle switch advances bank.
EXTRAS: Mono/stereo inputs and outputs. Eight presets. Tap tempo with multiple rhythmic subdivisions. Infinite hold. Trails/ true-bypass switchable. Controllable via expression pedal and/or remote switch
BUILT: USA
Visit Keeley for more information.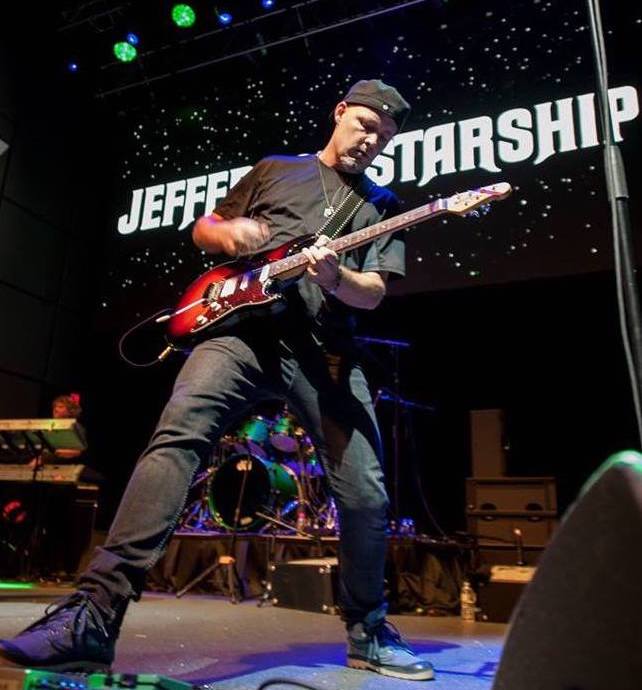 Los Angeles Editor, Guitar Player
Whether he's interviewing great guitarists for Guitar Player magazine or on his respected podcast, No Guitar Is Safe – "The guitar show where guitar heroes plug in" – Jude Gold has been a passionate guitar journalist since 2001, when he became a full-time Guitar Player staff editor. In 2012, Jude became lead guitarist for iconic rock band Jefferson Starship, yet still has, in his role as Los Angeles Editor, continued to contribute regularly to all things Guitar Player.
Watch Jude play guitar here.