If you lust for the blues-rock power of Fender's classic 4x10 reverb combo, but want it in a lighter, more affordable package with some added features, the Tone Master Super Reverb is welcome news.
Pros
+

A reasonably authentic sounding Super Reverb that is much easier to carry

+

XLR direct out with two cabinet IRs provide enhanced flexibility
You can trust Guitar Player. Our expert reviewers spend hours testing and comparing guitar products so you can choose the best for you. Find out more about how we test.
Anyone familiar with a Fender Super Reverb will testify to this legendary amp's big-ass tone, presence and clean headroom. The original formula of a pair of 6L6 power tubes and four 10-inch speakers gave the two-channel reverb/tremolo combo a sound that was irresistible to legions of blues guitar and rock players from the mid '60s and on. The Super Reverb was discontinued in 1982 and re-introduced in 2001, where it remains in Fender's extensive amplifier line.
The latest version of this classic combo is the Tone Master Super Reverb, which uses digital technology to re-create the circuitry and 45-watt output section that drives four Jensen P-10R alnico-magnet 10-inch speakers wired in two-ohm configuration as per the original spec. Fender's designers maintained the Super's high headroom by using a 200-watt digital power amp, which underscores the difference between tube- and solid-state watts when it comes to pushing out sound.
The TM's power is variable in five stages from 45 watts down to .5 watt, and the amp has a balanced line out with a three-position switch that selects two different cabinet IRs (or off). Other than a USB port for firmware upgrades and the absence of both a speaker jack (the speaker wires go straight into the chassis) and a reverb tank in the bottom of the cabinet, the amp is true to form in terms of the things you turn or toggle.
A jeweled pilot light on the front panel glows orange when the mute/standby switch is on, and red when you flick on the power switch. It also has chromed tilt-back legs. The biggest physical difference is the TM's weight, which is about 30 pounds less than a tube-powered Super Reverb.
It sure makes a difference when hauling this big boy around, which I did for a handful of gigs, using it with a Reverend Gristlemaster fitted with Fishman Gristle-Tone pickups and a Fender Noventa Strat with two P-90s. Set to full power, and with the volume around five on the Vibrato channel, the amp was loud and had good headroom.
A little grind also starts to come in around five, and from six to eight the TM's distortion voice becomes progressively more ballsy and sustaining. You can go from very clean to quite distorted by working the electric guitar volume, which makes for easy transitions between rhythm and lead if you're going au natural and not using pedals. It's nice that you can reduce the power to 22 or 12 watts – or even five, one or .5 – if you want to use higher settings and keep a lid on the volume.
The onboard tremolo sounds good, and the reverb (which is also foot switchable via the included two-button switcher) adds a nice airiness at about three and has that cool immersiveness of blackface-style reverb when you turn it up. A Fulltone OCD overdrive and a pair of UAFX pedals – the Astra Modulation Machine and Starlight Echo Station – also sounded good running into the front end (there's no effects loop), delivering aggressive stomp-box distortion and a wide variety of modulation and delay effects.
Does the TM Super Reverb differ sonically from a tube model? Sure it does, which isn't surprising given the disparate technologies involved. A mid-'60s Super Reverb sounded girthier and more prismatic, while the TM has a somewhat flatter or less enveloping soundstage. The tactile difference is perhaps more noticeable, however, as the TM is more compressed feeling overall, which may be a characteristic of limiting in the 200-watt power stage. It's different than the organic "sag" that's felt under the fingers and in your picking when a tube amp is turned up.
Of course, nobody in the audience cares about any of this stuff, so all that really matters is the Tone Master Super Reverb's ability to deliver enough mojo to make it an option for performance situations, where it's all too tempting to give your back a break and leave your vintage beast at home.
Digital has other advantages as well. The TM is quieter than a tube model – dead quiet, in fact – and the line-out's cabinet IR selections are handy as they provide two good-sounding mic options (condenser and dynamic) to facilitate silent recording or live situations where it might be simpler to go direct to the FOH.
If you lust for the blues-rock power of Fender's classic 4x10 reverb combo, but want it in a lighter, more affordable package with some added features, the Tone Master Super Reverb is welcome news and living proof that, when it comes to this unique combo, you can have it both ways.
Specifications:
CHANNELS 2
CONTROLS Normal channel: Bright switch, volume, treble, bass. Vibrato channel: Bright switch, volume, treble, middle, bass, reverb, (tremolo) speed and intensity. Rear panel: On and mute switches. Balanced line-out with 3-position cabinet IR switch, level control and ground-lift switch
POWER 45 watts, switchable to 22, 12, 5, 1 and .5 watts
TUBES N/A
EXTRAS USB port for firmware upgrades. Lightweight plywood cabinet. Cover and two-button foot-switch included
SPEAKERS Four Jensen 10" P-10R with alnico magnets
WEIGHT 36.16 lbs (as tested)
BUILT China
For more information head over to fender.com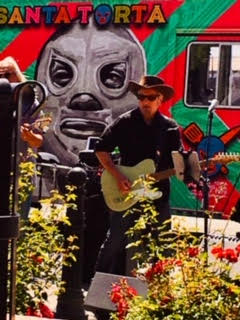 Art Thompson is Senior Editor of Guitar Player magazine. He has authored stories with numerous guitar greats including B.B. King, Prince and Scotty Moore and interviewed gear innovators such as Paul Reed Smith, Randall Smith and Gary Kramer. He also wrote the first book on vintage effects pedals, Stompbox. Art's busy performance schedule with three stylistically diverse groups provides ample opportunity to test-drive new guitars, amps and effects, many of which are featured in the pages of GP.