With a natural playing feel this full-featured guitar offers a practically limitless range of sounds.
Pros
+

Unique look

+

Excellent playability

+

Multiple pickup systems provide amazing flexibility
You can trust Guitar Player. Our expert reviewers spend hours testing and comparing guitar products so you can choose the best for you. Find out more about how we test.
Ireland's Emerald Guitars is a renowned builder of carbon-fiber acoustic and electric-acoustic guitars and basses, ukuleles, harp guitars, Weissenborn lap-steels, double-neck instruments and travel guitars. The company has recently ventured deeper into the electric guitar world with the introduction of the Virtuo, which is described as having the "body of an acoustic and the soul of an electric." The upgraded model on review here is a compact instrument that features a hollow carbon-fiber body with a padauk veneer top.
Ergonomically designed to feel super comfortable nestling against your body, this lightweight guitar wears a high-gloss sunburst finish that looks splendid in the light as it reveals the pattern of the carbon material. The body has a maximum length of 18 inches, a maximum depth of 2¾ inches and measures 14¾ inches at its widest point. The slim neck has the same gloss finish and sports an innovative neck-to-heel design that gives unhindered access to the 25½-inch-scale fingerboard, which carries 22 highly polished, medium stainless-steel frets and has a 12- to 16-inch compound radius. The D-shape neck plays very well, and the factory setup kept the action low and free from string buzz while providing tuneful intonation in all positions.
The guitar also had no tuning issues after the trip from Ireland to bone-dry California, which bodes well for globe-trotters. Everything about the neck is so smooth and inviting that our only puzzlement is why the outside corners of the nut are so sharp.
The fretboard on our early review sample didn't have position markers, though we're told they will be standard when the guitar is officially launched. Even better, there will be several inlay choices, including rings, dots, a trinity knot, Celtic vines and Celtic vine leaves, all offered in white, gold or silver. The guitar will also be available in an acoustic version.
On that note, the Virtuo's acoustic sound is clear and pleasing, with good sustain, and the large sound port on the upper bout moves air efficiently. The Virtuo's electric capabilities come courtesy of a pair of Fishman Fluence humbuckers, a carbon-fiber bridge with six Graph Tech Ghost saddles, and a 13-pin MIDI/ synth output. In fact, the Virtuo virtually shape-shifted when amplified through standard guitar amps – like the Fender Deluxe Reverb and Victoria Double Deluxe combos we used – as well as a Fishman SA220 for the acoustic sounds.
The Fluence pickups are excellent on the Vintage setting (volume knob down), delivering a wide range of richly textured tones that have a great jazz/archtop vibe on the neck setting and enough fat bright snap from the bridge position to nail a country gig. The two-pickup setting is clear and open, with a touch of twanginess in the highs that's nice for rhythm work. Pulling the volume knob up puts the humbuckers in Modern mode, yielding boosted tones with enhanced midrange presence that are killer for soloing when you kick on an overdrive pedal.
When the tone knob is pulled up for single-coil operation, the output is reduced and the sounds are brighter and more shimmering. With a guitar like this, it's kind of difficult to make direct comparisons, but you could point the Virtuo at anything you'd use a semi-hollow with splittable humbuckers for, and likely find it a total blast.
However, by clicking the mini-toggle to the middle position and blending in the piezo acoustic signal via the dedicated volume knob, you can really take advantage of the Virtuo's pickup systems. Splitting the Fluence and Ghost signals between a standard amp and the Fishman SA220 elicited lush, super-articulate "layered" tones that almost sound like two guitars.
Ex-Prince guitarist Mike Scott has talked about the advantages of using blended tones in performance, and it sure makes the Virtuo come alive in ways that only a magnetic/piezo system can provide.
Of course, if you just want to rock out with a potent acoustic voice, switch the mini-toggle to the rearmost setting and groove on how good the Virtuo sounds as a pure acoustic-electric. The Graph Tech Ghost piezo saddle pickups deliver a tone that's reasonably acoustic sounding and free of harsh artifacts, even when picking hard. Again, the guitar's hollow body contributes to the airiness and depth of these sounds, and the playing feel is natural and surprisingly uncompressed.
The Virtuo's range of sounds becomes practically limitless when used with a Roland GR-55 connected to the built-in Graph Tech Hexpander 13-pin output. Ditto if you're a Boss SY-1000 user, and for many players the added utility in the synth domain makes this full-featured guitar very intriguing when you start to explore the possibilities of combining all of its pickup systems.
In short, Emerald Guitars' Virtuo is a unique and powerful instrument that earns an Editors' Pick Award.
Specifications:
NUT WIDTH 1 11/16" Graph Tech low friction
NECK Carbon-fiber Slim profile
FRETBOARD Carbon fiber, 25.5" scale, 12–16" radius
FRETS 22 medium stainless-steel
TUNERS Gotoh 510 Double Speed Lock 1:18 ratio
BODY Carbon-fiber
BRIDGE Carbon-fiber bridge with six adjustable piezo saddles
PICKUPS Two Fishman Fluence humbuckers, Graph Tech Ghost piezo saddles
CONTROLS Humbucker volume (pulls for Modern mode), tone (pulls for coil-split), 3-way selector. Piezo volume, MIDI volume, 3-way mini toggle to select humbuckers, humbucker + piezo or piezo only
EXTRAS Graph Tech Hexpander 13-pin MIDI/ synth output for connecting to Roland GR55, Boss SY-1000 or other devices. 9V battery is accessible via an external hatch
FACTORY STRINGS D'Addario .010–.052 (D'Addario .011–.052 strings available on request).
WEIGHT 5.20 lbs (as tested)
BUILT Ireland
For more information head over to Emerald Guitars.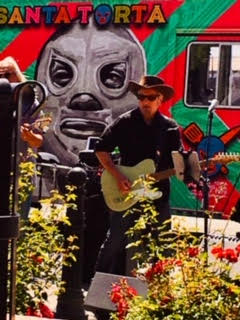 Art Thompson is Senior Editor of Guitar Player magazine. He has authored stories with numerous guitar greats including B.B. King, Prince and Scotty Moore and interviewed gear innovators such as Paul Reed Smith, Randall Smith and Gary Kramer. He also wrote the first book on vintage effects pedals, Stompbox. Art's busy performance schedule with three stylistically diverse groups provides ample opportunity to test-drive new guitars, amps and effects, many of which are featured in the pages of GP.