"We All Wanted to Be Guitar Players": Paul McCartney Talks Early Beatles
Macca reveals the origins of his role as a bass player and names his favorite guitarists in this classic interview from the GP vault.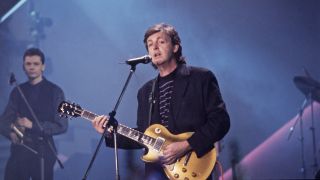 (Image credit: Mondadori Portfolio/Getty)
Paul McCartney almost always appeared with the Beatles playing a bass: typically either a Höfner 500/1 or Rickenbacker 4001S.
But from the earliest days of his long musical career, McCartney was drawn to the guitar, reaching for a six-string in the studio with the Beatles and Wings, as well as on solo recordings.
In this gem from the GP archives, Macca discusses how he ended up playing bass in the Beatles, the tortoise and hare race of melody versus speed, and why he likes heavy metal.
The following interview extract originally appeared in the July 1990 issue of Guitar Player…
Although you obviously didn't abandon guitar altogether with the Beatles, did you ever feel that you had hopelessly locked yourself in the role of bassist?
"It's funny, actually. I have problems with one of the books that has been written about us, because the guy obviously didn't like me.
"That's fair enough. But this guy started to make up a whole story of how I was so keen to be the bass player that I really did a number on Stuart Sutcliffe, the original bass player. He made it sound as if I had planned this whole thing to become the Beatles bass player.
"I remember ringing George up shortly after this book came out, and I asked him, 'Do you remember me really going hard to chuck Stu out of the group and be a bass player?' And he said, 'No, you got lumbered with bass, man. None of us would do it.'
"I said, 'Well, that's how I remembered it.' Because it's true: We all wanted to be guitar players.
How did you react when, in the late '60s, a new breed of lead bassists such as Jack Bruce and John Entwistle emerged?
"I thought it was quite interesting. To me, it depends who you're talking about, and what record, but often I thought it was too busy. I often thought it was like the bass as lead guitar, and I don't think it makes as nice a noise as lead guitar.
"It's sort of like speed merchants. I've never been one. I remember reading where someone said that someone's the fastest bass player ever, and I thought, 'Big deal.'
"You know, there used to be a guy in Britain – I think he's still around – called Bert Weedon, who used to come onto the children's TV programs. He used to say, 'I'm now going to play 1,000 notes in a minute.'
"And then he'd get one string and go didididididi and play up and down, hitting it very, very fast. It was quite funny, actually.
"It's one thing to be fast, but that's short-lived. I think I'd rather be melodic. I'd rather have content than just speed."
Any favorite bass players or guitarists today?
"I like Stanley Clarke. We only really met once, and just had a bit of fun in Montserrat. And he played on a couple of tracks.
"I admitted to him, 'Hey, I'm trying to steal your licks, man!' He said, 'Oh, you've got licks of your own.' So, we just had a bit of fun.
"I decided not to steal his licks after all; he was right. He's got his style; I've got my style. And he's a great guy.
"I like Eddie Van Halen as a player. He gets it right quite often. I like a lot of heavy metal guys because they wind it up. What I usually like in a heavy metal band is the guitar player. But when it's just miles of scales, I lose interest.
"I like some of the hot sounds. And I also like David Gilmour. I think Clapton is real good, particularly these days. But I still like Hendrix the best."
Browse Paul McCartney's catalog here.
All the latest guitar news, interviews, lessons, reviews, deals and more, direct to your inbox!