Oneonta Unveils New Stanley Clarke Spellcaster Bass
Originally developed by Fender, the Spellcaster boasts a typical Strat control layout and even, yes, a Strat-style tremolo system.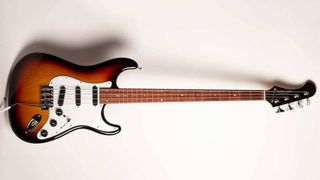 (Image credit: Oneonta Guitar)
Back in 2018, bass legend Stanley Clarke told the world (via MusicRadar) that he had designed a Strat-style bass that would eventually be released by Fender.
After a couple of years without word on the model, it turns out that the design – dubbed the Spellcaster – has in fact been released, but by Oneonta Guitar, not Fender.
Sporting a five-way pickup selector and three control knobs, a body-mounted input jack, and a three-tone sunburst finish, the Spellcaster is indeed a dead ringer for a Strat at first glance, just, of course, with two fewer strings.
A 30.5" short-scale model, the Spellcaster features an alder body, reversed headstock, maple neck, and a rosewood fingerboard with 25 frets. Sonically, it's outfitted with a trio of single-coil pickups, controlled by the aforementioned five-way selector switch and trio of knobs (a master volume and a pair of tone controls for the neck and middle pickup.)
Additionally, the bass boasts a mini-switch that allows for the selection of all pickups or just the bridge and neck pickups.
Fascinatingly, the bass – true to its inspiration – also features a Strat-style tremolo system, with individual saddles for each string.
The Oneonta Stanley Clarke Spellcaster Bass is available now for $1,635.
For more info on the bass, stop by oneontaguitar.com.
Get the latest news, reviews and product advice straight to your inbox.
Thank you for signing up to GuitarPlayer. You will receive a verification email shortly.
There was a problem. Please refresh the page and try again.