Watch Jeff Beck's Breathtaking "Cause We've Ended as Lovers" Performance with Eric Clapton
Here's why 'Blow by Blow' remains one of the greatest guitar-instrumental records of all time.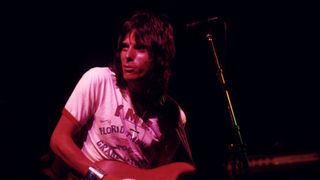 (Image credit: Andrew Putler/Redferns))
Released on Epic Records in 1975, Jeff Beck's Blow by Blow came out well after he had established himself as one of rock's premier electric guitar players. He had already made significant innovative contributions to music, using feedback in the Yardbirds, creating the fantastic guitar sounds heard on his 1968 Truth album (with newbie Rod Stewart) and launching his successful power-trio, Beck, Bogert & Appice.
But for many, Blow by Blow was when it all came together for him. On it, he fine-tuned and fully realized his voice, making this one of the great guitar-instrumental records of all time.
The album has Max Middleton on keyboards, bassist Phil Chen and drummer Richard Bailey, and while it features no vocals, Beck's guitar ably stands in, as he uses it to emote throaty screams, humorous asides, angry punches and yearning cries.
This gem was overseen by Beatles producer George Martin and proved commercially successful, placing number four on the Billboard charts. Not bad for an instrumental fusion-guitar record.
Blow by Blow has many high points. Beck's take on the Beatles' "She's a Woman" features such an inventive arrangement that one may be tempted to double-check the Lennon-McCartney songwriting credits. His subtle slurs, slides and microtonal bends make it a virtuosic wonder.
"Air Blower" is a great funk jam on which Beck plays phrases that seem to effortlessly express struggle before entering a moody fusion blues.
"Freeway Jam" features a sing-along melody playfully wrestled out by Beck, with an eventful solo section. He's an artist showing off his voice, and it's admirable how he creates conversations between his phrases.
For many, the stand-out track is "Because We've Ended as Lovers," contributed by Stevie Wonder, and dedicated to Roy Buchanan, one of Beck's influences. The solo displays a fiery muscle and a emotional melodicism that still rings true today.
The guitar sounds change drastically (possibly the result of editing between a Fender Telecaster, a Fender Strat and a Gibson Les Paul) and the production is sublime. Beck captures Buchanan's nuanced playing wonderfully while retaining his own viewpoint.
Blow by Blow is a veritable time capsule. Beck and his band use the old-school tool box of Clavinet, talk box and slash chords galore, yet it's so well crafted and melodic that it never sounds dated. This era was a great time for instrumentalists, and despite the F-word, fusion, the players avoid grandstanding athletic displays.
The artists of this time seemed to listen to each other for inspiration, and together they co-oped a great era in guitar music. Beck, John McLaughlin, Billy Cobham with Tommy Bolin, Return to Forever with Bill Connors and Al Di Meola, Dixie Dregs with Steve Morse, and solo artist Stanley Clarke with the great Ray Gomez – all were making great guitar music.
It's always worth checking back in with these '70s records. It's like meeting an old friend who is never tainted by the passing of time.
Buy Blow by Blow here.
All the latest guitar news, interviews, lessons, reviews, deals and more, direct to your inbox!
Jim Campilongo has 14 critically acclaimed instrumental records available on vinyl, CD and digital download here.