Watch Greg Howe Shred on the GP 'No Guitar is Safe' Podcast
The formidable virtuoso unleashes a barrage of licks and tricks from his considerable arsenal.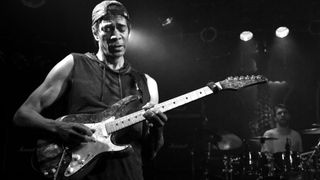 (Image credit: Ethan Miller/Getty Images)
If you like in-depth interviews with great guitar players AND you like to hear them play, then you need to listen to our No Guitar Is Safe podcast.
Presented by Guitar Player and hosted by Jude Gold, No Guitar Is Safe is free to listen to at your leisure on iTunes (opens in new tab), Spotify (opens in new tab), Soundcloud (opens in new tab), or wherever you get your podcasts.
With over 150 episodes uploaded there's plenty to get your teeth into.
Just some of the featured artists include Joe Satriani, Nita Strauss, John 5, Robben Ford, Steve Morse, Steve Vai, Paul Gilbert, Lita Ford, Tommy Emmanuel, Steve Lukather, Zakk Wylde, Ace Frehley, Billy Duffy, Phil X, Celisse, Nile Rodgers and many, many more besides!
Episode 4 of No Guitar Is Safe stars shred master Greg Howe.
During Greg's interview he reflected on adventures such as getting signed by Mike Varney and Shrapnel Records as a young guitarist, rocking stadiums with Michael Jackson, touring India (with none other than host Jude Gold on second guitar!), and creating his awe-inspiring solo records (opens in new tab).
Elsewhere in this classic podcast, Greg demonstrates his world class fretboard prowess.
"There are a lot of notes in your solos," points out Jude.
"That's what happens when you start your career at Shrapnel Records," retorts Greg, referring to his 1988 eponymous debut album with the guitar-centric label. "The only label in the world that will hear your demos and say, 'We need some more notes!'
"At the time, Mike Varney had a column in Guitar Player magazine called Spotlight and I sent a demo to him… Most of it was kind of jazzy a little bit, or pop-y; it wasn't aggressive rock at all. Mike Varney got back to me literally the next day!"
In this jaw-dropping clip, Greg shows us the kind of skills that led to him being snapped up by Shrapel in the early days…
To hear the complete one-hour interview, subscribe to or stream No Guitar Is Safe wherever you get your podcasts!
All the latest guitar news, interviews, lessons, reviews, deals and more, direct to your inbox!